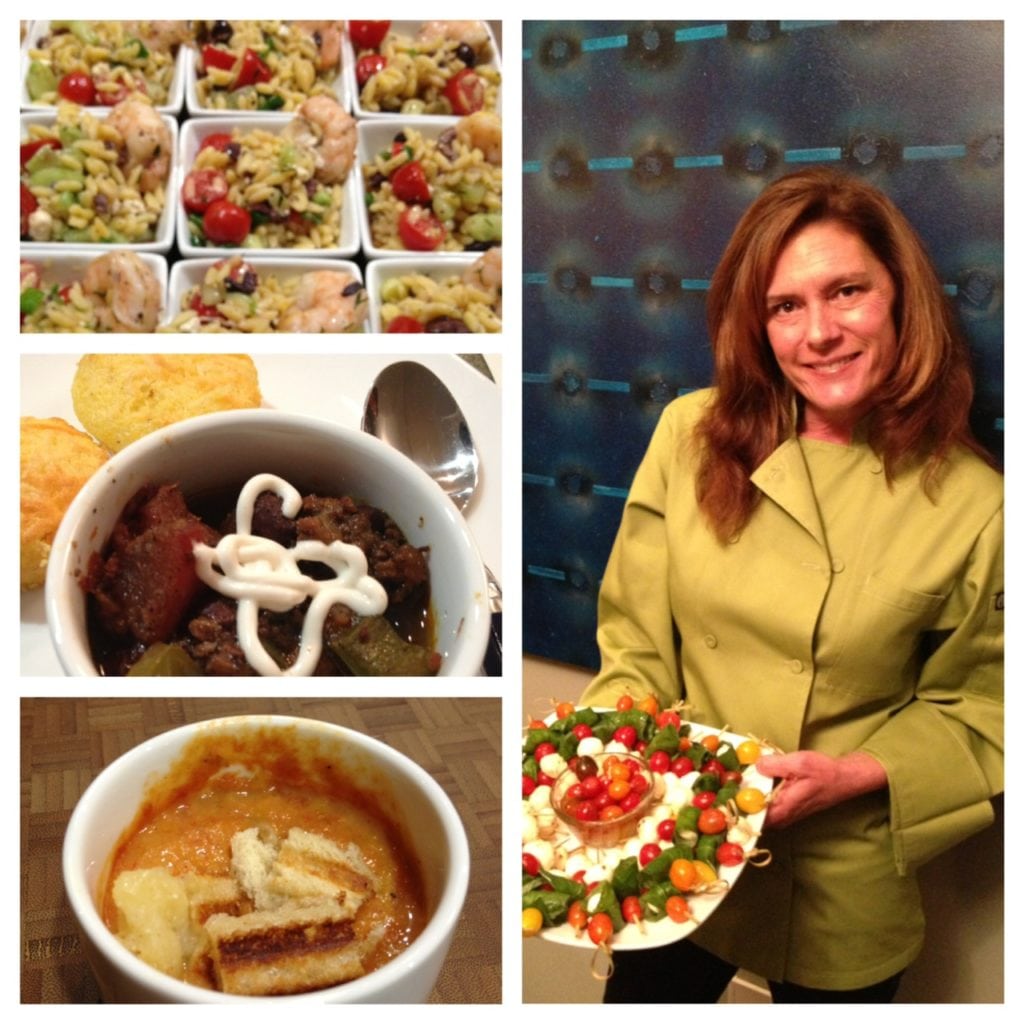 Meet Chris Henry who is revolutionizing the services of a "personal chef" here in the Newport Beach area.  Chris brings a fresh, new, flexible concept for busy executives and families in search of healthy, fresh and easy to prepare home cooked meals.
No longer for just the "rich and famous" Chris is here for the "busy and hungry" coastal crowd. When was the last time someone said to you, "I want to cook for you and create a delicious dinner that you can smell and savor the moment you walk through the front door"?  Is it too good to be true? Well, not exactly.
Inspired by her daughter originally, Chris set out to create menus that offer organic foods, great flavors and yes, creativity in the kitchen. Chris works with her clients to create weekly menus that everyone can enjoy. Those with weight issues or health restrictions, allergies, gluten-free and vegan needs are all seamlessly accommodated with her unique approach to menu planning.
The cuisine is lovingly created in each Client's home, and packaged with heating instructions and a Master List of the weekly menu. She can also prepare it, and deliver it pre-packaged. Each day's plan is arranged with careful instructions for re-heating.  She prepares complete "customized" meal plans for breakfast, lunch and dinner— however most select dinner service for 3-4 nights out of the week.  From sunny Huntington Beach, to Laguna Beach— Chris has you covered.
Having the  good fortune of attending  an elegant tasting,  we were presented with some of Chris' iconic favorites. What a treat! Each item was bursting with flavors, with attention to detail for both color and presentation. Here is a brief description and photography of the "samplers" we all enjoyed.
Our Soiree of Tastings Included The Following…..
-Our evening began with Marinated Mozzarella Skewers with Cherry Tomatoes & Fresh Basil. This is the perfect "do ahead" starter, which is my most challenging item of the evening. This was bursting with flavor and the colors were bright and cheerful on the skewers.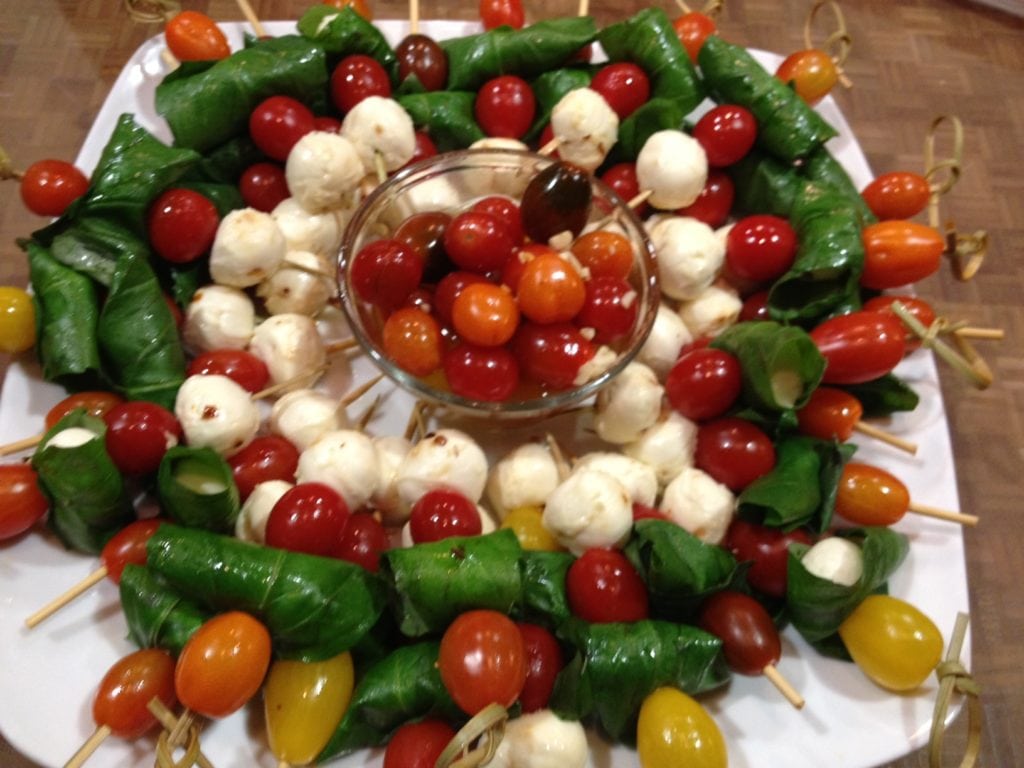 –Soup is always a crowd pleaser in the evening, and this Tomato Soup with Toasted Gruyere Croutons was a home run. The soup was delicious and the croutons had that pop of rich cheese flavor that had me wanting more.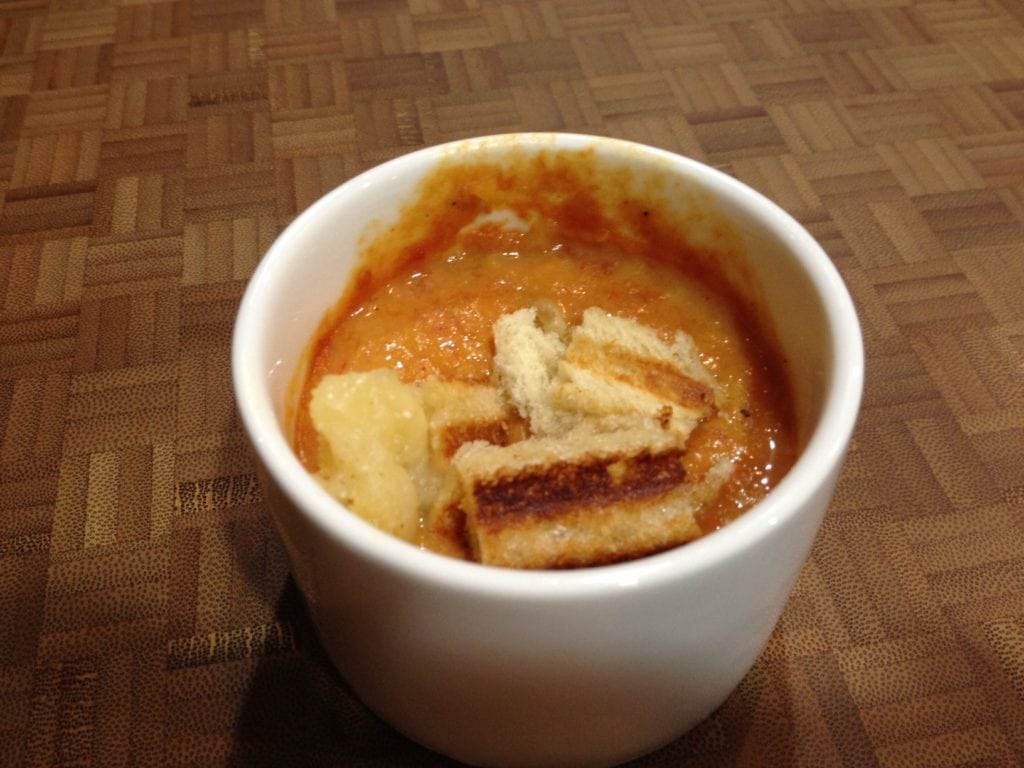 -I could see this as an appetizer, or even an accompaniment to a wonderful seafood entrée. The Lemon Shrimp Orzo Salad with Feta Cheese was one of my favorites and could easily be done ahead of time for a dinner party.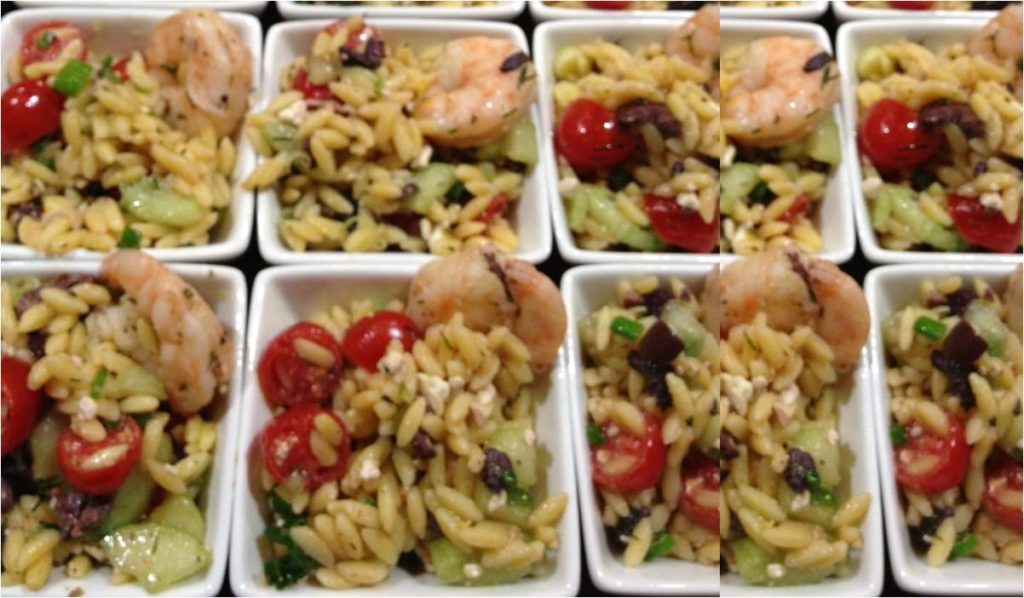 -Admittedly, I did ask for this recipe to be taken home. The Salmon "Rainbow Cakes" with Greek Yogurt Caper Sauce was a show-stopper—-and between the light flaky cake, the flavor-packed salmon and colorful vegetables, this had everyone humming.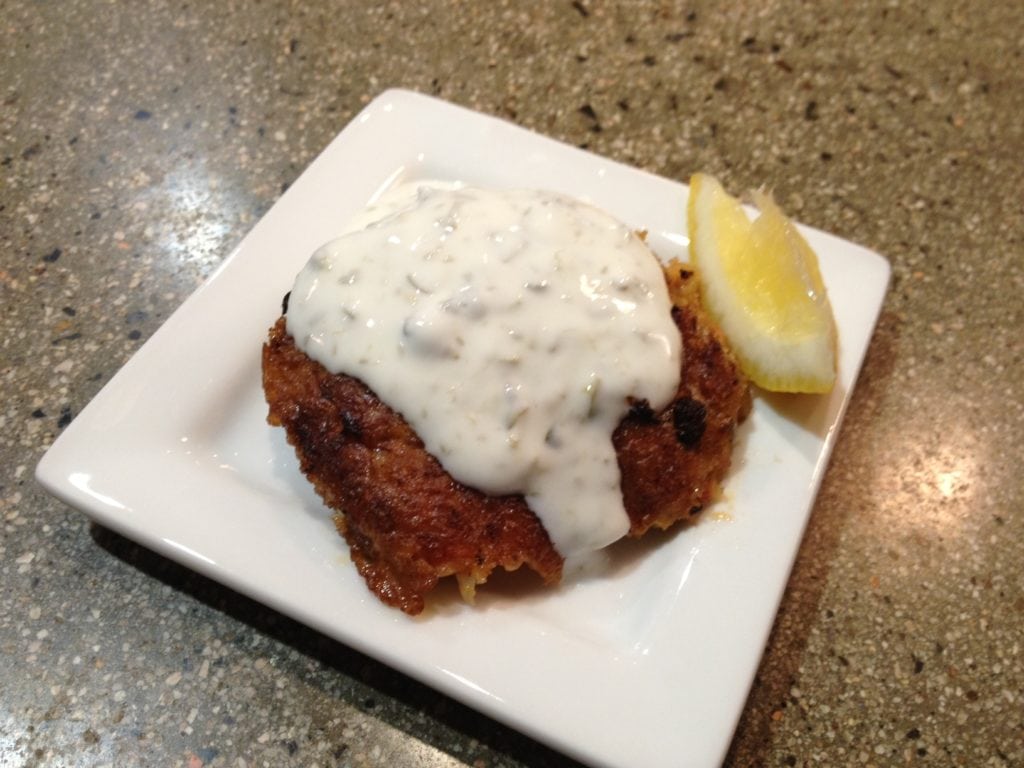 –The Espresso & Beef Chili with Cayenne Cream Sauce & Corn Cheese Muffins. What a perfect complement, and the chili had just the right amount of punch. It was comfort food and who would have thought of using espresso? Brilliant!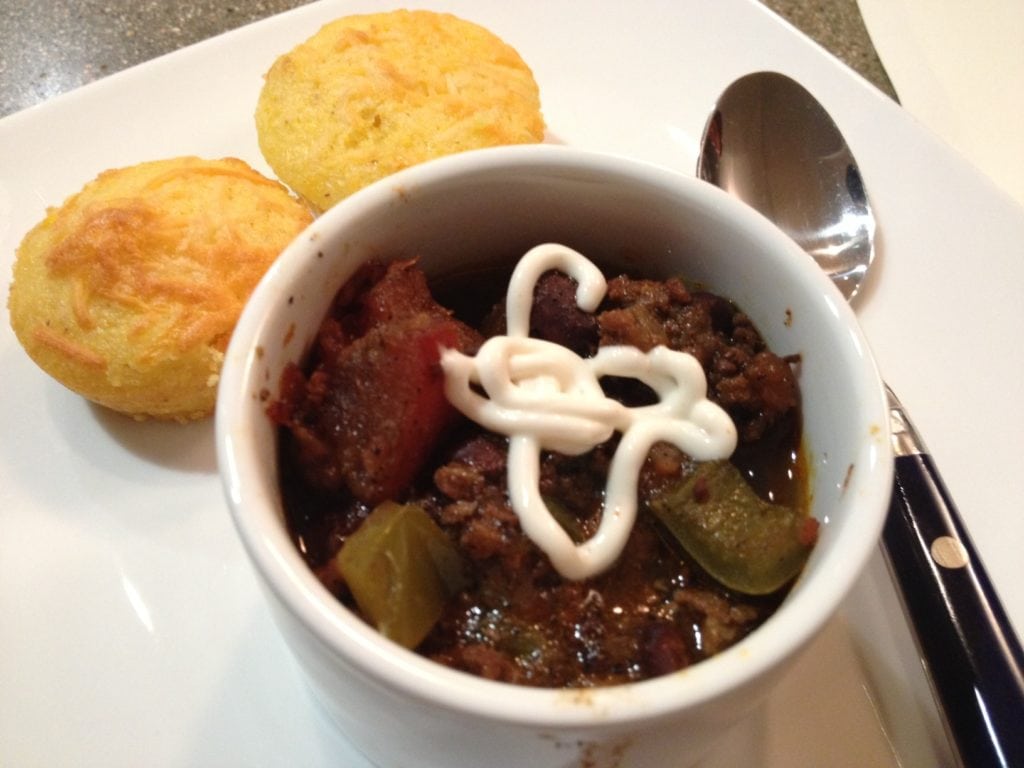 -Everyone has a recipe somewhere for Home-style Turkey Meatloaf, however this one was extra flavorful and moist. Paired with the Mashed with Sweet Potatoes with Caramelized Onions & Sage this side-dish had a slightly sweet taste, yet the onions grounded it with an earthy rich taste.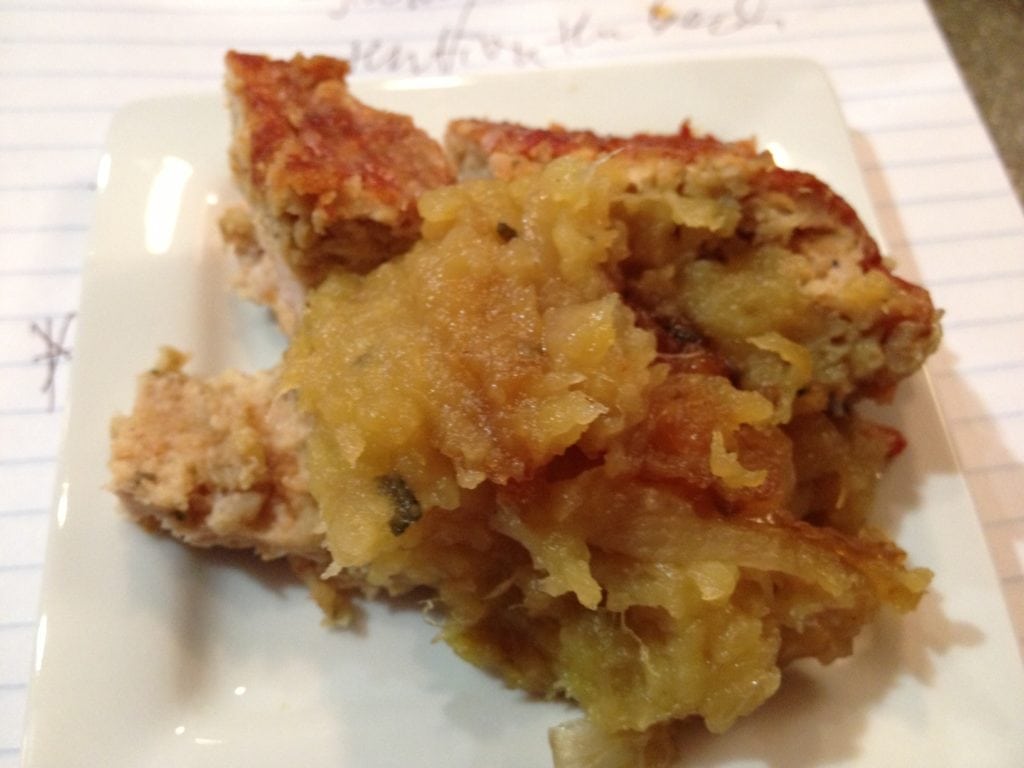 Menus-
Chris has prepared a few examples from her "Extensive Menu Line Up". All Menus are customized to each client.
~Starters
Butternut Squash Soup with Pesto
Spinach Salad with Chicken, Strawberries, Blue Cheese, and Almonds
~Entrees
Seared Strip Steak with Lemony Quinoa Tabbouleh served in Pita Bread
Chicken Fajitas with Red Pepper, Onion, and Lime served with Black Bean and Mango Salsa
Chicken Milanese topped with Arugula and Heirloom Tomato Salad
Grilled Chicken and Polenta with Nectarine-Blackberry Salsa
Pork Tenderloin with Tequila-hot Pepper Glaze and Grilled Peaches
Lemon Shrimp Orzo Salad with Salad with Feta
Salmon "Rainbow Cakes" with Lemon Greek Yogurt Caper Sauce
Roasted Salmon and Asparagus w/Lemon Oil served with Broiled Tomatoes w/ Feta & Herbed Couscous
Swordfish with Red Pepper, Cucumber and Mint served with Risotto with Corn, Tomatoes & Basil
Creamy  Veggie Pasta Primavera
Spaghetti with Arugula, Tomato and Ricotta Salata
Vegetable Crepes Topped with Chive-Cream Sauce
Pricing-
The meals are approximately $350 per week for 3-4 entrée meals for a family of four.  Each meal contains an entrée and a side dish. Additional menu items can be added for an additional fee. This includes:  the shopping, the cooking, packaging, as well as the clean-up.
For a brief complimentary consultation over the phone, or in person, please contact Chris.  [Chris is a Certified Personal Chef with The American Personal & Private Chef Association, a member of the Orange County Chapter,  a Certified Food-Safe Handler, and is currently featured on e-how video cooking segments.]
Contact Chris For Your Fresh! A Personal Chef Service:
By Phone: (949) 433-9995
By Email: chris@freshpersonalchefservice.com
Web Site: www.freshpersonalchefservice.com