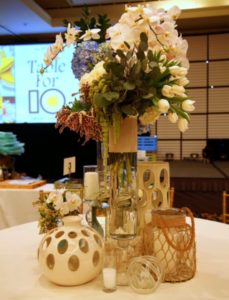 Sunday was the "11th Annual Table For Ten" event held at the Laguna Cliffs Marriott. A total of 340 guests raised over $300,000 for two worthy causes. The event benefits these two groups throughout the year— The Teen Project & the Vocational Visions organizations.
"Table for 10" is an extraordinary culinary adventure, which showcased 35 of Southern California's top chefs. The black tie evening begins with a festive cocktail reception and top-drawer live auction, which showcases "Best of Chefs" dining experiences, luxury goods and inviting trips to exotic locales.
Guests and chefs alike are thrilled as the Ballroom doors open to reveal the elegant dining room. Each table is decorated with a different theme. With dramatic table-scapes, each chef creates their own special dining experience for the guests and prepares masterful dinner tableside for 10 guests. Exquisite wines are paired with the cuisine, and each table is abuzz with interesting conversation. To view a fun video capturing the action and interviews at the event, please click on this link: https://youtu.be/Vb8DETM-AzI
The Teen Project provides teens aging out of the foster care system the resources and support of an intact family in order to allow them to successfully transition to adulthood. Vocational Visions provides programs, services and personalized support to develop the talents of adults with disabilities by creating pathways to employment, life-long learning and social inclusion. To learn more about the work this year's benefactors are doing in Orange County, visit www.TheTeenProject.com and www.VocationalVisions.org .
To see the list of participating chefs/restaurants, and keep up on plans for next year, please visit www.TableForTen.org .