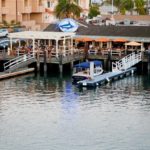 Perched on one of the Lido Island inlets, is a tucked-away treasure of a restaurant. This is an authentic Fish House. It is always on my "must do" on our list for out of town guests, and over the years it has become a local spot for us as well. With family from Boston, great seafood is not an option. It's an imperative. And this restaurant never disappoints. It is "sensational seafood" with a lovely outdoor patio overlooking the water. There is always activity on the docks and boats gliding past making for a fun adventure. And with Chef Brian Hirsty at the helm, Ruth Alwyn the attentive Manager, a very friendly wait staff, and a caring and present Owner Jimmy Ulcickas, we always know we are in good hands.
A Culinary Tasting-
New menus are always a time for us to get our forks out and try some amazing new items. Chef Brian Hirsty always delivers such inventive items, we are always saying yes to such an invitation.
Sharing the table with Karen Rasmussen, Publisher of Dining Out Magazine, we set out to enjoy some new items, along with some of our favorites. Julie is one of our favorite wait staff so
we were pleased to see her welcome us.
Let's just start with the bread. From the parking lot into the restaurant I always have the same conversation with myself, "You are not going to touch the Sourdough bread.
If you don't have that one bite you will be fine." And then it arrives. Steam seeps out of the neatly wrapped basket. "Is that butter I see in that Ramekin?"  I'm so gone.
The star of the menu is right in the middle titled, Bluewater Specialties. It is a delicious array of all types of fish, chicken breast, pasta and steak dishes. There is also Shellfish & Raw Bar items,
a cadre of Appetizers and Chilled Seafood, Salads, Chowders and Bisques, Fish and Chips and Sandwiches.  This is a treasure trove of seafood fare not found on many other menus. In addition
to the usually suspects, there is: Rainbow Trout, Sandabs, Walleye, Miso Glazed Black Cod, and many seasonal specialties that are announced throughout the year, such as Stuffed Baked Lobster.
It is always a treat to explore the menu which is printed daily.
So join us on our culinary tour of menu highlights….
First up, a favorite of Jimmy's wife Julie Anne, are the Ponzu Sashimi Scallops served on ice. These scallops are served with green onions, a delicate sesame seed sauce and touch of crème fresh.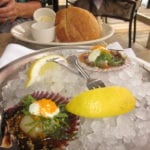 Maryland Style Crabcakes- Two crabcakes are prepared with the ideal blend of crabmeat, stuffing and spices.  Served with a remoulade & chive oil, a wasabi
accent for dipping, and finished with micro greens. The perfect start to any meal. ($12.75)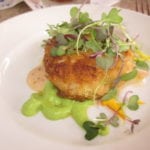 Clams Casino-The clams are in-shell, with panko, garlic red pepper and butter. Bacon can be added. Six to a plate ($12.50). This was not my favorite item.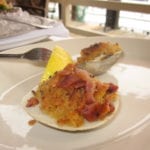 Always a winner in my book, is the New England Clam Chowder. They will also do a 50/50 if you prefer both the Manhattan style. If you prefer the Lobster Bisque is delicious, however
this should be considered a meal in itself. (The Chowders are priced at $4.95 for a cup or $6.50 for a bowl, the Lobster Bisque is slightly higher and a bowl of the Seafood Stew is $13.95.)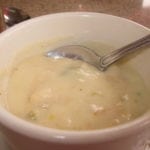 Sashimi Ahi Tuna of premium grade, thinly sliced and served with soy sauce and wasabi. IT is also prepared as a special of the day—- Sashimi Ahi Salad, with kalamata olives, feta cheese, red onions and greens.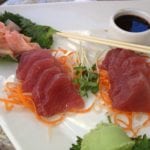 New menu items that Chef Brian is previewing include: Prawn Linguini, served with basil, kalamata olives, tomatoes, garlic in a white wine reduction ($17.50), and Shrimp & Scallops Pappardelle with porchini mushroom cream sauce ($18.50). A host of others are on the horizon as he soon migrates to his fall menu.
The Ambience-
As one enters this New England hide-away, the large picture windows and gentle wooden curves of the bar resemble a ship. The bar has low ceilings, a fireplace in the corner and is a cozy spot to meet up. Lisa and Ginny tend the bar and somehow manage to juggle a busy dining crowd as well as a busy local bar crowd. Always with a smile and a story, they are both gems.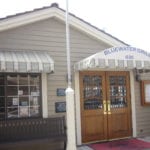 Some diners enjoy being right where all the action is—so the demonstration style kitchen and oyster bar is the perfect spot to belly up and watch all the perpetrations as the Masters speed cook their way thru the evening.  One evening I was observing the action as they gingerly poured oil on the large empty grill,  placed a huge amount of fresh spinach atop, grabbed two spatulas, tossed it five times and off it came. Blanched to perfection in an instant! And for those not wanting entertainment, the main dining room offers an open space of booths and table seating for dockside views and conversation. My favorite spot is outside on the covered patio.
The Details-
No boat required, but should you have one, there is a new public dock and two slips right our front on the water!  Bluewater Grill has four locations: Newport Beach, Tustin at The District, Redondo Beach, and the newest addition (set for year-round dining) on Catalina Island. Three well-kept secrets at the Newport Location….the have a great email program so sign up, small dogs are allowed on the patio, and no corkage on up to two bottles of wine. Cheers!
Bluewater Grill- Newport Beach
630 Lido Park Dr, Newport Beach, CA 92663
www.bluewatergrill.com
(949) 675-3474
Hours are:
M-Thu 11:00am to 10:00pm
Fri/Sat 11:00am to 11:00pm
Sunday 10:00am to 10:00pm
Happy Hour Mon-Fri 3:30 to 6:30pm