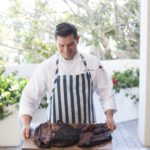 Mark your calendars!! Because on May 1st, Oak Grill is unveiling their Slow Smoked Sundaze BBQ. This is a family-friendly BBQ Supper that is a perfect way to ease into the week, and this will be happening all summer long! Executive Chef Marc Johnson and his team are launching this every Sunday evening from 5 to 9:30 p.m. – starting on May 1 (exception is Mother's Day May 8th when they will have an incredible buffet—more details below). And yes, they will be offering this BBQ menu for Father's Day on Sunday, June 19th. This menu is offered each Sunday in addition to the regular restaurant menu. There is a lovely outdoor patio with a canopy of beautiful trees. Orange lanterns cascade a lovely glow on the table, and a special touch is the live music that can be heard from the fireside conversation area below. Between the amazing BBQ and the incredibly intimate setting, this is a great spot to enjoy that out-of-doors lifestyle we just love here in SoCal. And, yes indeed, during summer, live music offered every night of the week from 6-9pm at the fireside, and will begin at 5:00pm on Sunday evenings to complement the Slow Smoked Sundaze BBQ offering.
Having spent time in the south, Chef Marc knows his way around a BBQ and for that matter, a bevy of dry rubs too! He has the expert smoker techniques down pat. And of course, quality of ingredients, technique, a slow-cooking process and teamwork are also key to this endeavor. All of the Oak Grill's products are sourced locally from purveyors Chef Marc personally trusts. Oak Grill has its own butcher and a "butcher shop" in its kitchen. The last step before the meats and fish are smoked, is his custom-made, dry rub with a blend of brown sugar, cayenne, cumin, ginger, paprika, black pepper and a few other secret spices. And this attention to every detail is experienced with that first bite.
A BBQ Preview…
I had the pleasure to attend a "sneak peek preview" of the new Slow Smoked Sundaze menu before it rolls out on May 1st. What a treat this was. The Farmer's Salad was the start of a delicious dinner. It had all my favorite treats—-from fresh beets, to cranberries and of course goat cheese. It had that "just picked" freshness I appreciate. For entrée I had selected the Baby Back Ribs. When out, I like to pick items that I do not often cook at home. And Chef Marc does these ribs to such perfection, I don't even think I will bother to try to replicate this at home. I could tell that these were very slowly smoked, and fell off the bone with a tender bite. And as you can see in the photos, the BBQ sauce is slathered on. With a slight bit of smokiness, and hint of sweet and sass, this is just stunning. My husband enjoyed the highly recommended Brisket which was cooked to perfection and sliced. The Cornbread was delicious as well. Other entrée choices looked equally amazing and it was actually hard to pick. I was also torn about ordering the Cedar Planked Salmon or the Fried Chicken. With each entrée there is a choice of five different side dishes. The Mac & Cheese is honestly "not to be missed". It is rich and creamy with a slightly browned cheesy layer on top. Incredible, and I just had to take home what remained in the serving dish. The Mashed Potatoes are also delicious, and especially if you like them thick and buttery. To finish there is a choice of desserts, and knowing that my husband loves pecan pie, and Chef Marc has that southern-style prowess—-we had to order that. It was incredible. I had one bite if that is any indication. Sharing was not really an option here—-and that's a good thing! The waiter offered Lemonade plain or laced with a homemade Tito's Vodka. We were in heaven and this is how Sunday's should be enjoyed.
A Sneak Peek At The BBQ Menu….
Here are the details on this special Slow Smoked Sundaze menu. (The regular menu will also be available.) And this is what the BBQ dinner menu might look like…The southern feast begins with a Starter of Deviled Eggs, a Pickled Plate and Farmer's Salad composed of field greens, beets, walnuts, corn, cranberries, goat cheese and honey lemon vinaigrette. The Entrees include a multitude of options… from Baby Back Ribs, Whole Roasted Catch of the Day, Fried Chicken, Beef Brisket and Cedar Planked Salmon. The Entrée arrives with two sidekicks per plate and cornbread with honey butter. Sides include Corn on the Cob, Mashed Potatoes, Mac & Cheese (my personal favorite), Sautéed Greens or Cole Slaw. For Dessert a choice of southern Pecan Pie or Pizooki Sundaze (think chocolate chip cookie) ensures a gratifying end to this hearty Sunday supper. Complimentary Backyard Lemonade made with basil and fresh strawberries is served to all, and Pickled Lemonade with Tito's Vodka is available for an additional $10. (A full bar is also available.)
The price: $34 adult price including: choice of Back Patio Entrees and shared salad, breads, two sides, desserts and complimentary Backyard Lemonade; and $12 for children five to 12. Price excludes tax and gratuity. Reservations are encouraged. Call 949.760.4920 or visit opentable.com.
Here are some photos from our wonderful dinner….
* These photos below, and of Chef Marc are courtesy of Oak Grill…..
Upcoming Events Worth Noting:
Fireside Sessions Nightly– Every night of the week live music is featured by the outside Fireside. This is a lovely open-air setting with lots of conversation areas for guests to lounge and visit. The music plays from 6:00 to 9:00pm each night, and beings at 5:00 on Sunday's to complement the BBQ offering. But here is the best part… from 3:00-7:00pm Oak Grill offers Happy Hour and this can be enjoyed at the Fireside. This means "half off" of a list of Specialty Cocktails, wines by the glass and of course craft beers. There is a robust small bites menu which is also "half off" and most of the items are just perfect for sharing. My personal favorite is the Smoked Salmon Flatbread. This is such a wonderful spot for meeting friends, and enjoying a Happy Hour, and then popping upstairs to the Oak Grill dining room for dinner.
Mother's Day Brunch-May 8th– Traditional favorites, live-action stations, endless mimosas create a wonderful environment. Go ahead and spoil Mom! This will be served from 10:00am to 3:00 in the afternoon. The cost is $75 for adults and $25 for kids 11-15 years of age. (Price excludes tax and gratuity.) Reservations are required. Please call 949-760-4920.
Jameson Irish Whiskey Dinner- May 12, 2016- For all you Whiskey lovers, come to Oak Grill and enjoy an evening of rare Irish Whiskey perfectly paired with Chef Marc's dishes. Jameson is opening up their library of rare offerings, including their 18-year and other special vintage tastings. The fun begins at 6:30pm $120 with 5-course menu & whiskey pairings. (Price excludes tax and gratuity.) Reservations are required. Please call 949-760-4920.
Oak Grill (Located at the Island Hotel)
690 Newport Center Drive
Newport Beach, CA 92660
(949) 760-4920
www.oakgrillnb.com