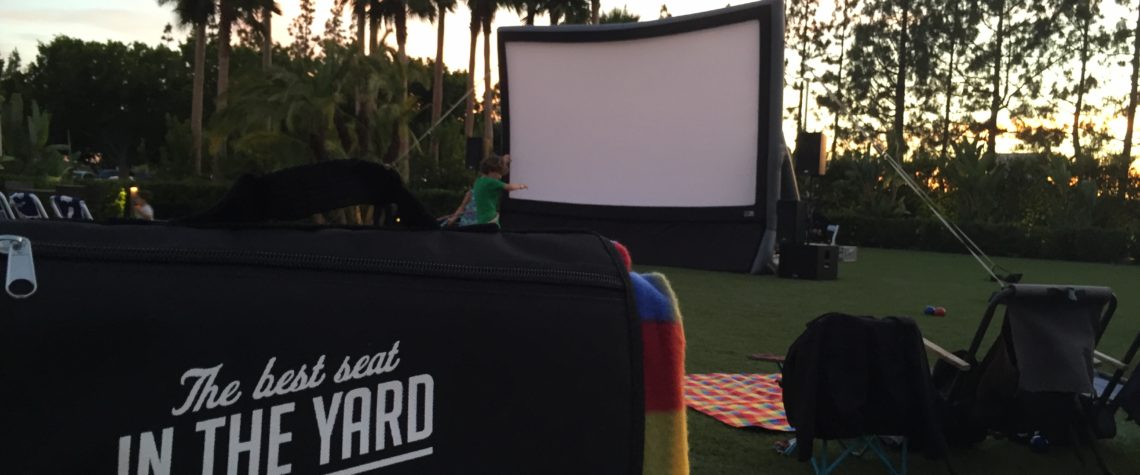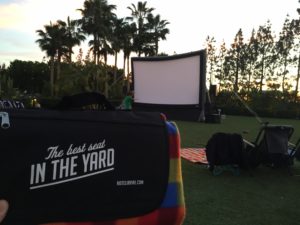 Summertime in Orange County means flip flops, warm evenings, outdoor dining, and sheer fun. Starting July 22, and throughout July & August, Hotel Irvine is bringing back "Movie Nights in The Backyard"!! Last year's crowd loved watching their favorite films on the lawn with a huge screen—-while picnicking on a summer night under the stars. So repeat it is… only better…. with a 16-foot giant outdoor movie screen, great barbeque inspired cuisine, popcorn, treats and all-in-all, it's the perfect night for families, friends or even an impromptu date night!
And after we review the movie line-up, I have noted some other really fun and creative events they have going on this summer at Hotel Irvine. Who can stay away with all this good time action? Burgers and brews, martinis, tacos, oyster fest—it's all here!
How To Do "Movie Nights In The Backyard" at Hotel Irvine
Step One: Call your friends that you have been longing to see.
Step Two: Grab your cozy blankets and low profile beach chairs.
Step Three: Come to the Hotel Irvine and either self-park, or valet park up front.
Step Four: Stake out your favorite spot on the lawn.
Step Five: Guests can pre-order a picnic from Marketplace (right there near the lobby) or my recommendation, is to enjoy the chef's outdoor buffet offering. It is amazing! It includes: freshly prepared burgers, hot dogs, BBQ chicken, summer sides and a stable of movie-inspired snacks such as: ice cream, nachos, popcorn and favorite movie candies. Wine and cocktails are available, along with non-alcoholic beverages. (Mommy juice is a requirement in my household.)
The "Movie Nights In The Backyard" line-up include:
Friday, July 22: Avengers, Age of Ultron
Friday, July 29: E.T. the Extraterrestrial
Friday, August 19: The Breakfast Club
Friday, August 26: Pitch Perfect 2
Admission is $5 per person; free for children under five. Doors open at 7 p.m. with movies starting at dusk. Open seating. Bring blankets, low chairs, pillows or cushions. http://www.hotelirvine.com/happenings/movienights/
Other Summer Events At Hotel Irvine Worth Doing!
Fridays- Beer Series
Fridays- July 15, August 12 & Sept.16, starting at 6:30 p.m.
EATS Kitchen & Bar's California Wine Series was so popular that it now gets its own summer spinoff. The Summertime Beer Series at EATS pairs California craft brews with a five-course menu created by Chef Jason. Led by beer masters from local breweries, these interactive dinners are perfect for food enthusiasts and beer lovers alike. Featured breweries:
Friday, July 15: Karl Strauss, San Diego's first craft microbrewery
Friday, August 12: Iron Fist, Vista
Friday, September 16: Coachella Valley Brewing Co., Thousand Palms
Details: Cost is $75 per person, excluding tax and gratuities. Reservations are required and limited to 30 guests per dinner. Reservations made by emailing info@eatskitchen.com. Complete menus and brewery details available at http://www.eatskitchen.com/#events
Mondays- Martini at Red Bar and Lounge
Mondays from 3 p.m. to close
Shaken or stirred, dirty or dry, straight or on the rocks. However martini aficionados like their martinis, they can get them for $5 a cocktail every Monday at Red Bar and Lounge. In addition to the specialty martini menu, the bartenders craft a new featured martini each week for those who are game to try new martini concoctions.
Tuesdays- Taco Twos Day
Every Tuesday from 5 to 9 p.m.
Tacos are twice as good when they are only $2. And they're available at two different spots in the hotel. Taco fans can get their fill every Tuesday at EATS Kitchen & Bar and at Red Bar and Lounge, where Chef Jason is serving up new tacos every week plus $5 margaritas. Score!
Wednesdays- Oyster Buck Shuck
Every Wednesday from 5 to 9pm
Oyster lovers can break out of their mid-week shell at EATS Kitchen & Bar where oysters are just $1 every Wednesday (minimum six oysters per order). Guests choose from a fresh selection of premium-quality varieties like Skookums, Fanny Bay, Chef's Creek and Phantom Creek, and the deal is topped off with a bloody Mary granité with shallot mignonette, cocktail sauce, Tabasco and lemon wedges.
Fridays- AYCE Mussel Fridays
Every Friday from 5 to 10pm
For people who adore mussels, there is no such thing as too many. Every Friday at EATS Kitchen & Bar, guests can order up as many bivalves as they want for just $12. Choices include Lemongrass Curry, Garlic Butter or Spicy Tomato Broths, and the chef will keep the deliciousness going all night long.
Saturdays- Burgers & Brews at EATS Kitchen & Bar
All Saturdays in July and August- Lunch and Dinner
Some things just belong together – like hearty burgers and ice cold brews served at EATS Kitchen & Bar. And on Saturdays, you can get both for just $9. Pick any Burger on the menu during lunch or dinner, or try Chef Jason's weekly off-the-wall creation, and add a local beer featured on tap. Easy-peasy. Take it to the outdoor patio and you have an instant vacation spot for dinner.
T
Hotel Irvine 17900 Jamboree Road- Irvine, CA 92614
(888) 230-4452
www.hotelirvine.com