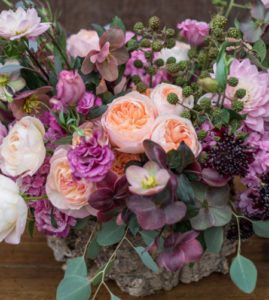 Celebrate The Unveiling of Spring at Roger's Gardens & Farmhouse Restaurant! Just walking the pathways at Roger's Gardens is so inspiring to anyone who loves flowers, the bounty of floral displays, gardening and just cherishes the joys of spring.
Special Event: Join the experts at Roger's Gardens on Thursday, March 23 from 5:00 to 8:00pm. The event fee is $25 per person, and tickets can be purchased here. A portion of proceeds will be donated to The Ecology Center's "Grow your Own" program.
For Tickets Click Here: http://shop.rogersgardens.com/browse.cfm/spring-celebration-2017/4,5561.html?utm_campaign=3_1_17&utm_source=springeventinvitecomp&utm_medium=email&utm_content=rg-pc-paid
Guests can enjoy artistic fresh floral, plants and succulent living displays. Also spring home décor collections and lovely home goods will be showcased. Chef Richard Mead will be on hand with tastings of new spring artisan cocktails and savory bites at his Farmhouse Restaurant. For those of you who tried to get in during the holidays, and then the rains were quite frequent. Now is your chance to enjoy this lovely new restaurant. You'll be inspired by the beautiful environments that celebrate nature, habitats, and sustainable living, while bringing beauty into your own home and garden.
You will hopefully be inspired as I am, and want to immediately go home to my own garden and play in the dirt!
Then, this weekend, Friday, March 24 through Sunday, March 26 from 9:00am to 6:00pm guests can experience, for no charge, a weekend of natural beauty with artistic fresh floral displays, special events and seminars. Be inspired by the beautiful environments that celebrate nature, habitats, and sustainable living while bringing beauty into your own home and garden. Some of the fun and informative weekend events can be viewed here: http://rogersgardens.com/seminars-events/spring-celebration-natural-beauty/
Roger's Gardens 2301 San Joaquin Hills Road Corona del Mar http://rogersgardens.com/