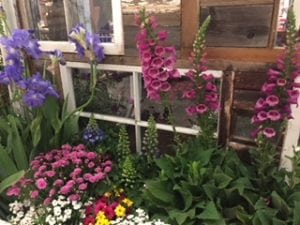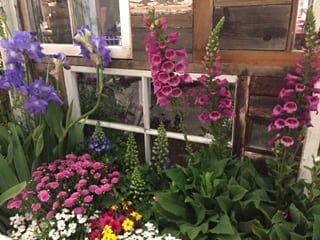 Friday through Sunday April 27-29th
(Crate & Barrel/Macy's Home Store Side)
This is one of my favorites of the spring garden events, presenting an extravaganza of displays, unique plants and creative seminars to help home gardeners like myself to design new features for my own garden. It is inspiring and helps me to take a new fresh look at what trends are unfurling for the season ahead. Best of all it is complimentary—so guests can wander about and explore at their own pace. They even have cooking demonstrations with local chefs as well!
On the first floor we find ten amazing vignettes—from one end of the plaza to the other. Local Landscape Designers have partnered with the on-site home stores, and have created amazing outdoor venues that we can try to replicate at home, or of course, they will be glad to come and do it for you. Such great ideas from a wall of recycled bottles that had a fountain feature, to comfy sitting areas, pillows, drapes and outdoor rugs. All accents creating a tranquil area for entertaining or just curling up with a book and relaxing.
Then upstairs there are two floors of vendors with all kinds of amazing plants, and garden art and bulbs and all things gardening related. I have some special, hard to find plants in my garden that I have purchased here over the years. And everyone is very friendly and willing to answer questions.
There are also many seminars from edible gardening, to how to grow tomatoes, and even a seminar on landscape sustainability and how to grow orchids. Please see the web site for a complete list of each day's events and there are brochures as you enter the shopping mall as well. I like to look ahead so I can plan my day.
Chef Demo on Saturday- Don't miss this demo by Chef Ross Pangilinan of Mix Mix Kitchen Bar in Downtown Santa Ana. This will be held Saturday, April 28 at 1:00 pm in the Macy's Culinary Council Kitchen on Level 1 of the Macy's Home Store. Ross was named the 2017 Restaurant of the Year by Orange Coast Magazine. Previously, Pangilinan was executive chef for seven years at Leatherby's Café Rouge at Segerstrom Center for the Arts where he was known for his clever Broadway themed menus.
Hours: Friday 10am – 9pm, Saturday 10am -8pm & Sunday 11am- 6:30pm
http://www.southcoastplaza.com/gardenshow/
Complimentary admission and parking
#SCPatHomeInTheGarden #SouthCoastPlaza