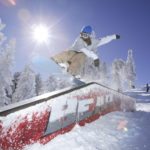 DECEMBER  5-8th, 2013 at the LA CONVENTION CENTER
SKI DAZZLE—SKI AND SNOWBOARD EXPO® – Enjoy Continuous Ski Lessons on a 60 foot Snow Summit Ski School ramp, Climbing Walls, Ice Skating Rink, Snowboard Classes for Tikes, Ski Gear, Culinary Demos, Free Lift Tickets, Ski Demos and So Much More!
And celebrating its 50th year, Ski Dazzle is a not to be missed event for those who love the snow. And we are ready for some snow now aren't we? This family-friendly event features: 200 +exhibitors, season pass and lift ticket specials, free entertainment,  film previews, Vertical Ramp pro riders, virtual Slalom races and free beginner ski school lessons from top instructors!
DAILY FREE EVENTS:
This family-friendly show will feature season pass and lift ticket specials, free entertainment and film previews.  Expo admission includes daily free events such as continuous ski lessons on a 60 foot Snow Summit Ski School ramp; a new Riglet Park snowboard learning center for kids to 2-8 years old from Bear Mountain and Burton; a two-story high climbing wall; and a 40×50' ice-skating rink.
$6 MILLION SALE:
Don't miss the Ski Dazzle® Sale and Swap $6 Million Dollar event, where attendees can save hundreds of dollars on current and past season gear for adults
and children provided by local retailers and industry vendors.
LIFT TICKET BONUS:              
For the first time at Ski Dazzle, six major ski resorts are offering a free lift ticket with the purchase of a general admission ticket. Participating resorts include: Brianhead, Bear Mountain, Mt Baldy, Mountain High, Snow Summit and Snow Valley. Some restrictions apply.   Check website for details.
ANNIVERSARY DEAL:
In celebration of the 50th Anniversary of Ski Dazzle Los Angeles and the 60th Anniversary of Mammoth Mountain Resort, Mammoth will be offering show attendees a $60 lift ticket (one ticket per person, while supplies last). Also, check out the "Kids under 12 Ski for Free" offer from June Mountain. These incredible lift tickets are only available for purchase inside the massive Mammoth Mountain Pavilion at the entrance to Ski Dazzle.
CHEF DEMOS:
This year, Ski Dazzle will feature Ski Dazzle® – Taste Of Winter™ with Executive Chef Brett Lewis of the Los Angeles Convention Center, who will demonstrate mouth-watering recipes for select audience members to sample. Chef Lewis is inspired by resorts and restaurants from the world of skiing in presenting this year's theme: "50 Years of Mountain Cuisine Favorites."  Chef Lewis will create a new dish each day from Swedish Meatballs, Fondue to Blackened Catfish.
Demonstrations will be held as follows:
12/06: Friday:  6:30pm & 8:30pm
12/07 Saturday:  2:00pm & 5:00pm & 7:30pm
12/08 Sunday: 1:00pm & 3:30pm
SOCHI SKI SIMULATOR:
Debuting at Ski Dazzle is SkyTech Sport's Sochi Olympic virtual ski competitions.  Attendees will have a chance to step onto this world-class Olympic team training machine and into an authentically detailed virtual Sochi Olympic race course.  This is not a video game but a high tech, powerful and unique training tool that is being embraced by both amateur and professional athletes and coaches. The SkyTech Sport machine is featured all four days at the Ski Dazzle® show.   Attendees can sign up for a free introductory lesson or compete for a season pass.
VERT RAMP:
Back by popular demand is the high energy Bear Mountain Resort Monster Skateboard Vert Ramp ready to thrill the Ski Dazzle® audience. The X-Games and World Cup Skate Tour emcee Dave Duncan brings world class skaters & BMX riders to the event, which have included national and internationally ranked athletes.  The performers take to the vert ramp daily to show off their signature moves and their eye-popping stunts.
Confirmed participating athletes:
Pro Skateboarders
*Chad Shetler
*Chris Gentry
*Danny Mayer
*Sergie Ventura
*Josh Borden
*Josh Rodriguez
* Brian Patch
*Lizzie Armanto (#1 vert girl in the world for 2012)
*Allysha Bergado
*Amelia Brodka
*12 year old Tom Schaar (the only skater to land the 1080 spin in history)
*the Groms
BMX pro riders (XGames medalists): 
*Simon Tabron
*Ben Snowden
*Austen Coleman
Vert Ramp Schedule
December 6 – Friday:
7:00pm VERT Show
9:30pm VERT Show
December 7 – Saturday:
1:00pm VERT Show
4:00pm VERT Show
7:15pm VERT Show
9:30pm VERT Show
December 8 – Sunday
2:00pm VERT Show
5:00pm VERT Show
EXPO DATE/TIMES:                           
December 5 (4pm to 10pm)
December 6 (4pm to 10pm)
December 7 (11am to 10pm)
December 8 (Noon to 6pm)
WHERE:                                  
Los Angeles Convention Center – South Hall
1201 South Figueroa Street
Los Angeles, CA
TICKETS:                                 
$20 general admission (includes choice of a free lift ticket or free lesson package or a buy-one-get-one free ticket from a choice of six resorts – up to $89.00 value).  Plus a $10 Liftopia.com gift card.
$5 (children ages 6-12) and FREE (children six and under)
WEBSITE:
www.skidazzle.com
MEDIA CONTACT:                            
Vanessa Showalter 949-748-0542 vshowalter@cox.net
EVENT PRODUCER:
Judy Gray 949-584-5839 judy@skidazzle.com