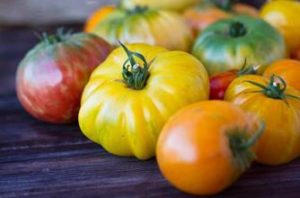 Every year our family awaits the arrival of summer and the delicious Heirloom Tomato specials from The Ranch's very own personal garden. I had the pleasure of visiting the garden a few years back with Chef Michael Rossi and their proud culinary team.  It is a favorite for us, so we of course will be taking full advantage from now through August to explore the creativity of Chef Michael Rossi and his talented team.
They have created a brand new five-course Tasting Menu to showcase this year's harvest. This is not to be missed and will only be available this Thursday through Sunday, July 23-26th from 3:00-8:00pm. This is only available for Curbside Take out. (And, of course, there will be other heirloom specials sprinkled through the menu from now through August.)
Special Tasting Menu- Heirloom Tomato Centric
Thursday, July 23rd – Sunday, July 26th from 3:00pm – 8:00pm
** Available only for curbside pick-up **
$59 per person, five courses:
ACORN-FED IBERICO HAM: Pan con Tomato
HEIRLOOM TOMATO WATER POACHED SKULL ISLAND SPOT PRAWNS: Heirloom Tomato Gazpacho / Farm Basil / California Olive Oil
HOUSE MADE HEIRLOOM TOMATO GNOCCHI: Veal & Ricotta Sausage / Farm Zucchini / Smoked Mozzarella
24-HOUR TOMATO BRAISED CAPE GRIM SHORT RIB: Heirloom Tomato Risotto / Summer Corn / Swiss Chard / Parmigiano-Reggiano
DI STEFANO RICOTTA CHEESECAKE: Heirloom Tomato Jam / Pine Nut Crust
Their Cellar Master has selected three wines to pair with this Tasting Menu. For an additional $90 guests will receive the following:
Two bottles (each 187ml) Chandon, Brut Sparkling Wine, California
One bottle (375ml) 2014 Pride Mountain, Chardonnay, Napa Valley
One bottle (375ml) 2017 Roar Wines, Pinot Noir, Santa Lucia Highlands
Link to menu:  https://www.theranch.com/restaurant/events/heirloom-tasting.aspx
Did you know? The Ranch's local organic Farm at Edwards Ranch Estates is home to over 600 heirloom tomato vines and 90 varieties, including Big Rainbow, Green Zebra, Cherokee Purple, Mr. Stripey, Yellow Brandywine, Pink Berkeley, Black Krim, Tie-Dye and Jasper Cherry.
Patio Dining Is Here Too-
There is no in-restaurant dining at this time and the Saloon is closed for now, however, The Ranch has created an elegant Patio Dining Experience! They have added a hedge wall along with 9 foot umbrellas, string lighting and two types of tables, both high top and low tables. Brilliant!!!
The Ranch Restaurant
(714) 817-4200
https://www.theranch.com/restaurant/
1025 E. Ball Road
Anaheim, CA 92805