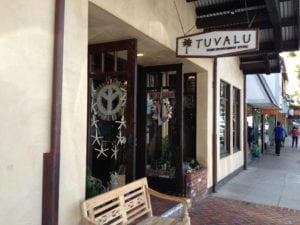 I am a big believer in purchasing gifts from local stores and vendors whenever possible. Here are a few of my favorites…. Sandcastles Monogram Balboa Island– will embroider initials or names on make up cases, aprons, and all types of children's gift items too. Candle Essence Balboa Island– they have a lovely selection and each week pour different scents. They will also do unscented if you call ahead. The candles last 90 hours! Newport Colony Fashion Island– offer beautiful serving trays, and other home gift items. Tuvalu Laguna Beach located on Forest Street this little store is a real find. They have endless home goods items—from seasonal mugs, to guest towels, picture frames and so many lovely things it is worth the trip. Trader Joes is always a winner from teas, to flowers, to fine chocolates and ports. Have you tried their sea salt chocolate caramels?  Amazing! Rogers Gardens offer gifts from nature, and Sherman Gardens has the best selection of note cards around. Savory Spice Corona del Mar & OC Mix– Laura Shute has a mind-spinning selection of rubs, salts, herbs, and many with recipes to complement many of the spices. It is such a wonderful store and a fun gift to give. The lamb rub and the truffle infused salt are my two favorites! Your Local Farmer's Market– these folks work so hard every day and then pack all their wares to come visit you in your town. Show 'um some sugar, and purchase flowers or fruits & veges that make a great basket for someone special.
Here are some other suggestions for you….
For A Couple– Often we scratch our heads and wonder what to get for the couple who have just about everything… well here are my three favorites:
1)  Something from Roger's Gardens- They can do no wrong, and their floral department does amazing displays!  www.rogersgardens.com/
2)  A Sherman Garden's Annual Membership- Such a special place to enjoy the flowers, succulents, have lunch, take a course, and just support this Corona del Mar icon. www.slgardens.org/
3)  A Bower's Museum Annual Membership- If you and a guest attend two events in one year, you have pretty much paid for a membership!  www.bowers.org
For Him- Wine, port, liqueur, favorite cigar, golf balls from a special course, music CD, picture and picture frame  for his office, travel book for an upcoming trip, a gift certificate for a day of fishing from Newport Harbor, a Duffy Boat Rental, or a gadget. This is not local, but Vistaprint.com has all kinds of custom covers for iphones and you can upload your photo. A very thoughtful gift!
For Her- Something for the home is always appreciated, such as: guest towels, candles, wine, balsamic vinegar, spices or infused salts, serving utensils, or stationary. Also flower arrangements are very well received. I often wrap up a container of Basil and give that to my foodie friends. Every so often I go to Ikea and pick up 6-8 inexpensive glass vases. These are perfect, when I have a bouquet of flowers, I can use one of these vases, tie a ribbon, add a note and it is a lovely hostess gift instantly. I also keep small pottery containers handy to put a small plant inside a pot and with a decorative ribbon and note, it is ready to go!
For A Teen Or Young Adult- An I-tunes gift card, a decorative coffee mug with a Starbuck's card inside, a Target gift card, candy, movie tickets for two, and cash is king.
Happy shopping! We are planning a special cookie baking day so we can get back to what it is really all about. BEING TOGETHER!!!  God Bless….