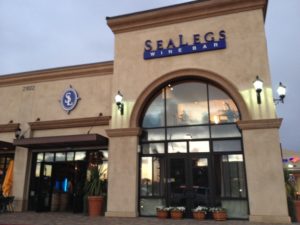 The setting is eclectic with a Hamptons meets Huntington style and sensibility. There are high-tops, shared tables, intimate tables, and a private room for special events. The wine bar (home to 2,000 unique bottles), an expansive bar are the un-denied focal points of this venue. The elegant chandeliers that accent the long bar are like "explanation points" parading across the ceiling. They also offer take away retail wines by the bottle. The music was diverse and selections that are on my play list at home. Alicia Whitney and Lisa Nonemaker are doing a great job to make this spot have that "come stay for awhile" feel, and the staff are well-trained and attentive. The Wine bar offers a sincere nod to Craft Beers, Champagnes and Sparkling wines in addition to their healthy selection of Reds and Whites.
The menu was quite a surprise as we settled in to our table along the west wall of the expansive main room. I was expecting a wine bar with perhaps a cheese board, but this was so much more! The menu is divided into a delightfully creative four part bevy of choices. There are small plates to complement White Wines, Red Wines, Greens and Sweets. The White wine section includes: various Fries, Lump Crab Cakes, Ahi Tartare, Roasted Figs, Artisan Grilled Cheese, Truffle Mac & Cheese Oysters and Mussels. The Red Wine section includes: Pulled Pork or Sausage Sliders, Garlic Shrimp, Chicken Tacos, Drunken Mushrooms, and Charred Filet Medallions. Greens were a nice cross-section of options…. from Roasted Beet Salad, to a Wedge Salad, or Buratta. The sweets are what really surprised me, with such a wide selection, and everything we tasted was delicious. Light, creamy and just dreamy. The current menu includes: Chocolate Ganache Cake, Carrot Cake, Carmelized Berry Crisp with Gelato, Cabernet Blackberry Sorbet and Bingy (Limoncello sorbet covered in a Bing Cherry reduction served in a fresh glass of bubbles).
Confessions are forthcoming, so get ready… my group of three enjoyed five decadent menu items, that one should NOT be ordering—- but we did! And all were great for sharing!
1) The Truffle Mac and Cheese arrived in a bubbly oval shaped deep dish brimming with noodles and cheese with a lightly toasted top layer. This includes three cheese, truffle oil and encrusted with provolone. [Perfect for sharing if you want something a bit filling.]
2) Drunken Mushrooms are sliced and sautéed with garlic and herbs in a Chianti reduction.
3) Bleu Fries arrived on a large plate, dripping with melted bleu cheese and fresh cut chunks of bacon.
4) The Buratta Salad was a very pleasant surprise. Not only was it visually pleasing, it was creative. It included: Heirloom tomatoes, honeydew melon, shaved fennel, and buratta cheese topped with fried prosciutto and micro basil. Each bite was delicious!
5) To finish us off, literally, we enjoyed Paul's Chocolate Ganache Cake. This was a double-layered Guittard chocolate ganache slice, with a chocolate mousse center. The cake was light and fluffy and the chocolate was rich and creamy.
Our wait staff was very helpful in terms of our wine selections. We started with a Kim Crawford Savignon Blanc (Marlbourough New Zealand) $10 by the glass and $36 by the bottle, and then migrated to the Khroma Cabernet Sauvignon (Alexander Valley) also $10 by the glass or $36 by the bottle. The Khroma was a somewhat fruity Cab and was the perfect recommendation based on what I had described I enjoyed.
As for the bubbly, Sea Legs offers a nice selection for any celebration or toast—from one split (Karma), three by the glass and ten by the bottle. There are ten Craft Beers offered on draft (is there any other way) and eleven offered in the bottle.
The draft beers cover the gamut—from Coronado Orange Ave Wit, to Black Market Hefeweizen, Marin County Breakout Stout, and Stand Brewery Atticus IPA— just to name a few. All priced at $6 so that makes doing the math easy. Just count the glasses and multiply by six!
Sunday Brunch is also available with a wide selection of entrees, each served with a split of Karma Sparkling Brut. Examples of the entrees, include: Bacon, Eggs & Homemade French Toast ($13), Seared Ahi Eggs Benedict ($14), Roasted Figs ($9), Wedge Salad ($10), and a selection of Champagnes, Wines and Craft Beers. I am always partial to a menu that is not just all about "breakfast" so this diverse menu has my attention.
Suggestions- cuz' I always have some….
1) Consider offering two/three additional pours for "wines by the glass" so we can explore more. Many wine bars will offer 4/6/8 ounce pours.
2) Consider adding "And Bistro" to your name. The food is fantastic and a welcomed surprise once guests arrive and settle in. I was not expecting the menu to be so robust, with delicious options and killer desserts as well.
3) Consider promoting the private room on the menu and offering collateral information about how to easily and quickly do a "pop-up" gathering. Offer some packages that make it easy for us to calculate a gathering (per person) based on a high/medium/low wine selection. The Pastry Chef even makes special cakes and desserts for any occasion!
4) Consider adding a Cheese Tray to the menu. I did not see one on the menu or the web site.
The Details:
Sea Legs Wine Bar
21022 Beach Blvd.
Huntington Beach, CA 92646
(Corner of Beach Blvd. & Atlantic)
714.536.5700
www.sealegswine.com
Hours of Operation:
Monday-Saturday 5pm-Close
Sunday 11am-8pm
(Brunch from 11-5pm, limited menu after 5pm on Sundays)