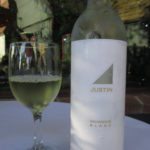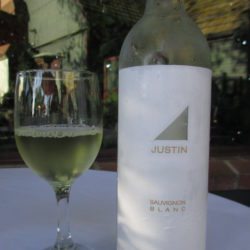 Thursday July 16, 2015, we enjoyed a lovely Winemaker Dinner at Savannah Chophouse. It was held outside under the tree lined patio,  with umbrellas, and peek a boo views of the azure sea below.  Justin Family Winery was on deck this month, and is a classic Paso Robles winery. We have been members off and on for many years, and it always a stop on our sojourn north. General Manager Phil Roberson introduced his wonderful team, and Executive Chef Chris Tzorin took the stage to welcome a sell-out crowd of fans and foodie friends. As Sandy, our favorite server, poured the Justin 2012 Sauvignon Blanc, we took a deep breath and knew we were in for a delightful evening. Michael Leech is a staff member at Savannah, and also their Wine Specialist. He was very knowledgeable about the wines and answered questions along the way.
The evening began with tray passed hors d'ouevres that were the perfect complement to the crisp Sauvignion. This included: Salmon Cru (sushi grade of course) tossed with olive oil, ginger and coriander gently stacked on sliced and toasted baguettes. The second was a refreshing Greek Grape encrusted with pecans and Greek yogurt, and served ice cold.
The first course was a Spanish chorizo and Clams. It was perfectly balanced in heat and flavors. The sauce included Smoked Paprika, fennel and Asiago Toast Points. It was delicious!
Wine Served: Justin Sauvignion Blanc, Paso Robles 2012
The second course was delicate Diver Scallop Brulee. This was perched upon a sweet potato mash, with a peach butter emulsion and a red bell pepper drizzle.
Wine Served: Justin's sister winery, Landmark Vineyards 'Overlook' Chardonnay, Sonoma County 2012.  This represents the perfect balance of butter, citrus and oak. This was so delicious that I had to order some!
The third course was sliced Chateaubriand, served with whipped purple fingerlings, pesto parmesan stuffed heirloom tomato and a blackberry peppercorn reduction.
Wine Served: Justin Cabernet, Paso Robles 2012
The dessert course was a domed Flourless Chocolate Cake, drenched in dark chocolate Ganache with Caramel drizzle. A sprinkle of berries drenched in Justin's 'Obtuse' Paso Robles 2012. This is a dessert wine which is 100% Cabernet.
Live Evening Music In The Lounge:
Mondays and Thursdays through Saturdays- Please check the web site for times and groups being featured..
Upcoming Events at the Restaurant:
-Belgian Beer Dinner Thursday, July 23rd at 6:00pm $39 per person
-Cooking Class with Chef Chris Tzorin – On The Patio- Saturday, August 15th
-Wine Dinner with Arrow & Ranch Winery- Thursday, August 20th
-Wine Dinner with Raymond Winery- Thursday, Sept. 17th
We are so pleased that Chris is back and look forward to celebrating many more fun evenings at Savannah Chophouse!
Address:
32441 Golden Lantern
Laguna Niguel, CA 92677
949-493-7107
http://www.savannahchophouse.net/
Hours:
Sunday – Monday 5pm-9pm
Tuesday – Thursday 5pm- 10pm
Friday – Saturday 5pm-11pm
Bar & Lounge Opens at 4pm-to closing