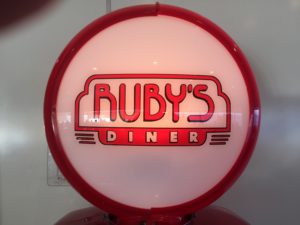 Open since 1982, this classic 1940's themed diner seems to be in all the cool spots here in Southern California (and elsewhere too). When I think of Ruby's I think of incredible burgers, fries and good old fashioned malt shakes. It was the spot my son always wanted to go when he was just a tyke. I think the burgers were bigger than he was, but that was his spot when given the chance to pick our dinner spot.
I recently had the pleasure to join fellow writers at the Ruby's Diner at the tippy end of Huntington Pier. I had no idea they had a "to go" window and a two-story dining room for maximum views out over the Pacific Ocean. What fun!
We were here to enjoy some of the brand new menu items. What a treat with lots of great offerings for sharing with others. But the big surprise of the day was that they are now serving wine-based cocktails! Who knew? They are offering these at four locations in this area, and more will soon follow you can be sure of that. But for now—-so listen up—- these drinks described below can be found at: Huntington Beach on the Pier, Long Beach, San Clemente and South Coast Plaza.
Did Someone Say Cocktails? Why Yes They Did! There are five delicious cocktails that are actually made with wine, as opposed to hard liquor. They are quite good and here is a quick run-down of the Signature Cocktails and they are all priced at $6.95 and each one is handmade:
-Bloody Mary- Spicy, sweet and salty all at the same time!
-Cadillac Margarita- Tangy, refreshing, light with that south of the border sensation.
-Mai Tai- Tropical, sweet cool and bright.
-Moscow Mule- Crisp, bubbly, zesty, with a ginger flavor and served in an authentic cooper mug.
-Mojito- Thirst-quenching with a minty brisk flavor.
They also serve wine, and a bevy of imported and domestic beers. This includes, at this location: Blue Moon Belgian Ale, Lagunitas IPA, Stella Artois and Bud Light.
Some of the new items are perfect for sharing, and on this lovely afternoon we enjoyed three different hash brown tots that were smothered in country gravy, chili or chowder. The chowder was my favorite however they are all quite good. The Fried Green Beans with two dipping sauces had me "thinking" I was being so good but of course I knew otherwise. The Fried Calamari was a "must order" and is also served with multiple sauces.
This spot serves breakfast, lunch and dinner. Breakfast is served all day so if you are dreaming about pancakes in the afternoon this is your spot. They have a great kids menu, as you might expect.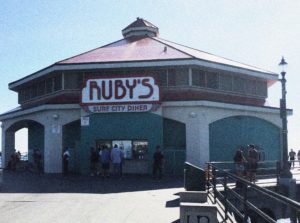 And For the History* Buffs In The Room… The idea for Ruby's Diner was born in 1980 after a run on the beach. Doug Cavanaugh had just returned to his native Southern California after successfully restoring and running a restaurant on Nantucket Island just off Cape Cod. One evening he was brainstorming about business opportunities with his father, and remembered that he had seen a dilapidated building at the end of Balboa Pier while jogging along the beach. Although the building was in pretty bad shape, Cavanaugh noticed its architecture really lent itself well to that of a 1940's diner. With his father's encouragement, Cavanaugh started to make the restaurant a reality.
To enlist help for the project, Cavanaugh reached out to his friend, Ralph Kosmides. After they obtained a long-term lease on the building that had once been a bait shop, Cavanaugh and Kosmides decided to move forward with a 1940's American diner theme to bring back the fun and nostalgia of the era.
To make the diner feel authentic, Cavanaugh and Kosmides scavenged antique and memorable stores in Southern California for 1940's artifacts. After remodeling most of the building themselves, Cavanaugh and Kosmides opened the doors about a year later on December 7th, 1982. Much to her surprise, the tiny-45 seat restaurant was named after Cavanaugh's mother, Ruby.
With three employees and a simple menu of hamburgers, hot dogs and malts, the restaurant brought in a whopping $63 on its first day. Although Cavanaugh and Kosmides were nervous on opening day, they were encouraged when they saw people walk around the pier, look into the diner and smile. "It was as if they were remembering a simpler, happier time," says Kosmides. With this success in hand, Cavanaugh and Kosmides realized that they had tapped into something that appealed to a wide range of people of all ages.
Now, 35 years after Cavanaugh saw the run-down building at the end of the pier, Ruby's Diners can be found in all different parts of the country, such as Houston, New Jersey, Nevada and Pennsylvania, and is continuing to expand – with 35 locations currently open. Their motto is, "Only the best for our guest," and that is not just a saying. It is one of their core values.
The Ruby's logo really is a cute story…After finding a high school cheerleading head shot of his mom, Doug used that as inspiration. With hair curled and a hair ribbon perfectly placed, the charm and simplicity of the 1940's was captured with this classic logo of Ruby.
*The history was edited from the Ruby's Web Site.