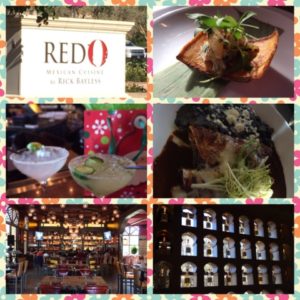 A Restaurant With a Pulse…..Red-O Restaurant is one of the many new additions to the Fashion Island scene here in Newport Beach. And it is oh, so, good!  Billed as "Mexican Cuisine by Rick Bayless" this new rock star is making a name for itself in no time flat. And with Chef talent at the helm, who was worried?  Famed as the winner on "Top Chef Masters" in 2009, Rick's  accolades abound from a long list of "approachable" and "innovative" cookbooks he has authored. The decor is Neo-Moorish, with cut-out  geometric shapes and patterns, archways, decorative lighting, ironwork, wall sconces & lanterns, and peek-a-boo shapes that play with the indoor/outdoor reflections. The bar is welcoming in a horse-shoe shape with ample room for impromptu high-top dining, and is hopping! The dining room features high ceilings and numerous options for seating—from booths to intimate tables and comfortable seating abounds. Adjacent to the dining room is a lovely patio space with drapes and partial enclosures.  I spot this as my summer hide-away. They are also smartly building a second private dining room just to the right of the patio room described.
The cuisine is impressive, and perfect for sharing. There is an appetizer of guacamole prepared four different ways. This includes: Classic, Macha, Yuzu, and a Pomegranate-Walnut blend.  The tortilla chips are served with two salsas, both of which are delicious—the traditional tomato salsa and the green Tomatillo salsa. We enjoyed the Soft Taco trio, and were able to select from six different options. We chose: Chicken, Ahi Tuna, and Shrimp. The flavors were amazing. We also shared the Short Rib Enchiladas which is delicious with a light Mole sauce (if there is such a thing).
The menu is divided into main categories as follows, and really offers something for everyone! –Soups and Salads– Five creative salads, Butternut Squash or Tortilla Soup –Soft  Tacos-So many choices… from Grilled Skirt Steak, to Mahi Mahi (my favorite), White Shrimp, Chicken, and on it goes. –Enchiladas & Taco Al Carbon– From Mole Pablano, to Suizas, Short Rib or Crab and Shrimp. –Mexican Classics– Chicken or Lamb Mole, Scallops in Verde, Ahi Tuna, Pescado De Dia, Filet Mignon –Traditional Side Dishes– Mexican Street Corn, Grilled Asparagus, Peppers, Quesadillas. –Tortas- From Carnita to Chicken, Tinga, Vegetable or Steak. –Sopes & Tamales– Sweet Plantains, Beef Short Ribs, Tamales –Ceviche's and a Raw Bar–from Oyster to Ahi Tuna (my favorite) and Calamari.
The service was impeccable— from the Bartendress (who was exceptional and Jeanette was her name), to the Wait Staff, and the General Manager who was even greeting everyone at the tables and welcoming them to the restaurant. Nice touch Sir. (My only complaint is that the Margaritas are very expensive and the house white wine they did not have in when we were there, and that was expensive as well for the upsell of $14. So unless you like beer, plan to spend some serious dough for cocktails and wine.)
Location: Red-O is located at 143 Newport Center Drive (where Coco's used to be located). The phone number is: 949-718-0300. Reservations can be secured on Open Table.
Hours: The restaurant is open daily for lunch and dinner. For lunch 11:00am to 3:00pm, and for dinner Sunday through Thursday 3:00pm to 10:00pm, and Friday and Saturday dinner is served from 3:00pm to 11:00pm.  Sunday buffet brunch is served from 11:00-3:00 (however guests need to arrive by 2:00 as it is closed at 3:00 to set up for dinner service). The cost is $45 for adults and children at a discounted price, of course. (This does not strike me as a good restaurant for young children however.) There is no happy hour offered. {This information has been updated May 27th, 2014}