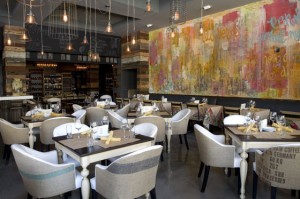 What a treat to enjoy the "newly refreshed" Irvine Spectrum. If you have not had a chance to get over there, please do so. It has really come alive with culinary options and lounge areas for relaxing—with a "let's pretend we're at a resort" kind of vibe.
Cucina Enoteca restaurant joins Paul Marin's American Bistro, and Javier's on the quad. And the three make it a tough decision—as each offers a very different ambience. But that is a good thing. All three feature wonderful patio dining options that are hit with the guests. Yes, there are many other dining options nearby and at all four corners of this outdoor playground of a mall. But today, my focus is on Cucina Enoteca. Let's explore….
Meet the Team
Tracy Brokum is the Owner of this fine establishment. The company is Urban Kitchen Group out of San Diego, and they have two restaurants located in San Diego and a Catering company as well. She has brought on a stellar staff here in Irvine, with Peg Hicks as GM, Ed Manetta as Wine Director and Lulu de Roeun as Executive Chef. Lulu hails from New Orleans, is French-trained, and you may remember her name from the likes of: Pinot Provence, Aubergine, Marche Moderne and Letherby's.
The Concept
The concept is somewhat unique. The Restaurant is "part dining" and "part wine shop." What's not to like there? Guests can purchase wine to take home, or can bring it into the dining room and pay a nominal corkage fee ($8 at the time of this writing). The best part is that the prices are "retail prices" and not traditional restaurant prices, so that makes it a very reasonable option.
The Space
Entering from the walkway, you pass by two large and welcoming patios—both to the left and right. The roofing provides shade but the indoor & outdoor feeling is not lost on this perfect al' fresco dining hub.
The reception desk is welcoming, but it is quickly overshadowed by the dramatic selection of wines. The tour begins to the right with the white wines— and as you wander along, you realize there is another huge room filled to the ceiling with reds from around the globe. The long bar greets you on the other side. The dining room is expansive with both banquette and table seating. There is also a long Chef's Table for those who want to sit high-top style with friends or mere strangers. It is a gathering spot and close to pizza oven viewing through the glass partition. So as you can see, the dining options are aplenty. The décor is such fun to explore. Just let your eyes wander amidst the huge space and flea market finds Tracy has uncovered. It is an eclectic and playful collection, and the cheerful mix-and-match fabric patterns. It feels like an old farmhouse.
The Cuisine
The menu is expansive and you can visit the web site at the close of the article to view the complete menu and daily specials. The focus is on Italian classic dishes with the use of the freshest local produce, organically grown and sustainable products. This will serve as a highlight that will guide you through some of my favorites, and the Chef's as well.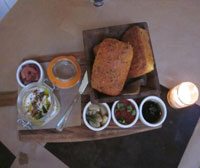 ~Chef's Selection of Appetizer
This includes: Mini Rosemary Potato Focaccia Loafs (that are so light and full of flavor), Sun Dried tomato pesto, Garlic Confit with Burrata (which is magical), Olive Oil and Balsamic Vinegar, Poached and thinly sliced pears (which complement this selection amazingly well).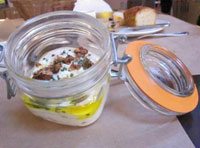 ~Gorgonzola and Walnut
Mousse- This was served on a wood plank and was quite the winner. The Gorgonzola and Walnut Mousse is served in a mini-mason jar (and these can be purchased for take away for $3).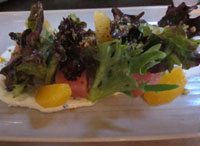 ~Beet and Ricotta Insalate
Homemade Ricotta laced the plate, with delicious beets, greens and endive. Sprinkled with pistachios and dressing was a white balsamic orange vinaigrette this is a light and refreshing first course.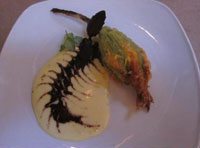 ~Stuffed Squash Blossoms
This delicacy is stuffed with herb ricotta, fried and served with a purple basil pesto and cured lemon aioli. This is a favorite of my Italian friends and not an easy find in Irvine, CA.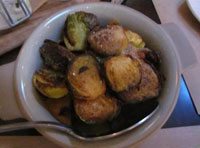 ~Roasted Brussel Sprouts
Now, this was an unexpected treat. The Brussel Sprouts were roasted with Olive Oil and served with Ivan's Hot Sauce (a house specialty) underneath — and gently tossed. Slightly spicy but delicious.
~Ricotta Gnudi Antipasti
This was served with a Sage brown butter and sprinkled with Parmesan and Fried Sage.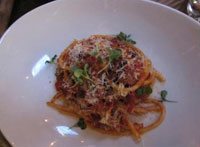 ~Buccotini Pasta & Tomato Sauce
This was my favorite pasta dish, and will be yours as well. This is a hollow-style pasta, with Calibrian, Chili & Guanchilli (pork ears).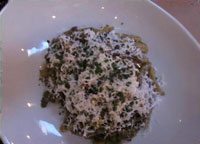 ~Ricotta Cavatelli and Duck Conserva Pasta
This pasta was served with shredded Duck and Wild Spinach with Chives. A wonderful selection of flavors, and the Duck was perfectly paired with the Ricotta and Spinach.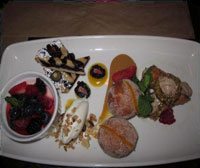 ~Chef's Selection for Dessert
And what Italian meal would be complete without a selection of desserts! This included: Blueberry Frugolata (tart), Vanilla Gelato, Cannoli with Dolce du Luce Cream, and Frittella Dolce (Italian donuts).

Irvine Spectrum
Open for Lunch and Dinner Daily
Happy Hour 3-6pm 7 days a week
(949) 861-2222
http://www.cucinaenoteca.com/about
Article © Copyright 2012 TastesAndTravel.com