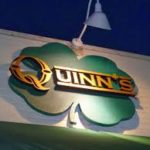 Quinn's Old Town Grill is in the quaint downtown center located in old town Tustin. It is a sweet place, with lots of locals parading on the streets and greeting each other as they pass by. It seems that Quinn's has gone through a bit of a rebirth, and I dare say they are certainly on the right track. I would describe Quinn's as a casual Gastropub with a warm staff, and excellent food. This is one establishment where the bar and the dining room share the same space, and somehow do so quite successfully. I am charmed by the brick across the back wall, the long bar with comfortable bar stools, a bevy of tables & chairs, and my favorite—-the comfy red leather half-round booths across the back. Large picture windows welcome the outside in with green awnings decorating the exterior. In addition to this space described, there is also a semi-private dining room to seat 14 for a social event or even a business meeting.
It was a pleasure to meet the General Manager,  Dean Conzaman. He is so personable, and was greeting guests as they came and went. I could tell he is a "hands on" Manager and that is so important in a venue such as this. Very refreshing to see and we could tell the guests appreciated his attention to details.
Meanwhile, back to the bar…..along with an extensive Irish whiskey and Scotch collection, imported beers and some local brews, Quinn's offers a full, varied drink menu including our "world famous" authentic Irish Coffee. I have also seen photos of their equally famous "Bloody Mary's". Known as the "house of the big pours" who can argue with that success? The wines are 8 oz. pours, and the draft beers are 20 oz.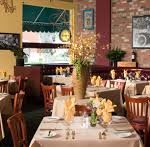 The restaurant is open for breakfast on Saturdays and Sundays, opening their doors at 8:00am. The rest of the week they welcome guests beginning at 11:00am for a busy lunch service, and stay open into the evening for dinner service as well. Each night of the week they offer a "special menu item" and this has drawn crowds to enjoy those specialties. There is also a Happy Hour which is available from 2:00-6:00pm Monday thru Saturday offering a selection of beers, wines, and reasonably priced appetizers such as: wings, sliders, pot stickers, Calamari Fritti, Fish & Chips, Thai Chicken  and so forth.
On a recent visit to Quinn's my guest started the evening with a Pomegranate Martini, and I toasted with a Mandarin Cosmo. Both were as colorful as they were flavorful, and we were off to splendid start with Kelsey as our guide for the evening. The Calamari was accompanied by a delicious cocktail sauce with hits of mayonnaise and chili powder. For a main course I had ordered the grilled Salmon which arrived with fresh carrots and rosemary potatoes. Everything was so flavorful and I know they use top-shelf ingredients and their vegetable vendor is Penjoyian Produce (partnering with local farmers). My friend ordered the sinfully decadent Fried Chicken. This was served with mashed potatoes, a side of rich gravy and green beans adding that punch of color to the presentation. She shared a piece of the chicken with me, and it was amazing. I now know what guests (and Yelper's) have been raving about. To cap the evening, we enjoyed an Espresso Martini, and that was truly "dessert in a stemmed glass". It was divine.
I am already planning my next visit so that is a great sign! I have on the list the traditional Irish favorites—homemade Shepherd's Pie and Corned Beef & Cabbage. I have also caught a glimpse of the Steak Stroganoff and I cannot wait to dive into that!
In addition to the 7 television screens playing sports & games galore, entertainment includes the following: on Wednesday evenings an International close-up magician John George performs from 6:00 – 8:30pm. And on Saturday evenings from 6:00 – 9:00pm a musician is playing live music in the dining room.
"What I would like to do is pick up Quinn's and move it right down the street from my house! It would be my PERFECT Cheer's Bar which I am always searching for. Great people, delicious food, and cold craft beers. Bravo Quinn's!"
Evening Special Dinner Offerings:
Monday– Filet Mignon-An 8 oz. Black Angus filet, potatoes & vegetables, and choice of soup or salad.
Tuesday- Best Fried Chicken In Town- Served with mashed potatoes & gravy, vegetables, and choice or soup or salad and ice cream sundae. Get here early – we always run out!
Wednesday- Quinn's Corned Beef & Cabbage- Fork tender Corned Beef, Guinness steamed cabbage, potatoes, sweet carrots, with a side of Coleman's Brown Sugar Mustard Sauce.
Thursday– Chicago Pub-Style Ribs- Slow cooked Baby Back Ribs (8 bones) basted lightly with our tumbleweed BBQ sauce, potatoes & cole slaw.
Friday- Fresh Boston Scrod Filet flown in on Thursday. Lightly breaded, finished with lemon caper butter and roasted garlic, served with a choice of potato and vegetable.
Saturday– Quinn's Prime Rib- Prime Rib is seasoned and prepared in the same manner as Lawry's Prime Rib that gives it that savory flavor.
Sunday- Short Ribs- Braised Short Ribs served with Chef Avalos' special mushroom sauce, and served with mashed potatoes, carrots and green beans.
Quinn's Old Town Grill
405 El Camino Real, Tustin, CA 92780
www.quinnsoldtowngrill.com
(714) 731-2263
Hours:
Monday      11:00 am – 10:00 pm
Tuesday      11:00 am – 10:00 pm
Wednesday 11:00 am – 10:00 pm
Thursday    11:00 am – 10:00 pm
Friday         11:00 am – 12:00 am
Saturday     8:00 am – 12:00 am
Sunday       8:00 am – 10:00 pm
Note: The kitchen closes at 10:30pm on Saturday and Sundays, and
at 9:00pm Monday thru Friday.
Happy Hour: Monday- Saturday from 2:00-6:00pm