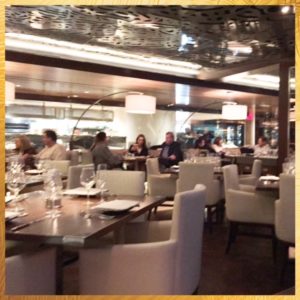 Tucked along the waterfront of the tawny Miracle Mile Restaurant Row is a rather swanky new spot. Meet The Ritz Prime Seafood restaurant. This is quite modern in style—- with porcelain tiles, mesquite woods, etched glass and white leather chairs and couches built just for two. Owner Grill Concepts reimagined the dining room to showcase the fabulous marina just steps away. The floor-to-ceiling windows offer commanding views of yachts and the Newport Harbor. Ritz is open for dinner nightly and for brunch on the weekends, with a covered outdoor patio complete with heater lamps nested above.
The "Social Hour" is impressive, and is definitely worth enjoying. The Bartenders are very personable, and will make just about anything you can dream up. Small bites are also available with everything from sushi rolls to raw oysters, and even a Bison burger! Live piano music and duo (which is held at the perfect volume for conversation) starts playing just after 6:00pm during the week days, and a tad later on Saturday's.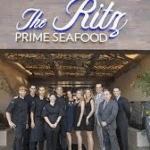 The cocktail program is impressive where "old school" really rules. Even though the bartenders are youthful, they have serious game. They are an impressive line-up of seasoned professionals, with an easy, chat-it-up style that the locals really are drawn to. The wine list by the glass or carafe has endless alternatives. One of the restaurant's signature cocktails is The Ritz 55, which bar manager Mauricio Burgos seems proud to introduce to his guests. The drink has hints of a Sazerac or Vieux Carre (a 1930's cocktail from the French Quarter of New Orleans and the name refers to the "old square"). This is a potent, absinthe and rye whiskey inspired beverage with a burnt-orange color. It is served with one square ice cube, and garnished with a lemon rind. (See the end of this article for the recipe. You're welcome.)
As guests are escorted into the dining room, one cannot help but peer to the right, and into the kitchen for a sneak-peek of what is to come. Fresh seafood is displayed beautifully on a glistening bed of shaved ice, and the sizzle of steaks grilling can be heard in the background. It is a bevy of activity as the wait staff scurries to and from the dining room.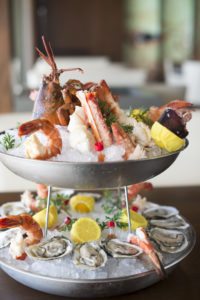 Corporate Executive Chef Phil Kastel developed the menu alongside Michael Steward who is the Executive Chef here at The Ritz. Executive Chef Michael offers an impressive raw bar with seafood flown in daily, dry aged Prime steaks and a menu with so many choices it is difficult to decide. Some stand-outs worth a mention include: Tuna Sashimi, their Lobster Bisque and a whole roasted Branzino, just to name a few. The Ritz Seafood Tower is very popular, offering guests the opportunity to "create their own tower" from a wide-selection of fresh, seasonal chilled seafood.
The menu is staggering with so many choices it can be difficult to select and there are changes quite often. Many guests begin with the Sushi and Raw section of the menu offering a selection of caviar, sashimi trios, seasonal oysters and rolls. The Soups & Salads include a rich with flavor lobster bisque, seafood salads and the chopped wedge or Caesar. Among the Appetizers and Sides the braised short rib & scallops is a stand out, as are the Taleggio mac & cheese and the sautéed Brussel sprouts. The Land, Sea & Plates section of the menu include almost twenty different entrees, and some of the most popular being: lobster risotto, cioppino with lobster, scallops, mussels and shrimp, Georges Bank sea scallop, John Dory, filet medallions, New York strip steak, American Wagyu short ribs and the pork Tomahawk chop. For Dessert, there is an éclair, perfect for sharing, an 8 layer coconut cake with a passion fruit puree, a flour-less chocolate cake, and the list goes on to tempt even the most disciplined of diners.
On a recent visit, here are some of the delicious items we enjoyed!
I was surprised how many sushi, sashimi and rolls there were on the menu. What a great way to start the meal, and perfect for sharing bite-size treasures. The Spicy Ahi Tuna Roll was indeed the perfect way to kick off this evening of dining. The Scallops & Short Rib Appetizer was recommended by both the bartenders and wait staff, so of course we had to try those. They were amazing. Not to be missed on this menu in my opinion. This was a "close your eyes, and hum along" goodness. The Scallops were grilled to perfection, the short ribs had been roasted and rich in flavor profile, and these both sat atop a delicate celery puree with herbs and sprinkled with Brussel Sprouts leaves that had been deep fried. The Wedge Salad is chopped and tossed, and does not resemble the traditional version. However I took one bite, and declared, "Who cares!" Everything delicious I might expect was there— the crumbled bleu cheese, bacon, ripe chopped tomatoes, crumbled egg. It was so good that I did not let the bus person take it away! The New York Steak was cooked to perfection and so full of juicy flavors. I am always so pleased when a seafood-centric restaurant does such a great job on steaks! They just know how to grill protein. Period. We are not dessert eaters, but everything she described sounded delicious.
The Ritz Restaurant has enjoyed a very long history here in Newport Beach. It was originally located in the historic McFadden Building on the Balboa Peninsula (now the 21 Oceanfront Restaurant) and in 1982 they relocated to Fashion Island. Hans Prager, a superb and beloved host and philanthropist for so many years, is honored here at the new Ritz, with a special bronze plaque located to the right of the front door. What's old is new again, in the Newport Harbor—-and the grand legacy continues.
Upcoming Special Events-
Tax Day Promotion on Friday, April 15 – to be enjoyed in the bar, lounge and on the patio, They'll extend their Social Hour until close at 11 p.m. (Normally, Social Hour is Monday-Friday from 5 to7 p.m. and Saturday & Sunday from 10 a.m. to 5 p.m.) The Tax Day Promotion offers specialty cocktails at half off their standard price. That means guests can enjoy the scenic waterfront view while sipping on favorite quaffs such as the Cool Runnings made with Plantation Pineapple Rum, Fresh Pineapple and Lime or The Wedge which combines Tromba Silver, Vida Mezcal, Ancho Chili, Pineapple and Agave. The Tax Day Promotion also applies 50% off to well drinks, draft beers and wines-by-the-glass. And to celebrate Tax Day or any day, the Bar Menu features bites including Crab & Hamachi Roll, Bison Burger, Ahi Tuna Poke, Oysters, Sashimi, Parmesan Truffle Fries and more.
Gift Card Promotion April 18 to June 19, 2016 Guests can purchase a $100 gift card and then receive a $20 promotional dining card. This promotion is available for both website purchases of EGift cards and traditional gift cards available online and in the restaurant.
Mother's Day May 8th– Serving both Brunch & Dinner
For Brunch– From 10:00am-4:00pm and enjoy live music at the bar from noon to 4:00pm. Toast Mother with a fine champagne or a thirst-quenching cocktail from the Bloody Mary Bar while enjoying Caviar Selections and Seasonal Oysters on the half shell. For appetizers, choices include: Grilled Oysters, Tempura Veggie Roll, Aki Tuna Poke and more. Brunch entrees offered are the Ritzy Bison Burger with foie gras, shishito aioli and onion marmalade; Short Rib Hash & Eggs; Smoked Salmon Benedict; Egg White Omelette; Lobster Benedict; and Brioche French Toast. Other entree selections include: The Ritz Seafood Salad, Grilled Lobster, Pork Tomahawk Chop and other hearty dishes. For dessert, guests may enjoy the restaurant's irresistible signature toasted, eight-layer Coconut Cake atop passion fruit puree. For Dinner– From 5:00-10:00pm guests will enjoy a curated wine list, beer and sake choices and hand-crafted fresh cocktails like the Heat on the Harbor (Absolut Vodka, cucumber, basil and Serrano chili). Start the celebration with The Ritz Tower, which allows guests to create their own chilled seafood masterpiece to share. Or, guests may opt for starters such as the famous Ritz Egg, Jumbo Shrimp Cocktail or Rainbow Roll with hamachi, salmon, tuna, crab and avocado. Entrees feature sustainable fish selections including John Dory, Faroe Salmon, Block Island Swordfish, Grilled Lobster and Chilean Sea Bass – all served with special accompanying sauces. For meat lovers, selections are Jidori Chicken, Dry Aged Prime NY Strip, Filet Medallions and Pork Tomahawk Chop. Sides and salads are very popular—such as: The Ritz Caesar & Prawns, Taleggio Mac & Cheese, Creamed Corn, Grilled Asparagus and more. Sticky Toffee Pudding, Chocolate Flourless Cake and the Ritz's heavenly Coconut Cake are some of the sweet ending options.
Signature Cocktail: The Ritz 55
Ingredients:
¼ ounce absinthe (coat the glass)
1 ounce High West Double Rye Whiskey
1 ounce Hennessy VS Cognac
¼ ounce B&B Liqueur
¼ ounce Carpano Antica Formula Vermouth
2 Hard Dashes Peychaud's Bitters
1 Hard dash orange bitters
Directions: Coat the inside of a glass with absinthe, and discard excess. Combine remaining ingredients and stir. Serve over one large square ice cube, or serve neat. Garnish with lemon or orange rind.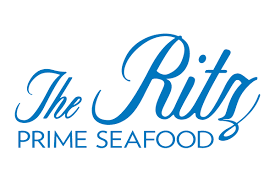 Ritz Prime Seafood Restaurant 2801 W Coast Highway, Newport Beach ~ (949) 720-1800 Web Site: www.ritzprimeseafood.com/ Serving Dinner Nightly and Brunch on Saturdays & Sundays. Social Hour is: M-F 5:00-7:00pm and Sat/Sun from 10:00am -5:00pm