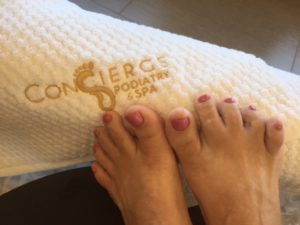 Summer is here ladies—so I'm jumping in with both feet! Those of you who know me, know I had a toe fungus from a Spa Chair while getting a pedicure and it took me forever to get rid of it. Thank goodness for Dr. Ivar Roth who made that miracle happen for me. So you can imagine how freaked out I get about having a Pedicure done. I have to interview the place before I will go in. And I just did an article for Visit Newport Beach on pedicures and visited 15 places, and ladies you would be SHOCKED at what many of these places are doing out there!!!
Nail Lounge in Costa Mesa an exception, and does a great job. I typically go there. But since Dr. Roth recently opened a MedSpa I just had to try it and I am so glad I did. So, I am sharing this with you all. You're Welcome…..
How I have missed lingering in that overstuffed chair, sipping prosecco and chatting about my summer travel and "must visit" new restaurant openings. Selecting the color of nail polish is my favorite task and the most important decisions of the day. It is one hour of sheer fun.
Concierge Podiatry and Spa (also known as NewportBeachNails.com) is located on Old Newport Blvd. — just up the hill from the A Market. It is on the third floor of a swanky new modern building with a lovely patio outside. It is finished with beautiful expansive stations, beautiful wood flooring and cabinetry, chandeliers and contemporary decor. The Spa is in the process of adding a lovely patio with Cabanas for outdoor manicures, pedicures and will soon follow with massage options as well.
This is probably the most unique nail spa I have ever been to. They take Med-Spa to a whole new level. There is a professional licensed Doctor of Podiatry on site, and in this case that is Dr. Ivar Roth, who has been here in Newport Beach for many years. (He actually saved one of my toes that had contracted a toenail fungus years ago, as I previously mentioned.) He was one of the first in the area to use lasers for toe treatment and he also develops creams and various products for better foot care. Each technician has an advanced certificate as an "Advanced Nail Technician" and no other salon or spa can claim that in that in Orange County. This is important in that they have raised the bar on making sure all utensils, products and procedures are used and cleaned in a way to secure a completely sterile environment. That is very important to someone like me who has had issues in the past.
Mary Ann was the technician who took care of me when I was there and she has quite an impressive following. Using many products from the Deborah Lippmann Signature Collection, the Spa offers some fun specials during the week. On Tuesdays and Thursday's join the Pedi Party offering complete pedicures for $52 vs. $65 all day. This includes: callus treatment, scrub, mask massage and polish. On Monday, Wednesday and Friday from 3-6pm they offer a manicure with a complimentary glass of champagne or wine. Gel Manicure is $44 vs. $55 and Regular Manicure is $40 vs. $50. (Reservations are strongly suggested and they can arrange exclusive gatherings and gal pal parties and showers as well.)
Please consider booking an appointment and perhaps one of these fun packages I have listed above. They are so nice, and I really want to support establishments that are doing it right and are professional. My feet are worth it!
Let me know what you think!!
Concierge Podiatry and Spa 949-335-5318
495 Old Newport Blvd. Suite 300 Newport Beach, CA 92663
www.newportbeachnails.com/
(Just up street from A Market on PCH and Timree's Paint Studio on Old Newport.)