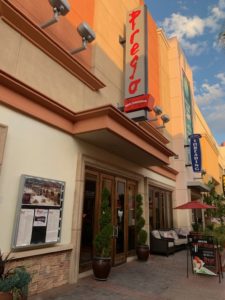 Launching September 23- October 6, 2019, Chef Ugo Allesina and his team will feature a very special seafood-driven menu with various starters and entrees to choose from.  Prego is located at The District in Tustin and the restaurant has a lovely dining room, bar area, patio, private dining room and a Chef's Table that seats eight in front of their wall of wines. I was lucky enough to garner a "preview" of the incredibly delicious fare and wanted to share some of these highlights and photos with all of you, my loyal readers. Every single item that I tasted I would gladly order again (and will during this special offering)! You can just taste the incredible freshness, house-made pastas and sauces, the sauté shrimp done to perfection, salmon lightly grilled, the rich sauce from the mussels was divine. It was all amazing.
We also enjoyed beverages that were perfectly paired with each dish. This may give you some suggestions for enjoyment when you are here and ordering for yourself.  We had refreshingly light cocktails for the appetizers and both white and red wines were paired for the entrees.  All the details and descriptions of each dish is here, but since a picture is worth a thousand words I wanted to be sure to include photos that would capture the essence of the dishes. Such thought and effort goes into every dish.  Perfecto!
Starters/Antipasti
We started our evening with a toast to good health with a lovely White Sangria and an order of the Mussels so share.  Cozze Del Marinaio $15 – Black Santa Barbara Mussels, white wine, garlic, clam juice, dash of chili flakes, served with crisp Tuscan bread.  As mentioned, this was paired with a White Sangria.
The second and third starters were so delicate and a perfect start to any meal. The Carpaccio di Pesce is on the menu and is centered around very thinly sliced swordfish. The fennel and thyme were such an unexpected addition and I am going to have to steal that idea at home! He said he would not mind me doing so.  Ugo also prepared a thinly sliced salmon with octopus which was equally sublime. (Chef's Tip:  was a special that he did for us, and may or may not be on the menu when you are dining with him.)
Carpaccio di Pesce $17– Thinly sliced center cut swordfish, topped with lemon, fennel, Calabria chilis, ginger, and thyme.  This was Paired with Aperol Spritz. (Chef's Tip:  Ugo mentioned  that mint is also a wonderful addition to this dish. I must try this at home!)
The third starter on this fantastic menu was shellfish in a rich broth.  Zuppa di Pesce $19– Manila Clams, mussels, scallops, shrimp, calamari, in a light tomato, garlic, basil broth. This was paired with Chianti, Banfi Reserve.
Entrées/Entrata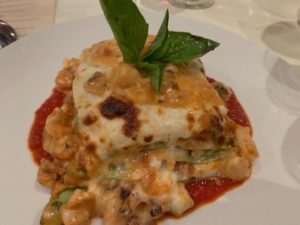 We then moved on to the Main Courses that will be offered on this upcoming menu debut and each was served family-style so it was the perfect little bites of each. I had just made Lasagna at home and was eager to taste this one, as Ugo masterfully uses a béchamel sauce for his version and it was sublime. Lasagna di Pesce $23- Layers of fresh spinach pasta, bechamel, ragout of crustaceans and fresh seafood, baked and finished with fresh mozzarella. This was paired with Greco di Tufo, Terre d'Aione. (Chef's Tip:  Ugo mentioned that he mixes the bechemel with the mozzarella to create a fondue consistency and then uses it for the layers.)
Next up was a traditional gnocchi which has the room at a complete silence which tells you something right there!  The potato dumplings were shimmering with the green of the pesto it was dressed with. Gnocchi Portofino $25– Potato dumplings, mixed with shrimp sautéed in white wine, tossed with sun-dried tomatoes and creamy pesto. This was paired with a Pinot Grigio, Abbazia.
This was a delicious dish and was delicate in its flavor profile and without the cheese that I seem to always love to drown my pasta in. In very bad manners I am told… (in cattive maniere). Linguine alla Vongole Veraci $25- Flat thin pasta tossed with Manila Clams and jumbo fresh water prawns in a light garlic white wine sauce. This was paired with a Gavi, Banfi. (Ordering Tip: One of my favorites of the evening and I just love how Prego purchases and offers really delicious wines but not pretentious pricing.)
Now this white fish from Lake Superior was a surprise for me. It was delicate and delicious and perfectly dusted and sautéed. That is hard to do and it was lighly browned and done to perfection. Filetto di Pesce Bianco Milanese $26– Lightly dusted with panko breadcrumbs, sautéed, served with arugula, julienne tomatoes, coated with lemon dressing. This was paired with a Chardonnay, Ferrari Carano which is right up my alley. It was the perfect complement to this dish.
For those who enjoy a medley and assortment of seafood, this is a perfect selection. It included tuna, salmon, prawns and white fish and what a lovely selection—and a great dish for sharing with others. The salmon was incredible. Misto Griglia $29– Mixed grilled assortment of tuna, salmon, jumbo fresh water prawns, fillet of white pacific fish, topped with lemon, garlic, and herbs, served with roasted potatoes and vegetables. This was paired with Chardonnay, Chateau St. Jean.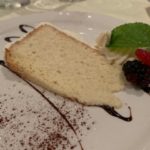 Prego offers a host of tempting desserts. Chef Ugo and his team served us a Tres Leche Cake with fresh fruit. It was light and the perfect ending to our extravaganza of an evening.
Cocktails and Wine-
On the menu, you will find many options, and some were described above. They also have full bar, wine list and many beer choices as well. Here is what will be found on the menu, but honestly, the options are endless.
Wine Flight | Your choice of any three paired wines, 3 ounces each $18
White Sangria | Traditional blend of brandy, triple sec, white wine, and fresh fruit $7
Aperol Spritz | Prosecco, Aperol, soda water, garnished with an orange $7
Wines By The Glass or Bottle: 
Chianti, Banfi Reserve    $10 | $38
Greco di Tufo, Terre d'Aione    $10 | $38
Gavi, Banfi    $11 | $40
Pinot Grigio, Abbazia    $11 | $40
Chardonnay, Ferrari Carano    $11 | $40
Chardonnay, Chateau St. Jean    $8 | $2
Other Upcoming Events and Specials to Watch For-
There are always good things cooking up at Prego, and here are a few:
-J. Lohr Wine Dinner- October 11th
-New Happy Hour and Bar Dining Menu- Coming Soon!
-Black Truffle and Procuitto Special Seasonal Menu- Late October
-Cooking Demo and Dinner- in November
Prego Mediterranean
The District at Tustin Legacy
2409 Park Ave, Tustin, CA 92782
Phone: (949) 553-1333
on Open Table
https://www.pregooc.com/
Tip For Parking… The center offers Valet Th/Fri/Sat nights. But either way, entering from Von Karmen behind the mall (over by Pet Smart) is the easiest way to get in and parked quickly. Around the front is very challenging with lots of foot traffic. The restaurant is the second storefront on the left when you enter from the back parking lot!