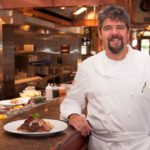 In early March, we had the pleasure of joining a group of friends for a wonderful wine tasting and dinner at Prego Ristorante in Irvine. The last time I was here, was for a private cooking class that we enjoyed with Chef Ugo in a private room tucked just behind the bar. It was a wonderful evening and we giggled our way through an entire menu. I caught some fun pictures too!
[Readers can view that article and obtain hints from the recipes on my site at this link:
http://tastesandtravel.com/2013/10/cooking-class-with-chef-ugo-of-prego-ristorante/  ]
Fast forward to this Friday evening—one of the couples with, pointed over to a corner booth and reminisced that was the spot where they had their second date 28 years ago. What fun memories. This evening was a presentation by Constellation Brands (representing many brands of wine) and Prego. The Constellation representatives were on-hand, pouring the wines and providing course-by-course descriptions.  Executive Chef & Partner, Ugo Allesina, who hails from Piemonte, Italy, orchestrated the menu, and he focus on Northern Italian cuisine was the perfect complement.  Restaurant owners, Ruth Lee and Tony Bedi were also enjoying the evening, and Ruth Lee came over to share some hilarious stories with us!
The dining room is elegant, yet comfortable, with a hint of rustic old-world Italian charm.  Archways, gleaming copper, hints of Cherrywood and a lively exhibition kitchen & pizza oven all provide a fun atmosphere for diners.
Our evening began with an Italian Aperitivo (Sparkling Wine) which was very refreshing as the end to a rather warm day. This was served with Hors d'Oeuvres of Assorted Antipastini.  The first course was Bistecca Tagliata di Calamari —imported slices of fresh Italian Calamari steak, topped with shaved fennel, organic Arugula and a lite spicy oregano sauce. This was paired with a Borgo Conventi Pinot Grigio, Collio, Italy. It was light and pleasant wine.  The second course was probably my favorite. It was a Cuscinetti di Aragosta dish. This is homemade ravioli filled with ricotta, lobster, and served with lemon lobster sauce and sprinkled with chives.  This was paired with one of my favorites, a Franciscan Cuvee Savage Chardonnay from Napa Valley. This course was lovely and the Chardonnay had the perfect balance. I have been to this winery many times, and is a great stop! The main course was the Mare e Monti—a pan seared Chilean Sea Bass with bread and herbs crust, and a lamb chop with a mint demi-glace sauce. This was served with potatoes and organic fresh green beans. The red wine paired with this dish was a Wild Horse Unbridled Pinot Noir from Santa Barbara.  The dessert was a delicious Key Lime Crème Brulee. This was the perfect light, and slightly tart finish to the evening. This was a classic egg custard with a hint of key limes. This was paired with, what else, but a cold and crisp Inniskillin Vidal Ice Wine from Canada.  The price was $65.00 per person, which was a great value and the event was sold out!
My favorite dish, and one I have not been eating lately, was pasta!! Big surprise I know….   It was a Cuscinetti di Aragosta dish. This is homemade ravioli filled with ricotta, lobster, and served with lemon lobster sauce and sprinkled with chives. The photo does not do it justice, but here it is….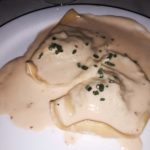 Prego is open for lunch and dinner seven days a week. They have a great Happy Hour, yes daily, and have numerous dining spaces—to accommodate large groups, as well as small, intimate private dinners. It is so difficult to find space for a small group of ten or so, and they have just the perfect venue!
Prego Ristorante
18420 Von Karman Avenue
Irvine, CA 92612
(949) 553-1333
www.pregoristoranti.com
Hours: Mon-Sat: 11am – 10pm, Sunday: 11am – 9 pm
Happy Hour: Daily 4pm – 7 pm