PREGO Ristorante Presents A 5-Course Wine Dinner with Antinori Winery
Join Chef Ugo Allesina Friday, January 24, 2014th @ 7:00pm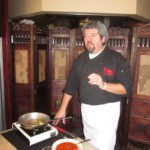 Prego Ristorante presents its first wine dinner of 2014 with Italian Winemaker Antinori. Executive Chef Ugo Allesina will present a 5-course Italian menu featuring Chef Ugo's famous Osso Buco-filled Cannelloni, Braised Beef in red wine and rich Grilled Polenta. The dinner is priced at $68.95 per guest (excluding tax & gratuity).
Antinori's Italian legacy has lasted more than 26 generations, and an impressive 600 years in the winery business— ever since they joined the Florentine Guild of Vintners in 1385. To this day, it remains family-owned and operated as it produces exceptional Italian wines.
The Menu
Presenting the menu and wine parings for this elegant 5-course dinner will include:
Canapè Assortiti ~ Assorted Appetizers
Wine: Santa Cristina Orvieto Classico, 2011
Polenta e Funghi ~ Grilled Polenta with Wild Mushrooms in a Veal Demi-Glace
Wine: Villa Antinori Rosso, Toscana 2010
Cannelloni Ripieni ~ Rich Cannelloni Pasta filled with Osso Buco and Ricotta Cheese, topped with Béchamel and Reggiano
Wine: Villa Antinori Bianco, Toscana 2011
Stracotto di Manzo al Vino ~ Beef Braised in Red Wine, served with Whipped Marjoram  Potatoes and Eggplant Caponata
Wine: La Braccesca Vino Nobile di Montepulciano, 2009
Formaggi Misti e Frutta di Sottobosco ~ Assorted Fruits and Cheeses
Wine: Santa Cristina Vinsanto, 2008
For Reservations please call 949.553.1333.
Prego is located at: 18420 Von Karman Avenue, Irvine, CA ~ www.pregoristoranti.com.
About Prego Ristoranti-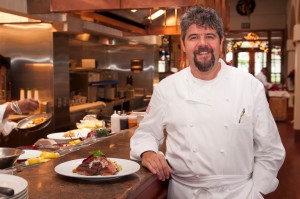 Executive Chef & Partner, Ugo Allesina, was named "Chef of the Year" in 2013 by the Orange County Business Journal. Born and raised in the region of Piemonte, Italy, he is noted as a premiere Chef of Northern Italian cuisine. Prego Ristorante has all that one could wish for in a fine Italian restaurant—an elegant, yet comfortable atmosphere, attentive service and cuisine that strikes the perfect balance between traditional authenticity and innovative preparations. Prego's ambience blends the warmth and rustic charm of old-world Italy with the electricity and vibrance of a cosmopolitan restaurant. Streamlined arches and columns, gleaming copper, polished hardwood floors and an abundance of Cherry wood furnishings create an inviting dining room. A lively exhibition kitchen allows guests to view the artful chefs creating their delicious dishes.
About Antinori
Tuscany and Umbria are two very special regions in central Italy. Italy welcomes travelers and wine aficionados alike, to a slow-paced world of wine and culinary exploration. As visitors traverse the sparse country roads, the rolling hills envelope the thirst-quenched vines. Italian cypress trees salute all who pass, with faint flecks of ancient stone villas perched upon the hilltops. Ah…to be in Tuscany is to be in heaven.
This is the backdrop to a legendary family of winemakers who trace their history back to the year 1180 and, in 1385 registered in the Florentine Vintners' Guild. As President, Marchese Piero Antinori has shaped the company over the past quarter-century into one whose wines are prized by connoisseurs the world over. The Antinori Family has recently celebrated 600 years of wine production. Although their properties have significant presence in Tuscany and Umbria (fifteen in number), they also have presence and partnerships in numerous locations around the globe, including other locations in Italy, Hungary, Chile, Washington state, and Napa Valley, California.
Piero Antinori has served on many boards and associations and academic organizations. For 25 years, he has combined progressive and original techniques with traditional ones to dramatically improve winemaking in Italy. In 1971, for example, he produced a new breed of wine that turned a cheek to Chianti Classico, and became the prototype for what is today called Super Tuscan wines. In 1985 he received the Golden Bottle Award as "the Italian wine producer who attained the highest international stature for wine quality, innovative, philosophy and image."
"Age-old roots play an important role in our philosophy, but they have not served to inhibit our innovative spirit."   Marchese Piero Antinori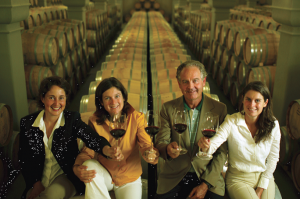 President- Antinori Estate Winery Piero Antinori is now sharing the stage with his three beautiful daughters, who are each adding a unique new complement to the business. Albiera Antinori specializes in communications for all brands and heads the family's Piedmont company. Allegra Antinori works with the restaurants and hospitality programs, and Alessia holds a degree in Viticulture and Oenology and is developing innovative new wines.
It is an honor for us to share with you the Antinori family history, to meet a member of the family, and share their exceptional wines with all of you.
Divertiti! (Enjoy yourself) Salute! (Cheers)