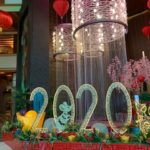 It was fun to join fellow travel writers and friends at Pechanga.  I have never been there before. With the Lunar New Year just days away from our visit, the Lobby was adorned with beautiful displays!  We enjoyed a fabulous lunch at one of their many restaurants, which I will list below. We dined at the Lobby Bar & Grill.  There is a large bar area with various sporting events featured on the big screens.  The dining room is light and airy. The creative menu features American cuisine with a touch of international flair and the restaurant prides themselves in sourcing their ingredients locally.  I had a delicious chicken noodle soup and shared with my friend Linda two entrees… the Ahi Tuna Salad and the savory Fried Chicken & Waffles with a rich gravy, poached egg and sprinkled with cheddar cheese. Both were so delicious!  Dessert was an assortment of  macarons. Other table-mates enjoyed the Shrimp and Grits, and they were able to accommodate our Gluten-free guests too, which is so nice. They have Live Entertainment Friday and Saturday nights. (Please note our lunch was hosted, but all opinions are my own.)
We were also lucky enough to have a tour of the property.  Oh my goodness, it is huge! Did you know they have a golf course? I had no idea. The Clubhouse is stunning and quite large.  It is is called Journey Golf Course and climbs up the side of the mountain like a billy-goat! They do weddings at the expansive Clubhouse and in an outdoor venue nearby as well. They have a lovely Spa. There is a Theater with well-known acts all throughout the year. From musical acts, to famous comedians and other performances too. The line-up is quite impressive. They have a beautiful new Event Space too—with a ballroom, meeting rooms, reception areas. It is impressive. With the addition of the new Resort Tower they have now more than doubled the guest room and suite count to 1,090! They have Deluxe Rooms, Corner Suites and Jr Suites. (I would request a Jr. Suite for my husband and I if we were booking.) The self-parking is free and yes they do offer valet parking for a fee! Do book ahead,  as I hear they are all booked on the weekends for the next few months! If you can come mid-week, you will have more options.
There is a very active Casino spread out all over the property's various lobby areas with bars and every imaginable game there. I also noticed a "non-smoking" area which is really nice to offer that for those who are allergic to smoke.
There are pools and a lazy river for the kids to enjoy. And lucky for me there is a separate adult pools area—creating different environments for everyone to get wet and have fun!!!!  Come join this party… it sure looks like a blast!
Here is an upcoming event that caught my eye…
March 6th Chocolate Decadence- Friday, March 6, 2020 • 7-10PM
Enjoy an array of chocolates and pastries while sampling a variety of wines, domestic sparkling wines, champagnes, spirits and dessert wines along with live music. (*VIP ticket includes early entry beginning at 5:30PM, upgraded souvenir wine glass, sliced seasonal fruit, international and domestic cheese and tray-passed hors d'oeuvres.) Pricing: VIP* Ticket $80 • VIP Designated Driver** Ticket $35 • General Admission $60 • Designated Driver $35** (**Designated Driver tickets only available through the Box Office.)
March 7th The 12th Annual Wine Festival- Saturday, March 7, 2020 from 1-5PM
The most notable wineries from Napa Valley, Sonoma County, Temecula, France, Italy, Spain, Argentina, Chile, Australia, New Zealand and beyond will offer a few hundred of their finest vintages along with live music. Sip and savor as you sample a variety of distinguished dishes from the award-winning chefs of Pechanga Resort & Casino. *VIP ticket includes entry beginning at Noon for early access to wine and restaurant tastings, and upgraded souvenir wine glass.
Pricing: VIP Ticket $90* • VIP Designated Driver Ticket $40** • General Admission $65 • Designated Driver $40** (**Designated Driver tickets only available through the Box Office.)
Attend Both Events
Combo VIP Ticket $140 • Combo General Admission Ticket $100- Combo VIP Designated Driver Ticket $75* • Combo Designated Driver Ticket $75* (*Designated Driver tickets only available through the Box Office.)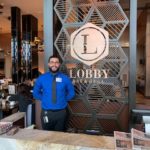 Restaurants at Pechanga- I am not sure, with all these amazing offerings, why my attention always returns to the topic of food…but somehow it does. The list of restaurants is quite amazing. I have to return soon to go to the steakhouse and the sushi bar. I hear wonderful things about them both. My fellow writer had a brilliant idea to stay  a few days and try them all. Now that is dedication. Bless her little heart. What fun would that be?   Here are the restaurants in case you are looking for a spot to make a reservation when visiting.
-The Great Oak Steakhouse-Steaks
-Umi Sushi & Oyster Bar-Japanese
-Blazing Noodles-
-Buffet- Italian, American, Mexican and Asian fare
-Paisano- Italian
-Lobby Bar & Grill- American and Asian
-Journey's End at Pechanga – American
-Pechanga Café- American
-Bamboo- Pan-Asian and Chinese
-Kelsey's- American
-Blend's – Wine Bar, Coffee & Tea
-Coverside Grill- American and Bar
-Temptations Food Walk- Italian, American, Mexican, Chinese
-In-Room Dining- American
BARS-
-Many are within the restaurants above and also…
-Acorns Bar
-Round Bar
-Corner Bar
Pechanga Resort Casino
45000 Pechanga Pkwy, Temecula, CA 92592
(877) 711-2946
www.pechanga.com