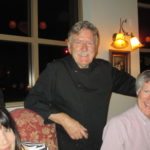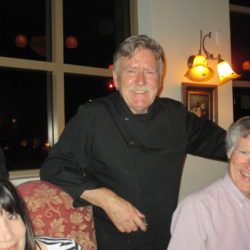 Although we have seen a demise of so many "formal" dining rooms, that does not mean the end of high-end "classical" cuisine. It is alive and well all around me, and I am pleased to say that a recent exclusive tasting menu reaffirms that fact completely.
France is unequivocally the birthplace of gastronomy and culinary techniques. On a recent evening, I had the pleasure to be a guest of Pascal Olhats, who was unveiling his amazing new fall and winter menu. Our incredible debonair culinary "chef extraordinaire" was our guide on this fall evening. We traversed through an amazing array of ten-course culinary delights. All by his pen, his hand, and a passion for everyone he has the pleasure to serve.
The Setting… Pascal has a charming restaurant in San Juan Capistrano— Pascal's Café & Epicerie. This is a "bistro-style" concept and it is quite creative. It offers a sit down casual dining room for about 24 guests most nights. Then on Thursday, Friday and Saturday's the dining room is transformed into a fine-dining, white tablecloth venue with Pascal cooking dinner from 6:00-9:00pm. The Epicerie has a well thought out deli with crudités made fresh daily, quiches, salads, desserts and many other items. They also have complete dinners to-go, presented is lovely containers befitting such delicious meals. There is a self-serve wine bar and small wine shop & marketplace épicerie–featuring imported cheeses, house made pates and pastries & desserts. There are often some produce items as well. Pascal even has his own brand of specially roasted gourmet coffee. And there are wines by the bottle to enjoy there, or to take home.
The "Pascal Experience"… Join the delicious fun on weekends—Thursday, Friday and Saturday evenings when the dining room is transformed into a fine-dining, white tablecloth venue with Pascal at the helm, cooking dinner from 6:00-9:00pm. The menu changes daily, with a focus on the freshest ingredients available. Enjoy an authentic French dinner without leaving Orange County!
A Culinary Adventure Begins…
Our evening began with, of course—Champagne. And with bubbly in-hand, and a lovely dramatic long table set for a royal court, Chef Pascal welcomed us all, as he shared his passion in creating this new menu…
"My new menu selections are a reflection of ingredients grown by local purveyors such as Manassero Farms just a few miles away in Irvine. It reminds me of how I grew up in France— enjoying the fresh local ingredients from season to season, and my new menu selections reflect that quality. It is truly "farm to table" and I pick much of it myself, and make my selections daily."
It was an extremely impressive presentation from start to finish. The elegant long table, with soft lighting and comfy chair welcomed us. Each bite was a pleasure to savor, and hearing Pascal's descriptions, at each turn, as each item was displayed, it made this all the more fun. With his strong French accent —it was a sheer delight!
The parade of ten courses began with a lovely Charcuterie Plate. This included a Homemade French Country Pate, Pork Rillettes, Smoked Duck Breast, Duck Salami with Farm Pickled Vegetables & Mustard. The country Pate is just a show stopper and will impress guests during the holiday season. I have made this and always have such respect for those who make it from scratch. The end result looks so simple, but it is honestly not. It was rich and creamy.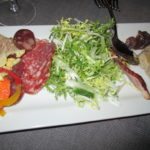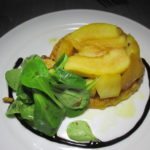 The Second Course was a Tarte Tatin Le Foie Gras with Blood Sausage, and a sprig of greens. The apples were cooked to perfection and complemented the Foie Gras with perfectly subtle flavors.
The Third Course was one of my favorites. Grilled Octopus danced on the plate with Homemade Harissa Oil, and a Black Eye Pea Puree. It really glistened on the plate.
A dramatic presentation was before us with this Fourth Course. Mouelleux Escargot was baked in Veal Bone Marrow with a side ramekin of Garlic Herb Escargot and Chive Oil Crostini.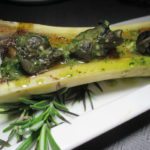 For our Fifth Course, a colorful dish arrived. This was a Beterave et Chevre- Steamed Organic Beet & Lemon Herb Goat Cheese. This was topped with a delicate salad and the flavors were so refined. There is just nothing like fresh from the farm beets.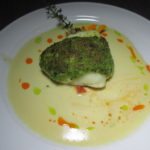 The Sixth Course was a Sea Bass au Thyme. This is Pascal's specialty… Sea Bass Baked with a Thyme Crust, and a rich Seafood Chardonnay Sauce and topped with a Tomato Concasse. The Sea Bass is a delicate white fish married with a rich sauce delivering all the flavors one might desire all in one bite.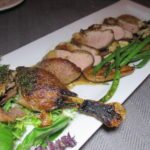 As if this were not enough, the Seventh Course was Assiette de Canard. This was a Sautéed Duck Breast & Duck Leg Confit, Periguord Potatoes & Haricot Vert (French-style green beans).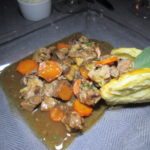 The Eighth Course was Braised Veal Sweetbread with a Champagne Mushroom Sauce in a Puff Pastry and braised carrots.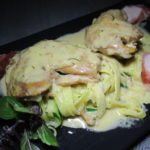 The Ninth Course was a Braised Rabbit with a Mustard Sauce, Egg Fettuccine, Rabbit Loin and Cured Ham. My table-mates thoroughly enjoyed it but I cannot eat rabbit. It makes me sad.
The Finale was a wonderful trio of desserts. This included: Pascal Lemon Tart with Berry Coulis, a Flourless Chocolate Cake with Caramelized Pear and Pascal Macanese Egg Tart with Fruit Compote, served with Pascal's Signature Coffee. Pascal had enjoyed this magical tart in Macau where the Macanese government of Tourism asked him to come there and return to share their cuisine with the United States.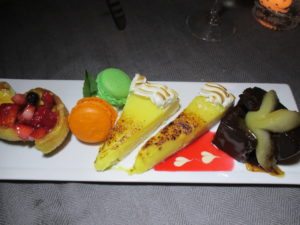 Pascal Experience Dining is held at his San Juan Capistrano restaurant Thursday through Saturday and Pascal personally cooks the meals on these three evenings. Reservations are not necessary, but recommended and can be done conveniently on Open Table.
With the busy holiday catering season upon us, Pascal encourages guests to please pre-order their holiday meals and catering. Whether guests need full-service or pick-up, Pascal has some amazing offerings that help make the holidays both easy and delicious.
Pascal's is open Monday's 7:00am to 7:00pm, Tuesday-Friday 7:00am to 9:00pm, Saturday 8:00am to 4:00pm and 6:00-9:00 for dinner, and closed on Sundays. Join the Pascal Culinary Experience on Thursday-Saturday evenings for a trip to France—no passport required. Breakfast is served all day until 2:00pm. www.Cafesanjuancapistranoca.com 31451 Rancho Viejo Road, 103 (949) 488-0031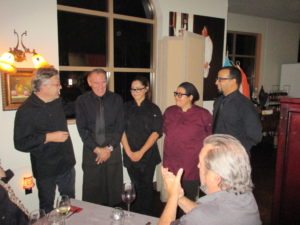 About Owner and Chef Pascal…
Pascal has nimbly maneuvered his way through years of restaurant ownership to a wonderful balance of offerings. He has a charming restaurant in San Juan Capistrano called Pascal's Café and Epicerie. As noted above, this is a "bistro-style" affair offering sit down, a well thought out to-go program, self-serve wine bar and small wine shop & marketplace featuring gourmet cheese and house made pates. Pascal also has a Pascal Catering for private events & charities, a restaurant located inside Sherman Gardens called Cafe Jardin (weekdays) and on the weekends there is the Tea Garden Creperie and has partnered with Manassero Farms conducting monthly special events, titled The Farmer's Wife And The French Chef ™.
Pascal is a long way from home. He has been here 30 years now, but listening to his accent, one might think he just arrived. Pascal was born in Rouen, France which is a busy port city in Normandy. It was here where he learned to cook, as many do, by his Mother's side. Later he apprenticed at Hotel de Dieppe. He worked for many years at La Couronne (meaning "the crown") in the heart of the city. On a recent trip to France I visited this charming restaurant. La Couronne is the oldest European restaurant and inn, dating back to 1345. La Couronne also happens to be the first restaurant Julia Child visit when she and her husband moved to France. She enjoyed the Sole Meuniere, I am told. It is steps away from the site where Joan of Arc's life tragically ended. And nearby, the neighborhood farmers market daily displays everything from seafood to produce, flowers and so much more.
Pascal then gravitated to other culinary worlds…next stop was Brussels and Pascal spent 4 years attending school at the CERIA, a hotel and restaurant college. From there he worked for the well-known Chef Paul Bocuse, first as a server and then as Chef de Rang (Assistant Head Waiter). From there he moved to Lyon, which is well known for the production and weaving of silk, capital of gastronomy in France, and home to Paul Bocuse's inside food hall and market, called the Les Halles de Lyon on Cours Lafayette, which I have also visited. There Pascal worked at Leon de Lyon Restaurant, as Chef de Rang. From the river's edge, it was to the shore of St. Tropez. It was calling him. His next job was Service Staff Manager for three years at the famous Club 55. He was also in charge of catering and cooked for many celebrities.
Traveling to California for vacation, Pascal fell in love, as many do, with our little slice of heaven. Can I get an "amen"? Now here for thirty years, he has indeed made this his home. He first worked as Chef for Piret's Restaurant, then Chef de Cuisine for Le Meridien Hotel in Newport Beach. He was also the Executive Chef at Player's in Irvine, and the Chanteclair Restaurant in Newport Beach. Then he began opening his own restaurant and café in Newport Beach, which he ran for twenty years.