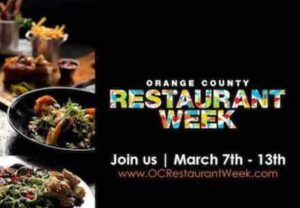 Join Orange County Restaurant Week from Sunday March 7th thru Saturday, March 13th, 2021 and indulge in chef-driven lunch & dinner menus, cocktails to-go and even wine specials. Leave the cooking to the restaurants this coming week and help support our "beloved" local restaurants. There are 24 Orange County cities included in this program—with many offering patio dining and or course, fantastic "To Go" menus as well! You might even dine on a patio one day and get an order to go for the next night!  This is just for one week only.  Don't miss out! Explore the menus!!
https://ocrestaurantweek.com/restaurants
My Tips On "How To Do OC Restaurant Week"-
-Grab your calendar.
-Select 2-3 days for Lunch and for Dinner too.
-Invite friends and give them a few options of places to go.
-Include at least 1-2 new places that you have not been to.
-Book your reservations and go enjoy!!!

Quick Reference Guide-
Here is a quick list for the restaurants are offering different global dining experiences, including: Family Meals, Date Night, Prix Fixe, Cocktails To Go, Wine Specials. All are clearly noted on the web sites with menus and all. Some are available for brunch, lunch and/or dinner at various price points.   https://ocrestaurantweek.com/prix-fixe-menus
Here are Just A Few Examples of Menus To Give You Some Ideas-
Below here please enjoy menu ideas, and there are tons more on the web site. This includes: Afternoon Tea, Lunch, Dinner, Date Night, Prix Fixe even and Family Meals to go! Also featuring a brand new restaurant to enter the scene in San Juan Capistrano!
-TEA OR LUNCH ON THE TERRACE
The Tea House on Los Rios- 31731 Los Rios St, San Juan Capistrano
(949) 443-3914- Hours:  Wed-Fri from 11am-3pm and Sat/Sun 10am-4pm
-Lunch $25 (available for dine-in and to-go)
-Your choice of one of three options:
Garden Tea Experience – Your selection of premium loose leaf tea or iced tea, a freshly baked currant scone with raspberry preserves and Early California Cream, five assorted finger sandwiches, fresh fruit served with brown sugar and heavy cream, and petit fours
Queen Mum's Spring Salad – Grilled chicken breast tops a wonderful mix of spring greens, imported bleu cheese, candied walnuts and dried cranberries, tossed in our house balsamic. Served with your selection of premium loose leaf tea and our famous currant scone
Shepherd's Pie – An English favorite, with delicious pieces of prime rib and garden vegetables cook in a rich brown gravy, topped with mashed potatoes. Served with your selection of premium loose leaf tea and our famous currant scone
-LUNCH ON THE BEACH
The Beachcomber Café- 15 Crystal Cove, Newport Coast
(949) 376-6900 – Hours: 7am to 9pm (7 days a week)
Lunch $25- 2 Courses (Note: Dinner is 3 courses for $40)
First Course – choice of: Spring Salad – Roasted Striped Beets, Butternut Squash, Brussels Sprouts, Parsnips, Goat Cheese, Candied Walnuts, Baby Greens, Sherry Vinaigrette OR Roasted Butternut Squash Lobster Bisque – Crème Fraiche, Pomegranate Seeds, Brioche Croutons  OR Romaine and Kale Caesar – Chopped Romaine Hearts, Kale, Fried Capers, Garlic Croutons, Shaved Parmesan, Creamy Parmesan Dressing
Second Course – choice of: Blue Crab Melt – Blue Crab Meat Mixed w/ Herb Aioli, Havarti Cheese Griddled Sourdough. Served with Green Apple Slaw OR Salmon Basil Pesto Pasta – Pan Roasted Scottish Salmon, Penne Pasta, Parmesan Cheese, Roasted Tomatoes, English Peas, Broccolini, Basil Pesto Creamy Sauce OR Ribeye Steak Sandwich – Grilled Ribeye Steak, Crispy Onion, Arugula, Tomato, Swiss Cheese, Chipotle Aioli, Ciabatta Roll. Served with French Fries
-FABULOUS DINNER ON THE PATIO
Sapphire, Cellar. Craft. Cook.– 1200 S. Coast Highway, Laguna Beach
(949) 715-9888 – Hours: open daily for dinner at 4pm
Dinner $50- 3 courses (available for dine in and take-out)
Starters – choice of: Organic Butter Lettuce & Herbed Goat Cheese Salad – California almonds, hot house tomatoes, champagne vinaigrette OR Chef's Daily Bowl of Soup – heirloom tomato bisque, crispy olive oil croutons, fresh goat cheese
Entrées – choice of: Zinfandel Braised Napa Lamb Shank – tapenade potato puree, mint yogurt, toasted feta, English cucumber  OR Certified Double R Ranch Bone-In Ribeye Steak – smoked blue cheese crushed potatoes, farmers market vegetables, oyster mushrooms, chef's seasonal house made steak sauce OR Wild Caught Alaskan Halibut – herb roasted fingerling potatoes, toasted hazelnuts, heirloom vegetables, Riesling raisins, blood orange gastrique
Desserts – choice of: Oatmeal Raisin Cookie Crumble – apple strudel ice cream and bourbon caramel sauce OR Tahitian Vanilla Bean Crème Brulee – with fresh berries
Add On's: Can add a glass of Angeline Reserve, Pinot Noir, Sonoma for $8.75, or enjoy their Featured Cocktail the "Marky Mark" $12.50 – Maker's Mark Bourbon, Aperol, Crème de Peach, Fresh Peaches, Ginger.
DATE NIGHT- 
Avila's El Ranchito Santa Ana– 2201 E First St, Santa Ana
(714) 547-9129
Dinner for Two $50 (Including featured Cocktails!)
-Entrée choices are: Sizzling Fajitas – your choice of Chicken or Steak with a medley of grilled fresh vegetables served on a sizzling skillet, OR Shrimp al Mojo de Ajo – large Mazatlán Shrimp sautéed in Avila's special garlic butter sauce.
-This is served with Mexican rice and beans. Garnished with guacamole, choice of warm tortillas.
-Featured Cocktails for both.
-Dessert (to share) Flan with caramel custard covered in sweet syrup and topped with whipped cream.
PRIX FIXE DINNER-
Summit House- 2000 E Bastanchury Rd, Fullerton
(714) 671-4111
Dinner $50-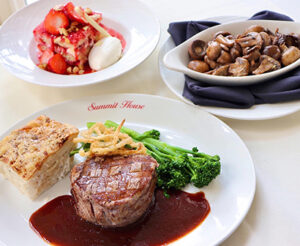 -Starter – choice of: Summit House Salad – "Living" Boston lettuce hydroponically grown by Hollandia Farms tossed with pancetta, grated gruyere cheese, sour dough croutons, toasted pecans, black mustard seed vinaigrette OR Hearts of Romaine with Caesar Dressing – Ocean Mists Farms hearts of romaine tossed with our hand crafted Caesar dressing, toasted sourdough croutons, shaved Parmigiano-Reggiano OR Lobster Bisque Soup
-Main Course – choice of: World Famous Stock Yards of Chicago Roast Prime Ribs of Beef – 7 oz. Cottage Cut with oven fresh Yorkshire Popover, Creamed Spinach, and our famous Creamed Corn. 10 oz. Summit Cut +10.00 24 oz. Castle Cut +20.00 OR Skuna Bay Salmon – Oak wood grilled, with sautéed tatsoi spinach, red bell pepper mashed potatoes, cabernet sauvignon infusion OR Petite Filet Mignon – 5 oz. Stockyards of Chicago center cut tenderloin, oak wood grilled/roasted shallot port wine reduction/Gruyere au gratin potatoes. 7 oz. +8.00 10 oz. +12.00 OR Portobello Mushroom Tower – Oak wood grilled portobello mushroom, oven roasted zucchini, summer squash, and red bell pepper, sautéed tatsoi spinach, red rice, eston lentils, and black quinoa pilaf, herbed tomato coulis.
-Dessert- choice of: English Trifle – Layers of Rum and Brandy Soaked Cake with English Custard, Strawberries, Chantilly Cream and Toasted Almonds OR Dessert Duo – Mini Three Chocolate Torte and a mini Crème Brulee.
FAMILY STYLE DINNER-
The RANCH Restaurant & Saloon- 1025 East Ball Road, Anaheim
(Also offering lunch for pick up/delivery with a delicious Burger & Fries- Weekdays Only, 12:00pm – 3:00pm)
(714) 817-4200
$60 Family-Style Dinner- Pick-Up & Delivery Only – Nightly, 5:00 – 8:00pm
Italian Family-Style Dinner – Serves 2
Package Includes:
– House-Made Garlic Bread
-Chopped Salad – Baby Iceberg, Radicchio, Heirloom Cherry Tomatoes, Chickpeas, Red Onions, Provolone, Genoa Salami, Oregano Dressing
-Chicken Parmesan – Organic Chicken Breast, Parmigiano-Reggiano, Fontina, Bianco-DiNapoli Tomato Sauce
-Cannoli – Di Stefano Ricotta, California Pistachios
Add-On's Available:
-Di Stefano Burrata $20 – Farmer's Market Asparagus, Prosciutto di Parma, Black Truffle Vinaigrette
-House-Made Lasagna $30 – Veal Bolognese, Béchamel, Spinach Pasta, Mozzarella
-Featured Cocktail – $13 Spring Rush – Maker's Mark Bourbon, Lemon, Fennel Pollen, Honey
BRAND NEW RESTAURANT WITH STUNNING PATIO!
Ysidora Restaurant and Lounge- 31692 El Camino Real, San Juan Capistrano
Located at the Inn At The Mission San Juan Capistrano Autograph Collection
(949) 503-5700
Hours:  Fri/Sat 4 – 8pm (only- for right now)
Dinner $50- available for dine in (outdoor courtyard) or takeout/delivery
-Starter – choice of: Avocado Gazpacho OR Potato Bravas OR Ensalada de Verduras
-Entree – choice of: Paella Valenciana OR Wood Fired roasted Local Fish OR Roasted Half Chicken
-Dessert- Apple Cinnamon Churro Donuts