Celebrating 11 years, this year's Orange County Restaurant Week will be the best thus far!  There are three events to keep in mind. First is the LAUNCH PARTY for Restaurant Week on Saturday afternoon, March 2, the AFTER PARTY upstairs in the late afternoon and evening on Saturday March 2nd and a full week of Restaurant Dining from March 3-9, 2019. Ready, set, go!  Here is a quick overview of all three and what is not to miss!
LAUNCH PARTY!
Celebrating 11 years of OC Restaurant Week, join your foodie friends on the red carpet for an upscale experience of Food, Spirits, Music and Wine at the beautiful NEW Marriott Irvine Spectrum.
When/Where: March 2, 2019 – Marriott Irvine Spectrum 7905 Irvine Center Drive, Irvine California
Time:  General Admission is 2pm – 5pm for $70. The VIP's will be from 1pm – 5pm, however those tickets are sold out. Sorry. Not Sorry. But for General Admission tickets click here:  https://www.eventbee.com/v/2019ocrestaurantweeklaunchparty#/tickets
Guests will enjoy cuisine by: Bread Artisan Bakery, Cambalache Grill, Catal, CUCINA enoteca, Davio's Northern Italian Steakhouse, Descanso Restaurant, Del Friscos Grille, Filomena's Italian Kitchen, Great Maple, Heirloom Farmhouse Kitchen, Hendrix Restaurant, Legado, Kabuki Japanese Restaurants, Melissa's Fresh Produce, Nirvana Grille & Catering, Paul Martin's American Grill, Piccolino Ristorante, Pizzeria Mozza, Puesto, Silva's Fresh Eatery & Churrascaria, Square One Pizza, Texas de Brazil, Urbana, Villa Roma and Yard House – Irvine.
Featured Dessert will include: a Chambord Dessert Bar offering sweet treats with Chambord in every bite! ~ Enjoy Cocktails by:  Ketel One Vodka , El Tesoro Tequila, Maker's Mark​, Chambord and a Spiked Agua Fresca by Golden Road Brewing ~ Wine By: Couer Clementine Cote de Provence and Sparkling and Still Rose ~ Wine Bar By:  Celebrity Cruise ~ Water By: Hawaiian Springs Water ~ DJ Music By: Mark Moreno.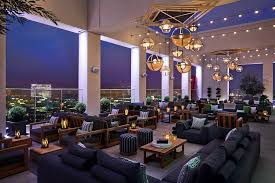 THE LAUNCH AFTER-PAR-TAY!!!
Attending guests of the Launch Event can join us on the Rooftop at Hive & Honey after the OC Restaurant Week Launch Party for a Beautiful Sunset, Live Music and Cocktail specials.  What you can enjoy at Hive & Honey after the Launch Party on March 2, 2019…​ you may  ask?
How about $11 cocktails featuring Maker's Mark, Ketel One, Chambord and Hornitos?  Hive & Honey will open at 4pm on Saturday, March 2 exclusively for launch party guests and will not open to the public until 9pm. Also enjoy live music on the rooftop from 5pm – 9pm and a DJ until 12am.  Guests must have their OC Restaurant Week wristband to gain entry and attend Hive & Honey from 4pm – 9pm. No exceptions.  PLEASE NOTE: In the event of rain the hotel will move this to the indoor bar downstairs
Celebrate Orange County Restaurant Week March 3 – 9, 2019
Eat. Drink. Repeat for 7 whole days. That means the potential for 14 Meals if you participate in both lunches and dinners each day!  Personally, I think it's all about trying NEW places that perhaps you have not tried yet. And in some cases, I will be returning to my favorites just because.  The good news is that the canvas is ALL OVER ORANGE COUNTY. So that is a good thing.
FIVE STEPTS TO BEST ENJOY RESTAURANT WEEK:
Get out your calendar
Make a list of the restaurants YOU want to visit and check out their menus on-line.
Make a list of all the people you want to see in early March. This might include friends, loved ones, girlfriends, those celebrating birthdays, or some that you said you would see "right after the holidays". Come on now… keep your promise….
Contact them all and start booking your reservations!!!
Make your reservations and shoot out reminders so no one misses the fun!
HOW IT WORKS:
These menus showcase some of the region's most talented chefs who have personalized each menu to reflect their culinary style. The prix fixe menus are priced at $10, $15 and $20 per person for lunch, and $20, $30, $40 and $50 per person for dinner.  There are also seven restaurants offering an $80 over the top menu. Enjoy a week of fabulous dining. Tick Tock…. start planning your week of great eats right now! Here is the web site with all the menus and details: http://www.ocrestaurantweek.com/
There are 38 restaurants that are offering a special cocktail for $8-$13 dollars. And some are including a cocktail or wine in the price of the dinner—like Legado Bar + Kitchen in Laguna Niguel. Score on that!
Here are some of my personal favorites— and I am noting various reasons that might help you selecting where to dine.  Many of the chefs have gone all out to develop creative menus that showcases their true talents. So do look carefully at the menus and see what strikes YOUR fancy!
-For Italian- Modo Mio Rustic Italian Kitchen, Prego Mediterranean (I just attended an awesome cooking class there and everything was delicious) and Angelina's in Irvine (they feature a wood-burning Italian oven for cooking their pizzas and many of their entrees). We dine at Angelina's often and even had them prepare a complete take out for our entire Thanksgiving dinner which was fantastic! Filomena's Italian Kitchen is quite good and they also have a great market to take home entrees and home-made pasta, sauces and so much more. And Canaletto's at Fashion Island is also delicious. I will be there this weekend!
-For Girlfriend Gaggle-  EATS Kitchen & Bar at the Hotel Irvine (and then pop over to the Red Bar Lounge), Cambalache Argentine & Italian in Fountain Valley, IronWood-Cellar.Craft.Cook in Laguna Hills, Kings Fish House in Huntington Beach,  Great Maple at Fashion Island, Sushi Roku also at Fashion Island and Seasons 52 at South Coast Plaza.
-For Dancing Lessons After Dinner at the Saloon- The RANCH Restaurant & Saloon.
Great Views: Winery Restaurant & Wine Bar in Newport, Bluewater Grill, Beachcomber Café (literally on the sand), Lighthouse Bayview Café in Newport on the bay,  Newport Landing Restaurant, Oak Grill at the Fashion Island Hotel with a a romantic terrace and a canopy of trees that are beautifully lit in the evening and Waterman's Harbor on the channel in Dana Point.
For High End Fancy Pants Steaks, Prime Rib and Seafood: Summit House Restaurant,  Ruth's Chris Steak House, The Ranch, Five Crowns, The Bungalow in Corona del Mar, Davio's Northern Italian Steakhouse in Irvine and  Anaheim White House.
Fun Vibe: Fly N'Fish Oyster Bar & Grill (along the boardwalk near the Newport Pier), Harborside (on the Newport Bay in a historic building), Bluefin Restaurant at Crystal Cove and Anqi  by House of An at South Coast Plaza (I feel like I have entered another world with this dramatic Asian decor).
-For Killer Mexican Food- Sol Agave in Mission Viejo and San Juan Capistrano, Puesto in Los Olivos and Park Place, SOL Cocina in Newport, Descanso in Costa Mesa and La Vida Cantina in Costa Mesa.
-Dining in the Garden- Nothing beats Provenance in East Bluff with Chef Cathy's own garden and Napa flair and Chef Rich Mead's Farmhouse at Roger's Gardens (don't miss a drink in their cool stone-walled cozy bar).
Again, here is the web site with all the menus and details so you can start your planning: http://www.ocrestaurantweek.com/