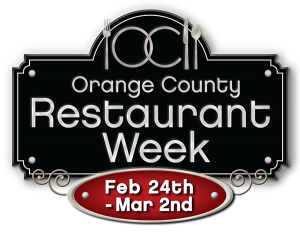 Orange County, CA – With Newport Beach  Restaurant Week, and DineLA behind us (and both were spectacular) foodies now need to turn their attention to the upcoming  OC Restaurant Week. This is spearheaded by our wonderful friends at Orange County Restaurant Association, and the Golden Foodie Award creators.  Let's show them some love, and I encourage you to step out of your comfort zone and try something new!  This is your chance to get out there and test the waters. Here is a brief run down, and participating restaurants have menus on-line for you to peruse and plan your outings.
A Note To Our Beloved Restaurants: Please don't make us have to beg for the menus when we arrive—- present the Restaurant Week Menu proudly when we are seated. And if you don't have your menu up on the web site, please do that straight away. Foodies like to review the menu and then make their selection of where to go. It will make such a difference in your attendance! Thank you….
Orange County Restaurant Week-  February 24th – March 2nd, 2013
Celebrating five years of Restaurant Weeks, Orange County's TOP 100 restaurants are ready to dish up amazing food at value-oriented pricing. From north to south, and from eastside to the coast, this allows diners the opportunity to indulge in a selection of specially priced "three course" prix fixe menus.
These menus showcase some of the region's most talented Chefs who have personalized each menu to reflect their culinary style and of course, to showcase their restaurants. The prix fixe menus are priced at $10, $15 and $20 per person for lunch, and $20, $30 or $40 per person for dinner.  So get the calendars out and start planning your week. Seven days of fantastic eateries are awaiting your reservations—and what a perfect opportunity to try something new.  Find a new favorite!
This year there are 11 new restaurants on the list, and that includes: American Tavern Eatery and Drink, Brü Grill & Market, Brunos Trattoria, Div Bar, Farrell's Ice Cream Parlour Restaurants, Mesa,Morton's The Steakhouse, Paul Martin's American Grill, Sapori Ristorante, Tangerine Restaurant,  The Derby Deli & Dueling Piano Bar.
For more information and menus visit: www.OrangeCountyRestaurantWeek.com