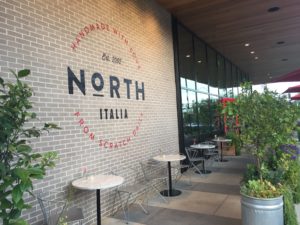 North Italia hit the scene with a big splash here in Irvine. An instantly popular spot, we quickly forgot that California Pizza Kitchen existed in this spot previously. The dining room is ginormous with lots of seating options—from intimate two-tops, to huge round tables, and long tables for bigger groups.. The large glass wall allows guests to peek in where all the action is happening in the kitchen. There is a wrap-around patio, and the bar features large windows that fold skyward— providing a lovely indoor/outdoor ambiance. Guests can sit on the patio side of the bar and look inward to the dining room, or on the long bar looking outward to the lovely patio. The décor is modern and clean with lots of white, light woods and a splash of red and steel.
On the evening I was in, Craft Cocktails were flying out of the service station—-being scooped up as fast as they were being shaken, poured and garnished. Boom! It was a wild blur of activity and the cocktail menu has me pressing pause with so many delicious choices to consider. Of course the bartender had me at St. Germain– so I had to order the Julietta. This is made with vanilla & ginger infused Smirnoff Vodka, St. Germain, lime and prosecco. Another one that caught my eye was the Rosemary & Lime. This is made with Ketel One Vodka, amaro nonino, rosemary, angostura and smashed lime. There are many beers on tap and in the bottle and lots of wine choices as well. The bartenders make it all fun and I enjoy the banter that ensues.
Famous for their authentic approach to handmade pasta and pizza, they start each day with everything possible from scratch. They create dishes such as Strozzapreti with Bloomsdale spinach and supple ribbons of tagliatelle for their Bolognese. Their pizza is an airy, barely chewy center embraced by a perfectly crisp crust. With the spirit of the Italian taverna, North Italia is the place to talk shop over a cocktail or swap gossip sharing delectable chef creations. Every neighborhood would be lucky to have a place like North.
Sardinia Community Dinner
On this evening we were enjoying Executive Chef Adam Brown's Sardinia focused Community Dinner. I have actually been to Sardinia, so it was extra special to me! There were two long tables filled with guests, most of who have been to one of these special dinners last month. They were all raving so we knew we were in for a good time.
Each of the four-course menu items was paired with a well-thought selection from Mario Pala who is now the third generation of a family taking care of the vines of his family since the 1950's. The terroir, tradition, respect for the environment and the passion of making wines showcase the extraordinary island we call Sardinia. They do only organic farming on 56 hectares. We had the pleasure to have one of their representatives with us in the dining room and pouring the wines and answering our questions. It was really a lovely evening.
The evening began with an Antipasto. This was an insalada di farro with charred octopus, English pea, lemon oil and oregano. This was a complex dish and the grilled octopus really made it sing. This was paired with a Vermentino i-fiori (the flowers) by Pala. It was light and refreshing—especially with seafood. The wine retails for about $30.
The second course (primo) was Fregola Sarda con le Arselle, which translated is: shrimp, clam, mussels, organic fregula and roasted tomato. This was a robust bowl of goodness. This was paired perfectly with another white wine—-Stellato Vermentino by Pala. The wine retails for about $35.
The third course was a Malloreddus di Gallura which is lamb ragu, saffron dumplings, pecorino sardo and rapini. It was paired with a lovely red table wine. This wine spent 3 months in French oak barrels and 3 months in stainless steel. Essentija Bovale by Pala-2011 retails for about $40.
The dessert course (dolce) was a Canestrelli al Limone which is a housemade ricotta, strawberries, local honey and meyer lemon. It was incredibly delicious and light. I rarely consume desserts and I looked down and my plate was empty. How did that happen? This was paired with a light white wine that was a perfect complement to the dessert. It was a Angialis-2008.
Upcoming Community Dinner Unveiled
Scheduled for Monday May 22 from 6:00-8:00pm this will be another epic dinner and I was lucky enough to get the Chef's menu in-hand. The price is $65 per person (including wine pairings) and the price is exclusive of tax and gratuity. I must say it is quite a value, and not to mention a great deal of fun! Those interested in attending this dinner will want to call right away to book your spot for this limited engagement. Here is a sneak peek at the menu for the May 22nd dinner…
ANTIPASTO CARPACCIO CON FIORI DI ZUCCA RIPIENI
Shaved grass fed beef, squash blossoms, goat cheese, tomato conserva
PRIMO TAGLIOLINI BURRO E SALVIA
Hand-cut tagliatelle, brown butter, meyer lemon, sage, grana Padano
SECONDO AGNOLOTTI DEL PLIN
Short rib, roasted mushroom, robiola, Barolo
DOLCE BONÈT
Chocolate pudding, hazelnuts, amaretti cookie
North Italia has 8 locations in the Southwest, and two more on the way. California locations include: Irvine, El Segundo and soon to add Santa Monica. In Texas they have restaurants in Austin, Houston and soon will be adding Plano. There are three in Arizona, including Phoenix, Scottsdale and Tucson and there is one in Denver, Colorado.
North Italia 2957 Michelson Drive- Irvine (949) 629-7060 www.northitaliarestaurant.com
Restaurant Hours:
Lunch: Monday-Friday 11:00am – 4:00pm
Dinner: Sunday – Thursday 4:00pm-10:00pm
Dinner: Friday & Saturday 4:00pm-11:00pm
Brunch: Saturday & Sunday 11:00am-4:00pm