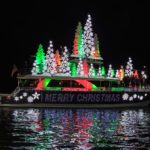 CELEBRATE THE SPECTACULAR 111th ANNUAL NEWPORT BEACH BOAT PARADE HOSTED BY SONS OF AMERICAN LEGION-ON THE BALBOA PENINSULA IN NEWPORT BCH.
This is a rare opportunity to attend a holiday event at the American Legion-Squadron 291, which is typically open to "members only".  In the spirit of the holidays, please join us on one of the five nights when the award-winning annual Christmas Boat Parade will be showcased in the spectacular Newport Harbor. The festivities kick off Wednesday December 18th and running through Sunday December 22nd, 2019.  There will be over 200 boats and ships artfully decorated and dressed for the holidays. Many boats will have cheerful holiday music with carolers on-board and boaters will be waving to us on shore and wishing us a Happy Holiday. It is truly an evening of fun for the entire family. Please Make Your Reservations Now! Details are below. The proceeds benefit our local Vet Programs throughout the year.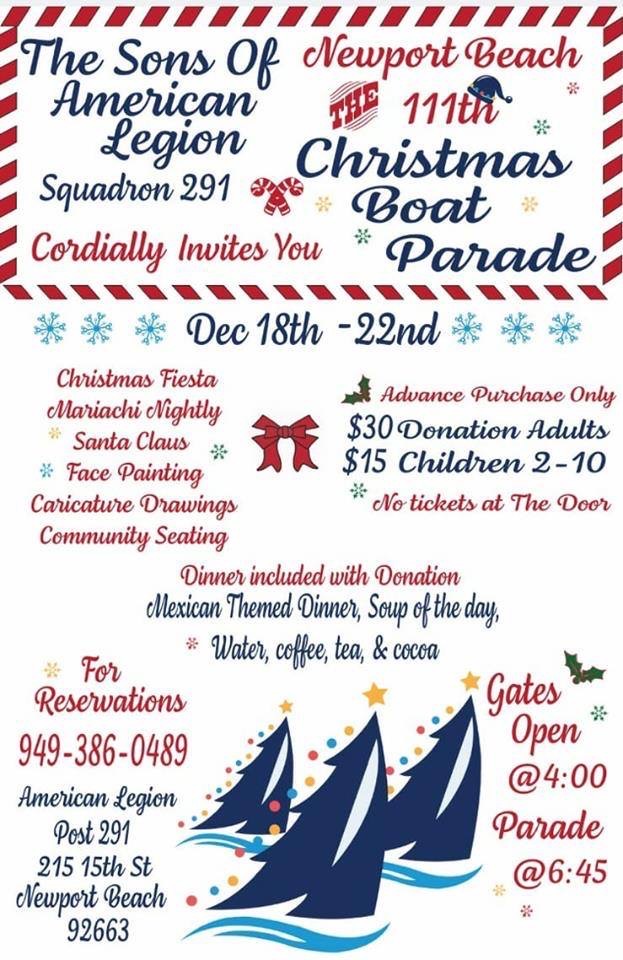 Here are all the event details and how to book your reservations:
-Theme: Mexican Christmas Fiesta with Mariachi's and Santa visiting each evening!
-Catered Dinner Buffet Menu by Taco Revolution (as we enjoyed last year too):  Menu includes: Chicken Noodle Soup, Chile Rojo, Grilled Chicken, Vegetable Fajitas, rice & beans, corn & flour tortillas, brownies, aqua fresca (fruit-flavored water), tea, coffee and cocoa.
-Seating: Community Seating Will Be Pre-Assigned On The Patio- Most tables accommodate 6 guests, however can pre-pay for multiple tables near each other. If you are a small group you will be sitting with other people at the table. (Early reservations get priority!)
-Donations: Adults: $30 and Children 2-10 years of age: $15. Donations are 100% tax deductible, include a complimentary dinner and most importantly, the proceeds go to help our local Troops, Veterans & their Families throughout the year!!
-Reservations Are Required- No tickets will be sold at the door- Call (949) 386-0489
Leave a message and Donna will return your call promptly.
-Entertainment:  All Five nights we will have: a Mariachi Band, a Visit by Santa, Face Painting for the kids to enjoy, and most nights Caricature cartoonist!
-Opportunity Drawings-Nightly Opportunity Drawing for some of the cash raised
-In addition, raffle tickets will be sold November and December ($10 for one or 3 for $25) for three incredible prizes!  The drawing will be on December 22nd. There will be three winners.  The winner need not be present, but only if they included their name and phone number on the winning ticket. Prizes include:
-Grand Prize- Kauai, Hawaii- A Trip for 7 nights- Accommodations at the charming Kauai Shores Hotel in Kapaʻa (north of Lihue on the Royal Coconut Coast).
https://www.kauaishoreshotel.com
-2nd Prize- Dine Around – Dinner for 2 at 5 different restaurants in Orange County!
-3rd Prize – Taco Catering Party by Taco Revolution- For 30 guest at your home!
-Timing: Gates open at 4:00pm, Dinner starts at 5:00pm and the Boat Parade passes our viewing location around 6:45 pm. Please don't be late and the entertainment will follow the Parade.
-Cocktails & Wine: No Host Bar for Adult Beverages & $10 corkage fee (for wine only).
No outside food or hard liquor will be allowed on the premises.
-Parking: Everyone please arrive early!!!
For Non-Members- There will be parking on the grass at the Veteran's Park next to the American Legion. There will be parking staff to guide you. However this will fill up by 5:30pm
Also Street Parking, or may we suggest carpooling, and taking LYFT or UBER)
For Members- First come-first serve in the Post 291 Parking Lot.
-Please arrive early to secure the best parking options. It will be very busy.
-Dress warmly for this event on the patio with great dockside views of the Parade!
– For Reservations Call: (949) 386-0489
The American Legion on the Balboa Peninsula
215 15th Street~ Newport Beach, CA  92663