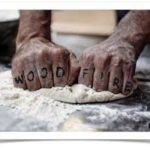 This Costa Mesa, CA restaurant  is the sixth  in this family of pies and aptly named—Pitfire Artisan Pizza. The pizza oven is ablaze with wood burning action and artisan-style baking techniques just like an Italian Mama would make. Check out this sample of toppings….from shrimp or grilled chicken, to sausage. How about greens like fennel, wild arugula, or veges such as mushrooms, onions or peppers. I am not a big fan of these two, but many people are ordering pies with pineapple or anchovy toppings. Endless options!  (Gluten free crusts and vegan style are also available for the asking.) And here's the best news… the prices are quite reasonable—with pizza's ranging from $8.50 to $11.25, and add on toppings are encouraged.
In true Italian form, this menu also offers a host of delicious Soups, Salads, Pastas, and Panini's. Salads include: a Chopped Salad with either Grilled Chicken or Pepperoni/Salami or Grilled Steak. There are also Chicken and Tuna Nicoise Salads. Panini's range from Vege, to Pork Belly — or more traditional selections such as Chicken or Marinated Tuna. Pasta choices include the usual suspects, but so thrilled to see Mac & Cheese right front and center, prepared with five cheeses.
There are lots of windows in the dining room, with a choice of booths and tables. From the looks of it, the crowd is local, and lots of families and groups of friends out for a nice evening. To the right side of the dining room is a to-go counter, and a signage for their Craft beers. Don't miss a peek at the wood-burning oven with pies sliding in and out like a hot pitcher, throwing sliders one after another!
On-line ordering can be done on their web site, and local deliveries are available with a minimum purchase. Ask for details on that. Valet parking is available on-site, which is a good thing, as parking is limited nearby.
The Secret In The Back…. For Grown Up's Only!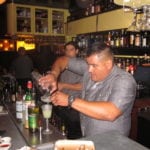 In the back, in the corner, in the dark, is a secret door. Upon entry, you are transformed to The Pie Society! I can just see a private "club" afoot here with a secret password spoken thru a sliding wooden window. It just screams SPEAKEASY, but with a low-key kind of vibe. It is billed as a "Sanctuary from Tedium" and they had me at "for grown-ups only". This was previously a Marie Calendar's site, and the bar has cleverly transformed the pie ovens into bar shelves and cabinetry. Brilliant!
The ambience offers "mood lighting" as we used to say, with that soft lit glow. No sunglasses required. The bar seats about 8, and there are tables, chairs, a small couch, and comfortable seating at every turn. There is a narrow patio outside for those who want to duck outside for a momentary time-out. My guess is this space accommodates about 60 peeps.  The bar is front and center with two to three bartenders working their magic in a very authentic way. They are quite focused on their craft and one look at the beverage menu you will know you are in the right place. Experimentation is the mantra of the evenings here—and you will be rewarded for such daring repartee.
Across the back of the room is an unimposing wooden wall. Upon request, it is magically rolled up, and behind the wall (a la Wizard of Oz and the red curtain) there is a separate dining room, and fully functioning community kitchen hidden away! This area has room for approximately 40 people.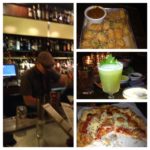 The cocktail program in the Pie Society is inventive, and covers just about every preference of fine spirits. The fruit juices and purees are hand-blended daily for fresh, robust flavor. My favorite of the evening was the Poolside cocktail ($10). The concoction is served tall, with Ford's Gin, Watermelon Puree, Lemon Juice, Plymouth Sloe Gin & a garnish of Cucumber Slice. Another interesting cocktail that caught my eye is the Medicine Rattle ($12) beginning with Chinaco Blanco Tequila, Fresh Pineapple Juice, Green Tea Jalapeno SS, Shiso herb and Sake.
Many of the food items in the dining room can be ordered in the Pie Society, and there are some unique items as well. The Pizza was delicious. I tasted both the Soprano Pizza (with Tomatoes, Fresh Mozzarella, Caramelized Onions, Olives, Fresno Chiles, and Salsa Verde- for $13) and the Deli Pizza (Pastrami Meatballs, Gouda Fondue, Caraway, Fresh Mozzarella and Pickled Fresno Chiles for $12). The Tater Tots with a Chorizo Fondue Sauce stole the show, and I don't even eat Tater Tots! I could not keep my hand off those bite size treasures.
This spot is worth a visit if you enjoy pizza, as I do, and if you are there in the evening and without children in tow, consider visiting the Speakeasy in back for some amazing libations and great conversations.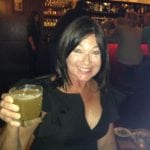 Pitfire Artisan Pizza
353 East 17th Street
Costa Mesa, CA
949.313.6335
Monday thru Thursday 11:00am-10:00pm
Friday & Saturday 11:00am to 11:00pm
Sunday 12:00 noon to 10:00pm
www.PitfirePizza.com
Pie Society Speakeasy
Hours: Tuesday to Sunday 5:00pm to Close
Grown Up's Only
www.PieSocietyBar.com