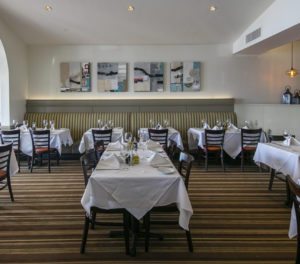 I flashed back to a wonderful trip along the Italian coast. One might do the same when you experience Modo Mio Rustic Italian Kitchen. With the Pacific Coast just across the highway I found the sun was gently setting at the dinner hour. The archways and pillars defining the Crystal Cove promenade give this venue a European flair. It's a lovely spot and on this evening I was here to enjoy their cuisine and meet up with some special girlfriends. With one back from a cruise, another heading to France, and teaching chefs—- there was lots to catch up on!
We know owners Phil and Linda Crowley from their many years with Lawry's and they have carried their exceptional restaurateur experience and constant refinements right here to Newport Coast. The entry is flanked on both sides by dining rooms with a warm color palette of cream, tan and perfectly placed and dramatic artwork encouraging a second glance. The kitchen offers a peek-a-boo window into the world of the fast-paced blur of cooking and plating. I had not noticed this on previous visits, but there is a somewhat hidden bar just behind a partitioned wall. There is a full bar there, flat screen and locals all snuggled up to the bar, chatting away and enjoying appetizers.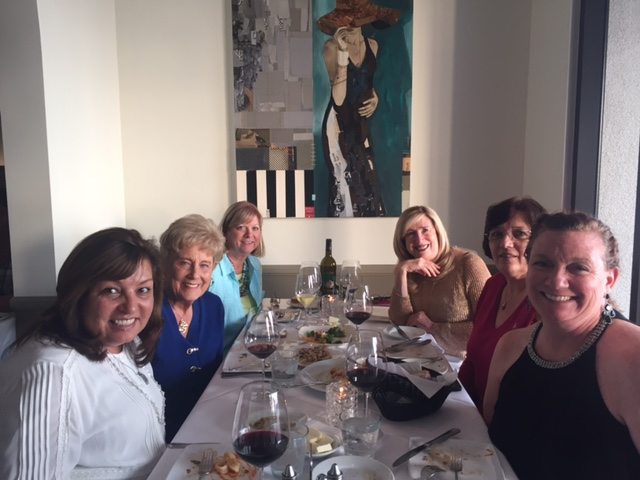 A Proper Nod To Italy's Culinary Roots…
The cuisine is "authentic Northern Italian" autentica cucina italiana settentrionale.
There is nothing like discovering a restaurant that checks all the boxes. And Modo Mio is one of those. The food is genuine and delicious. Each plate is proudly presented with a burst of rich color befitting the highest quality of ingredients selected by the chef. The wine list is impressive for a restaurant of this size and proud of their good values as well. I was astounded at how many are also available by the glass. Since I prefer white and my husband prefers red wine, this will be a perfect balance for us on our next visit. (Tip: They offer no corkage fee Monday thru Wednesday evenings.)
Our table guests were instantly impressed with Sabrina, our waitress who has game. She knows the menu inside and out and did not miss a beat with our many questions and general interest in the preparations. With so many chefs at our table, that is par for the course when we are out and we laugh as we all discuss the menu and everyone's favorite dishes. The restaurant is perfectly named Modo Mio which means "my way" in Italian. And I say this is perfect, for these three reasons:
1) there are so many choices—-from salads to appetizers, vegetarian dishes, pastas (even gluten-free), meats, fish and even veal which is very hard to find on a menu; 2) because many of the items can be selected as a half order, which means I can enjoy tasting more items; and 3) guests can select for their meat or fish entrees a side of either roasted potatoes and sautéed vegetables, or pasta—either penne or linguine with various sauce options. Now that is truly "having it your way"!
We Began With Appetizers…
As we all arrived, a parade of amazing appetizers greeted us at the table. It was really an incredible array of items and we enjoyed each and every one. Just as we would find in an Italian home, the meal begins with flavorful rustic rosemary bread and olive oil & balsamic vinegar. This bread hails from La Brea Bakery and is so delicious that we reluctantly nodded yes when asked if we wanted additional baskets. An oval plate of marinated mushrooms was next and was served cold and with the perfect blend of spices.
The Burrata is so colorful it almost dances on the plate before us. Thinly sliced heirloom tomatoes were topped with arugula, a large mound of fresh burrata cheese and drizzled with aged balsamic vinegar. Next, the Calamaretti (sautéed calamari) was served. This was browned to perfection and was accompanied by a side of a light tomato sauce with black olives and capers, garlic and a sprinkle of basil. It was light, yet rich with flavor and a lovely way to start this meal.
Next On The List….Wine Is Selected….
Patty selected the wine and it was delicious. It was a 2012 Frank Family Vineyards Zinfandel from Napa Valley. It was the perfect accompaniment to our eclectic dinner selections.
Dinner Is Served…
We made diverse selections—all enjoying the tremendous variety of offerings…. From pasta of all variations, to chicken and veal dishes, steaks, fish and a variety of veggie options too. Here are some of the highlights…
I enjoyed the Rustic Tomato, Basil and Bread Soup as a starter. It was rich and delicious without a lick of cream I felt as though I was being so good! But then of course, came the second selection and that was not on the diet plan. A half order of Eggplant Parmigiana and it was incredible. Much better than my own and I must get the chef to tell me his secret. Seriously the best!
Marie ordered the Modo Mio Gnocchi which is house made fresh and was served with an amazing sauce made of tomato, pesto and cream. Others enjoyed the Costatine, which is a short rib ragu & handmade Pappardelle—the pasta is tossed with farm vegetables. My favorite pasta in the world! Probably because all the sauce manages to adhere to the pasta making it extra rich and flavorful. Patty knew what she wanted before she even walked in the door. I think she had enjoyed it on a previous visit. This was the Griglia (Veal Marsala), which is thinly pounded veal medallions topped with sautéed Portobello mushrooms and onions in a rich Marsala sauce. This was served with a side of pasta.
And For the Sweet Tooths…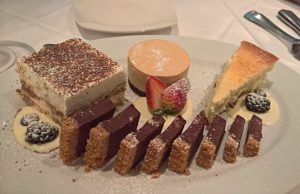 We did not order this but presented to our table was a delicious array of desserts— a quattro insieme. We enjoyed Tiramisu with espresso, Kahlua and a light mascarpone cream. The Lemon Cheesecake was delicious and light. A Chocolate Tart was rich and creamy with a graham cracker crust and vanilla sauce. The Flourless Mousse Chocolate Cake completed this quattro and it was all quite an unexpected treat.
This is a special spot and I encourage my readers to stop in and enjoy this wonderful dining experience very soon. Cheers, Deirdre
Modo Mio Rustic Italian Kitchen
Crystal Cove Shopping Center
7946 E Coast Highway, Newport Coast
(949) 497-9770 www.modomiorusticitaliankitchen.com
Hours:
Sun-TH 11:30am – 3:00pm and 5:00-9:00pm
Fri/Sat 11:30am – 3:00pm and 5:00-9:30pm