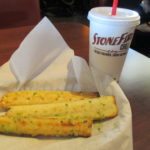 Just opening their doors to location #8 in Lakewood Center, this restaurant has something to talk about. They have taken quick-serve, fast-casual, whatever you want to call it—- to a whole new level. I am pleasantly impressed. And I don't say that often. In this location they have creatively transformed a former bank, into a rustic, approachable restaurant. With recycled woods, glass and abundant space, the dining room sings with a splash of color in bold burnt orange and earth tones. They even made their own chandeliers out of wine bottles. Love that!
This is a family affair. Mary Harrington rounded up her family to share in her vision of this restaurant concept. Her son Justin Lopez met me at the door and was so passionate about this business it gave me hope for a future generation. I was instantly inspired. As I visited with Justin and his mother Mary, I realized that we had both grown up in the San Fernando Valley and attended rival high schools. Small world indeed. This quote from Mary will provide you with a sense of their vision….
"As a family of 11, our dinner table was always filled with large plates, simply and lovingly prepared with both taste and budget in mind. Our restaurants come from our own family to yours. They are a tribute to our Mother and for the meals and memories alike. Let the fire spread from our kitchen to your heart."
Mary Harrington and the Stonefire Grill Family
Attention to Detail… It's All In The Cuisine And The Flavors
Everything we tried was absolutely delicious. I am kicking myself that we had not yet tried the restaurant closer to home. It really is quite amazing here at Stonefire Grill. The menu has items that everyone can embrace and that makes it easy when going out with a group of diners with various preferences. My favorite find is the fact that 90% of the items can be ordered in various sizes, and that is just perfect for sharing, or when I am in the mood for just a nibble. They also have seven items on the Kid's Menu for children 12 years of age and under to enjoy. It is very reasonably priced, with lots of choices—-from pizza to mac and cheese, and baby back ribs and a choice of a side order too.
Ordering is easy-peasy. Guests order up front at the counter, and then are handed a device that tracks where you sit, and magically the servers find you. Tables are comfortable, with beverages toward the back of the restaurant. Here is a sampling of what we enjoyed on our recent visit. Every single item I would order again and again!
Fresh Breadsticks– Arriving warm with a pretzel texture and a drizzle of pesto garlic. These should be against the law.
Roasted Cauliflower Starter– OK, the one thing I said I do not eat I cauliflower. But low-and-behold, this is one delicious starter, served warm and topped with lemon Tahini and chopped parsley. Mary explained that this was an item they had in Europe and just had to come home and replicate it.
BBQ Chopped Chicken Salad- BBQ Chicken served with mixed greens, black beans, roasted corn (adding so much flavor), carrots, red cabbage, cilantro, jack cheese, tortilla strips, tomato, scallions, and drizzled with a buttermilk ranch. Stop it! So delicious.
Grilled Trifecta Sampler- Chicken Breast, Tri-Tip and BBQ Baby Back Ribs– All three of these show stoppers are slow-cooked overnight. That attention to detail can be instantly tasted when trying any one of these dishes. My favorite is the BBQ Baby Back Ribs, however each one was incredible and memorable in their own right. The Chicken is cooked with lemon and garlic, the Tri-Tip is married with mesquite, and the Baby Back Ribs are finished with their signature BBQ sauce. There is also shrimp and salmon available and served with the perfect glaze or lemon garlic finish, per the guests preference.
Garlic Mashed Potatoes On The Side Please– Oh my goodness… this was a flashback for this Irish girl, who thinks potatoes should be their own food-group. Love these and plan to order them for my Thanksgiving table. Save me the hassle. Thank you Stonefire Grill…. I am ordering ahead
Stonefire's Favorite Pizza– This has the perfect thickness of crust and is adorned with homemade pesto, avocado, red onion, mozzarella, feta cheese and fresh basil. It was superb and we know why they call it the house favorite!
Not a big dessert fan, but they sure had some delicious choices—from heavenly cheesecake, to fudge brownies, Sandy's cookie and an incredible carrot cake. We happened to be in the kitchen when a tray of brownies were coming out of the oven. The smell of fudge was wafting about the kitchen and everyone was taking a quick peek of that goodness.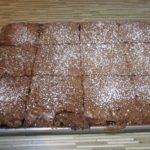 The "To Go" Process Is "Over The Top" Smart
A completely separate counter funnels guests efficiently to a separate pick up window. The food is placed into perfectly designed containers, which is something I really look for. The containers have clear covers for quick viewing and dissemination to hungry diners. When we want to place a "to go" order, we want it fast, with no hassle. Right? This is efficient and lickety-split on the service side. Bravo!
An Abundant Selection of Choices & Entrée Sizes
No matter what guests might be in mood for, they are guaranteed to find a number of crowd-pleasing choices on this menu. My head was spinning with 16 different choices of salads, 8 different sandwiches (served on pita, ciabatta or French rolls), 5 different pastas, and 8 pizzas from which to choose. And for the salads, pastas and pizzas, guests can choose from one of three sizes. This makes for some great sharing and sampling.
And not to be missed—-is the grill offerings—- slow-"cooked to perfection" chicken, tri tip, and my personal favorite, the baby back ribs. And here is what is so impressive…. Guests can choose from a la carte, or as an individual meal— accompanied by a choice of salad or small side item and their freshly baked warm breadsticks.
A Fine Selection of Beers and Wines… Score!
Often fast-casual restaurants are so focused on "family" that they sometimes forget that adults like to have options. And by that… I mean alcohol. Thumbs up to this thoughtful selection! The beers hail from Bend, Oregon… all the way down to San Diego. There are 10 beers by the bottle for the reasonable price of $3.00 each. Beer aficionados will recognize breweries such as: Saint Archer Brewing Company, Firestone Walker Brewing Company, Deschutes Brewery (from Bend, Oregon)… just to name a few. The wines are offered by the glass ($6-9), or by the bottle (reasonably priced—-all $16-20). There is everything from a Italian Prosecco, to a Santa Barbara County Saddlerock Chardonnay, to a Paso Ballard Lane Cabernet. There are eleven to choose from, and I know all of my wine snooty girlfriends will find something they will love on this list.
A Private Dining Room & Catering Services
There is also a separate covered patio that can accommodate up to 100 guests. It features large picture windows, both heating and air conditioning and would be the perfect setting for private business meeting, or even a holiday party. A space this size is very hard to come by, so do note that for future events. The Catering Services are quite flexible, offering large formats by the pan, slab, and so forth. Whether planning to be picked up, or to be delivered and set up on-site, Stonefire is ready, and more than capable to make it happen! Everything is on the menu and ready to press "send". I can just tell they have this wired.
In Closing….
As previously mentioned, Stonefire Grill now has 8 locations including: Valencia, Thousand Oaks, Chatsworth, Pasadena, West Hills, Fountain Valley, Irvine the newest spot at Lakewood Center just a few miles east of the Long Beach Airport. I suggest guests not walk, but run to the location nearest to you. You will be so pleasantly surprised, as I was. The Irvine location, which is closet to me will be my newest best friend. I have been wanting to find an answer to the question of "what's for dinner tonight"? Low and behold… I have found you! Thank you Stonefire Grill!
Stonefire Grill 4325 Del Amo Boulevard Lakewood, CA (562)232-2000 www.stonefiregrill.com