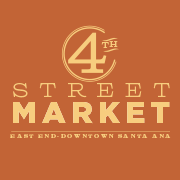 Who doesn't like the smell of espresso coffee wafting through the air? This is what welcomes me as soon as I open the door to this mega-food emporium. I enter the 4th Street Market, and no matter what time of day or night, I just know to come hungry! Portola Coffee Lab—home of gourmet coffee. Score! As I navigate my way around the loop, I feel like I am back in college, yup, on "the quad". I am surrounded by food stands, and greeted by friendly, artsy soulful people, who are all here for one thing—great food. And that you can be sure of.
Well, maybe two things—-great food and a sense of kinship. There is a sense of comradery here, and the community tables reinforce that willingness to share, to engage in the neighborhood, and to "be here, in this moment". Toward the back of the space there is a long, horizontal bar with a fantastic name—Recess. They are in the process of expanding the bar to provide space for bar stools so guests can snuggle up and stay awhile. And just beyond the bar is a lovely outdoor patio that runs the entire length of the marketplace. Colorful canvas shades above wave in the breeze and there is lots of open-seating. There are two ping pong tables for a little break. Open to the sky, this patio is a welcomed respite from the downtown vibe surrounding it. They even have an Amazon Locker system for those who want to pick up packages!
Cornerstone Businesses- In addition to the great food stands, there are "four cornerstone businesses" operating here at the marketplace. I will share some highlights from each of these four, as they are quite unique here in Orange County. Then I will you through the plethora of dining options found here in this eclectic and charming food hall.
–East End Incubator Kitchens– Ten fully equipped, commercial kitchen spaces are available for rent by chefs. These are ideally designed for artisanal and small-scale food production, chefs testing new recipes, personal chefs and caterers. There are 6 traditional kitchen facilities, 3 are dedicated solely to gluten-free products and 1 is specifically designed for confectionary work. Each commercial kitchen space is fully self-contained, in that the chef is not sharing their space with others, and features a public viewing area. These kitchens can be rented by the hour, day, or month. The market's 8,000 square foot basement includes: a commissary, dry storage, cold storage, and a packing/ labeling room. For more information on renting space, please contact: info@4thstreetmarket.com.
-Foodbeast Kitchen & Studio- is a multi-functional space designed for a range of presentations and activities. From book signings to cooking classes and demos, to photography, video filming and chef interviews—lots of options. The Studio Kitchen is quite flexible, seating 36 and can be sectioned off as well. Those interested in renting this space can shoot an email off to them at: info@foodbeast.com.
–The Alta Baja Market- will be opening in June, 2016. This market will celebrate the flavors and talents of California, the Southwest, and Mexico. The market will carry cheeses, bakery items, beer & wine and groceries. The Deli will serve unique cheese platters, cured meats from Electric City Butcher, seasonal produce from local farms and specialty sandwiches, tarts and snacks using the ingredients sold in the market. They will also carry hand-crafted gift items that are unique to the area where they are made. It is anticipated that the market will eventually offer cooking classes, lectures and pop-up restaurant events. Stay tuned for more from Alta Baja!
–Electric City Butcher– Working with sustainable farmers and humanely raised animals, ECB is modeled after their family's shop in Sicily. This is a place where customers arrive with an idea of what they'd like, have a conversation with the butcher and leave with freshly prepared cuts. They offer personalized service, and the highest quality products. They believe that their customers can really taste the difference. (As noted, they will also be providing deli and cut meats to The Alta Baja Market beginning in June.)
And Now To the Food Stands…. My sense in visiting this foodie emporium here at 4th Street Market is that there are six key goals that stand out to me. Here is what I sense drives the small businesses and restaurant concepts that participate here at 4th Street.
1) Being authentic & unique
2) Reinforcing a "sense of place" in everything they do
3) Using the freshest ingredients & offering homemade goodness
4) Delivering noteworthy, delicious cuisine
5) Creating an environment that is fun & foodie-centric
6) Being a part of this community
Sweet Treats: There are three delicious options here for those with a sweet tooth. Chunk N Chip offers homemade, small-batch ice cream and cookie sandwiches. On a recent visit I enjoyed fresh mint ice cream in a big cone that was amazing! Front Porch Pops has handmade ice pops and ice cream bars with flavors like strawberry lemonade and chocolate sea salt. Torch S'Mores brings back that smell of a campfire and roasting s'mores. Mine always fell off the stick and into the fire. Here they have perfected that foible, and hand make them before your eyes!
Beverages: As discussed, Portola Coffee Lab and the Recess Bar offer all types of coffee and alcoholic beverages, and are very popular. Coffee in the morning—drinks in the later afternoon. That is a winning combination indeed. Radical Botanical Juice Bar is a self-defined "innovative beverage lab and cold-pressed juicery". I feel healthier just standing there staring at all the fresh fruits and vegetables they have displayed. (And soon they will be offering grab and go meals for one-stop shopping.)
Main Entrees: There are eight food stands here at 4th Street Market, so don't let anyone tell you there isn't something for just about everyone here. From Asian, to Italian, Latin and good old American sammies. Let's run through the delicious offerings…
Dos Chinos offers Asian and Latin fusion. Mar proudly serves Latin and Asian Seafood—from Ceviche to Teriyaki bowls and tacos. You can even build your own poke bowl. Terra has a "build your own" burger and salad concept with lots of veggie options. Kitchn DTSA is king of breakfast fare and BBQ items. Jinny's Pizzeria has pizzas with seasonal items atop and scratch- made ingredients. The Pig Pen Delicacy is all about bacon, pork and comfort food. Stockyard Sandwich Company has huge sandwiches (my favorite is the pulled pork), poutines, soups and salads. (Since I had to look up poutines, here you go… and you're welcome…Originating in the province of Quebec, they are made with French fries and cheese curds and topped with a light brown gravy. Sit Low Pho serves delicious Vietnamese cuisine, including soups.
The web site has menus and complete details on each of the food stands, so please visit www.4thStreetMarket.com . This can also be useful if you want to take a round of orders, and work your way through the marketplace!
Photo Credit: Anne Watson Photography
Photo Credit: 100Eats.com
So How Did This All Get Started? Fourth Street in Santa Ana, or Calle Cuatro to many locals call it, is indeed evolving. What was once a kitchy group of small shops, is now expanding, and embracing the world of arts, entertainment, farmers and a real eclectic food scene. It has all begun to take hold here in Downtown Santa Ana. Needless to say, it is an exciting time to be right here.
The Chase Family (retail developers in the area) have roots here that go back to 1919. They own properties in nearly a four-square block of downtown. The Chase family, along with a group of Latino business owners started a strip mall called Fiesta Marketplace in the late 1980's. But by 2005, for a whole host of reasons—many shoppers were able to find items elsewhere and were not frequenting the Fiesta Marketplace. Ryan Chase had an idea to redevelop Fourth Street into what is now known as the "East End". It is a growing collection of trendy restaurants and fashionable stores that attract a younger, hipper crowd to the arts, entertainment and food scene. Chase is really a maverick, and plain and simple, he wanted to find a more current use for the space. He envisioned a food hall, inspired by the charm of downtown Los Angeles' Grand Central Market on Broadway. It would include: creative chef kitchens, dining establishments with central eating pods, offer cooking demonstrations, craft beers, gourmet coffee, a bar and a butcher shop. And by creating many small spaces, it would allow entrepreneurs an opportunity to try out a restaurant concept without exorbitant expenditures. Starting a restaurant is just plain cost-prohibitive for many chefs.
So, come on down and give this place a whirl. They are open seven days a week. But be sure to arrive hungry!
4th Street Market
201 East 4th Street Santa Ana, CA 92701
(714) 486-0700
www.4thStreetMarket.com