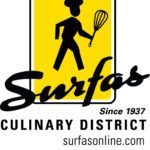 Weekends are made for shopping, and exploring. What better way to meet local Chefs, than to come to Surfas and do just that. Stroll the Farmer's Market, listen to some music, grab some Jo, and then head in to see the cooking demonstrations!  Surfas is located at the SO-CO MIX in Costa Mesa, CA—just off Harbor Blvd.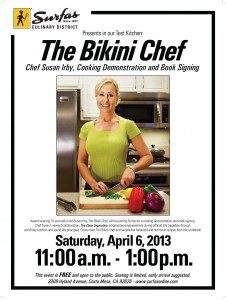 "The Bikini Chef" Chef Susan Irby
Saturday, 4/6/13- 11:00 am – 1:00 pm- Award-winning TV and radio host Susan Irby, The Bikini Chef, will be joining Surfas for a cooking demonstration and book signing.  Chef Susan's newest collaboration, The Clean Separation, emphasizes empowerment during difficult life tragedies through enriching nutrition and sound life principles.  Come meet The Bikini Chef and sample her balanced and nutritious recipes from her cookbook!
BBQ Classics with Chris Rocke of Rancho A Go Go Food Truck and Rancho To Go BBQ
Saturday, 4/13/13 – 11:00 am – 1:00 pm– Learn the tips and tricks of great Santa Maria Tri Tip and Grilled Chicken from Chris Rocke, owner of Rancho A Go Go Food Truck and Rancho To Go BBQ restaurant in Orange, CA.  From start to finish, Chris will take you through everything you need to know to make these BBQ classics.  Bring your questions, and let's BBQ! For more information on Rancho A Go Go BBQ, visit www.ranchoagogo.com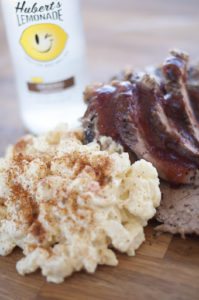 Fresh from the Farmers Market with Chef Geeta Bansal of The Clay Oven in Irvine
Saturday, 4/27/13 – 11:00 am – 1:00 pm– Join Chef Geeta from the award winning restaurant, The Clay Oven, as she shares her passion for food centered around local and seasonal ingredients.  Chef Geeta learned firsthand from her grandmother the value of changing colors, flavors and aromas of each season.  Come take a culinary tour around India as Chef Geeta creates exciting restaurant favorites featuring ingredients from SoCo's farmers market.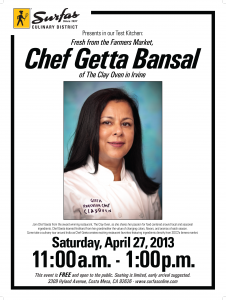 COOKING CLASSES:
Cooking with Balsamic Vinegar- Monday, 4/15/13
5:30 PM – 8:30 PM  ~ $65.00 – Join us as we explore, taste, and cook with 5 uniquely different balsamic vinegars. We will also learn the technique of creating creamy risotto, grilling steak, forming an emulsion, and working with gelatin and agar agar powder. Enjoy a generous tasting of: Arugula Salad with Fried Capers, Balsamic Vinaigrette and Shaved Parmesan, Lemon Fennel Risotto with Tomato-Balsamic Relish, Grilled Flank Steaks with Creamy White Balsamic-Gorgonzola Sauce, and Vanilla Panna Cotta with Balsamic Strawberries and Saba Pearls.
Cooking with Spice – Sunday, 4/21/13
12:00 PM – 3:00 PM ~ $65.00– Add unique flavors to your favorite recipes! You'll learn the secrets of properly spicing foods and get insight into new flavor combinations. Plus, we'll learn tips and techniques for cooking with a wok, making ice cream and working with puff pastry. Cooking classes are hands-on and space is limited, join us! Enjoy a generous tasting of: Curried Chicken Salad with Pecans and Dried Tart Cherries, Five-Spice Stir-Fried Beef with Scallions and Red Peppers, Star Anise-Scented Jasmine Rice, White Chocolate-Pepper Ice Cream with Cardamom Palmiers.
Important Details About These Demonstrations and Classes-
-Location: Demonstrations and classes take place in the Test Kitchen at Surfas Culinary District, located at 3309 Hyland Avenue, Costa Mesa, CA 92626.
-Note: There is a Farmer's Market on Saturday, and other retail stores are open, so parking can be a challenge. Also seating in the Test Kitchen area is limited,  so I suggest you arrive early and then snoop around!
-These demo's provide  a great opportunities for you to get to know our local chefs personally and learn about their unique techniques and favorite products. Samples are served at each demonstration and questions for the chefs and are highly encouraged.
-The Cooking Class are a  hands-on experience with a trained Chef Instructor. Classes are held in Surfas' state of the art Test Kitchen with a maximum of 10 people in attendance. Wine may be purchased at the Epicurean Center and brought into class. Customers will receive a special discount of 10% off small wares and 5% off food purchases. Recipes will be provided and a generous tasting of each dish will be enjoyed. An equipment list will be available to assist in replicating the dishes at home. To sign up, please call or come into Surfas, Orange County, 3309 Hyland Avenue Costa Mesa, CA 92626 714-453-COOK (2665)
-For inquiries about Surfas Orange County, please call 714-453-COOK. For media inquiries, please contact: Kaitlin.Novell@Purry.com .
-For those who may not have yet visited Surfas (shame on you)—-this is a MEGA Cooking Supply Store, with a Café, Wine & Cheese Bar, Test Kitchen and gourmet food & cooking products galore. It is amazing!!!  Surfas features more than 18,000 unique items in over 20,000 square feet. Since 1937, the three generation owned and operated establishment has served industry professionals.