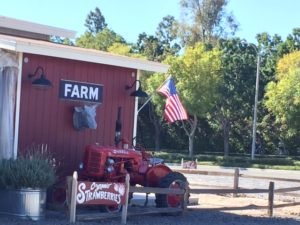 Lovely Quickie Lunch at Manassero Farms today. Thank you Chef Pascal Olhats and Anne Fanous Manassero for such a wonderful and delicious day! The weather could not have been better for us to enjoy this very special menu. We started off with introductions, and then Pascal described his amazing Broccoli Soup. One might think there was cream in the soup, but no the potatoes added to the richness. On the main stage, and presented is country-style baskets, were delicious Lamb Burgers marinated with amazing spices, a yogurt sauce, shoestring fries (which I said I would not eat but quickly gobbled them all up). The burger was sandwiched between a custom brioche olive burger-bun by none other than the well-known baker Dean Kim of OC Baking Company in Orange. The burger was served with a colorful Carrot and Arugula Salad. The dessert was so befitting our special day on the farm, with just-picked Strawberries, served Shortcake-Style with Chantilly cream. Yum!
Here are the basic recipes for each of the items served today. These recipes are best for those who are home cooks and can estimate proportions.
~The Menu~
Broccoli Soup
Carrot and Arugula Salad
Lamb Burger with Yogurt Sauce
Carrot and Arugula Salad
Strawberry Shortcake
Broccoli Soup
-Pascal starts with a delicious "base" for his soups. This includes sauteeing with butter the following items in a saucepan:
-2- Leeks
-4 stalks of Celery
-2 medium Onions
-2 large baking Potatoes (suggest first cutting and pre-cook these in boiling water for 15 min. to soften)
-Place all these ingredients in a large Saucepan
-Add 4 large heads of steamed Broccoli
-Cover to 3" above all of these items with water or better yet, Chicken Stock or broth. Approximately 42 oz. but always good to have extra on-hand in case you want to thicken the soup.
-Puree this Saucepan full of the above ingredients with an immersion blender. (If you do not have one can puree in blender in batches.
-Add diced Bacon and stir. Heat on stove.
-Serve with Parmesan Crisps or Graded Parma Cheese (on top)
Lamb Burger with Yogurt Sauce
-Pascal begins making his Lamb Burgers by first marinating the meat overnight. Then he grinds his meat and forms the lamb burger patties. This is grilled and served with a yogurt "secret sauce" and romaine lettuce. An Olive burger bun from OC Baking Company is the finishing touch.
The Spicy Marinade For Lamb-
-In saucepan add:
-1/4 cup Chili Flakes
-1/4 cup or more to cover flakes of Olive Oil
-Heat on Medium Low
-Add:
-Tablespoon of chopped Garlic
-Tablespoon of Cumin
-Sautee for 20 min on Low heat.
-Add 1/2 cup of Tomato Puree
-Reduce by heating for 10-15 minutes.
-Let cool a bit and place in Blender to Puree
-This can be placed in a mason jar and stored for 2-3 months it the refrigerator.
To Make Lamb Meat:
-Cook will have to estimate this based on quantity desired.
-Cut Lamb leg and shank into cubes.
-Add the Spicy Marinade.
-Add Tagine which is a Moroccan Spice made of: Paprika, Ginger, Turmeric and Black Pepper. Can be found at most spice shops and some specialty markets.
-Also add small amount of Salt and Cumin.
-Add Mint and small amount of cubes of bread to add texture.
-Add one egg per pound of lamb, to help bind the mixture.
-Place in baggies or large glass bowl and store covered overnight to marinade.
-The next day, grind the meat finely and form into individual patties.
-Note: Can also be made into meatballs for use as an appetizer.
To Make the Yogurt "Secret Sauce"
-Place Yogurt in a bowl
-All cilantro (or fennel)
-Add Chili Powder
-Add Harissa (hot chili pepper spice from North Africa)
-Add Preserved Lemons (or lemon juice and small amount of zest)
-Combine in a bowl and set aside in the refrigerator
-Note: Test the flavor to ensure the right amount of spiciness. Easier to add than to remove the heat.
Carrot and Arugula Salad
-The Carrots from Pascal's Mother's seeds in France which were sent here and planted.
-Carrots are picked and finely sliced with a Mandolin slicer.
-Wash and arrange arugula
-Mix The Dressing: Olive Oil, salt, pepper, lemon, hint of Cumin
-Gently drizzle on top of the salad
Strawberry Shortcake
-Cook the biscuits- from scratch or as package instructs
-Rinse and cut Strawberries
-Place a small amount of Strawberries in a saucepan and cook on low mashing to create some juice. Let that cool.
-Mix the strawberries from saucepan with the cut strawberries.
-Whip up Whipping Cream and add Vanilla and small amount of Powdered Sugar to create Chantilly.
-To plate: Cut the biscuit in half. Place the bottom half on the plate, and add Strawberry mixture. Add Chantilly. Top with Biscuit top, and drizzle small amount of Strawberry mixture on top. Garnish with Mint leaves.