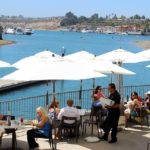 This one is a "two-fer". Offering some lovely back bay & launch marina views, a super value lunch can be scored at Back Bay Bistro. They are offering a prix fixe featuring three items. This includes: soup or salad, an entrée (from the lunch menu an entrée, sandwich or salad) and a glass of house wine or draft beer!
And for only $10, here are eight restaurants offering "$10 Value Lunch Menus" to check out for RW. You're welcome….
–Avila's El Ranchito in Corona del Mar and in Newport Beach on the Balboa Peninsula. This includes their famous Chicken Soup or the Albondigas Beef Soup, and a choice of one of three entrees—Mole Enchilada, California Chicken Taco, or a Crispy Taco served with a choice of grilled veggies, rice or beans.
-New on the list this year, and near the John Wayne Airport Campus Jax is offering a two course lunch special, including a first course choice of Gumbo, Housemade Slaw or Creole Deviled Eggs, and for the second course a hard to pick choice of Jambalaya, Pulled Pork sandwich or bowl, or a Veggie bowl served with brown rice. (On weekends they evolve to a Supper Club with live jazz music in the evenings.)
-New to Fashion Island, Hopdoddy Burger Bar offers a choice of a Signature Burger or Artisan Salad, and a choice of fries or a shake.
-At Big Corona Beach, and literally on the beach can be found the Tackle Box. As a starter, guests select from seasonal soup, veggies and house ranch or a baby kale salad, and for entrée choosing from three sandwiches (Chicken Club, Fried Fish or Vegetarian) with house potato chips, and a beverage.
–There are four lunch spots on the Balboa Peninsula, and each is smartly offering $10 menus. This includes:
-Lots of choices here at Crow Burger Kitchen (on Balboa Peninsula). They are offering a wide choice of options for entrée (select from 5 different burgers, Baja Fish Tacos, CBLT Sammie, Breakfast Burrito or a Wedge Salad), a side of duck fat/hand-cut/sweet potato fries, grilled green bean fries or onion rings (my personal favorite) and a fountain soda. That is great!
-Also Dory Deli is offering a perfect comfort cuisine menu with a starter of side salad or tomato soup, and a sandwich, choosing from the Rocky Balboa Steak Sandwich, or a Chicken, Pesto Mozzarella Sandwich.
-At Malarky's Irish Pub they are known for serving great sandwiches, and RW guests will find it hard to choose from these five: Prime Rib with Mushrooms and Onions, Philly Prime Rib, Grilled Chicken, Pastrami and BBQ Bacon Burger served with fries and a starter of a fresh garden salad or cup of clam chowder. Also noted is special pricing for beer and Irish Coffees as well.
–Slapfish offers a Lobster Carnitas Burrito or a Fried Shrimp Po Boy for $10. Guests can also select $5 tacos— selecting from the Ultimate Fish Taco or Crispy Tuna Tacos.
So there we have it, some great deals and there are many others at the $15, $20 and even $25 price point, depending on what you are looking for. Restaurant Week is a wonderful opportunity to enjoy some favorites and also to try something brand new. These restaurants are hoping you will do just that.  Dine Well!