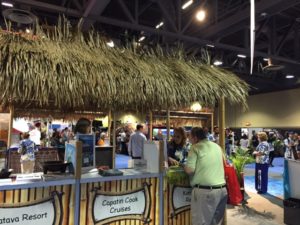 The Los Angeles Travel Show this weekend in Long Beach. I attended all day Saturday and it is open all day today Sunday as well. Dance performances, Cooking Demonstrations, Panel Discussions, and Presentations from some of my favorite travel talents—Rick Steves, Samantha Brown, and today Sunday Peter Greenberg! Always full of great insights I will be writing up some notes I jotted down while Rick Steves was speaking.
There are over 150 booths from people all over the world. Cruise lines, tour guides, destinations, it is all here at the #LATravelShow . Visit the web site for the schedule of all the speakers and events.
Not to be missed!  http://travelshows.com/shows/los-angeles/
Great Speakers….Wonderful booths…. Welcoming Representatives….
Rick Steves,  Panelists On Travel Trends, and Samantha Brown
The Booths were inviting and creative….