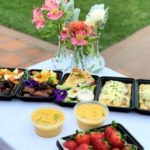 Please support your local restaurants that are offering "Curbside To Go" menus, dinner kits and daily specials. It is just crazy out there with this virus and Chef Pascal and his team at Café Jardin, like many others, just had to get creative. They are making jams and desserts and so forth. The other day, I ordered three fabulous meals from Cafe Jardin (located inside Sherman Gardens in Corona del Mar, CA, a village within Newport Beach).
Chef Pascal Olhats and Chef Jessica Roy are doing a stellar job! They have created a lovely menu and are offering a daily special and soup du jour.  Also Pascal is posting recipes so I have noted two of my favorites at the end of this article as well. Enjoy!
Fair to say, I may never cook again! (And those who know me, know that I live to cook!) We ordered three items for two and all are so incredible delicious! A picture is worth a thousand words as you will see here… impressive and so flavorful.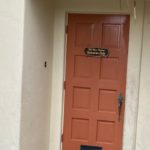 So locals, please note that Monday through Friday, from 10:00am to 4:00pm and Saturday and Sundays from 10:00am to 3:00pm you can order and pick up. Just go to the Orange door at 608 Dahlia in Corona Del Mar. The containers are high quality and each item is prepared just as it would be plated and enjoyed on the patio. So delicious!
On Thursday, Chef Jessica shared with me they will have a special entree. So do ask when you call in or walk-in is fine too. She is making jams, sauces, desserts and  fresh baguettes from a vendor!
Please call 949-673-0034 to place your order, or email Pascal pascal@pascalnpb.com
Daily Menu Two-Courses for $30 pp:
Appetizer- 3 options:
-Seasonal leaves with Tomato, Black Olives, Fresh Basil & Balsamic Dressing on the side
-Soup du Jour
-Steamed Beet Salad with Walnut and Herb Goat Cheese
Entrees- 3 options plus a daily special:
All served w/seasonal veggies…
-Grilled Scottish Salmon with Orange Basil sauce
-Baked Chicken and Mushroom Crepe with a rich cheese blend
-Beef Short Rib Bourguignon with Smoked Pork Belly
(And for my special order they had Quiche so I ordered that vs. Salmon.)
TWO RECIPES:
Sea Bass au Thyme  and Boeuf Bourguignon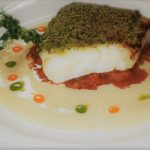 Pascal's Famous Thyme Encrusted Sea Bass Recipe By: Pascal Olhats
"Here it is, my famous Thyme Encrusted Seabass. This is such an iconic dish that my patrons have gotten addicted to it. I always imagined this in the old days— I would have a sign in the street saying: "Pascal's the house of a million famous seabass!" Please enjoy. So, for you my friends, here I share my secret recipe!"         Chef Pascal Olhats
Note for preparation of this dish for the home cook- There are two sauces used to make this delicious dish. A Seafood Sauce (Fruits de Mer) and a Tomato Concasse (Tomato Crush) Sauce.  So if doing this at home, vs. in a restaurant setting, it might be best to prepare the two sauces first, or at least prep them part way through and then complete them while the fish is cooking in the oven. Read the recipe completely through to get a better sense of your timing.
Home Cook: Deirdre Michalski
Sea Bass au Thyme with Fruits de Mer Sauce (Seafood Sauce)
Servings: 4
Ingredients:
4 sea bass fillet – each 5 ounces of halibut or cod
1 bunch thyme
1 bunch parsley
4 ounces butter
4 slices bread
1 Teaspoon garlic – chopped
1 glass dry white wine
4 ounces shrimp shells
2 ounces bay scallops
12 mussels
8 ounces white wine — dry
1 shallot — peeled and minced
1 bouquet garni – (1 bay leaf, 2 sprigs thyme, 2 sprigs parsley)
1/2 branch of celery
8 ounces cream
1 ounce butter
Salt and White Pepper
Directions To Make The Crust:
-Crumble the bread (white part only) in a food processor.  Add the thyme, parsley and a hint of garlic.  Add the butter until you get a nice paste consistency. Season to taste with salt and pepper.
-Spread the mix over each piece of fish with a spatula.
Directions For Cooking the Fish:
-Display the pieces of fish in a pan with the wine (crust side up).  Cook at 425 degrees in an oven for approximately 12 minutes.
-Before serving, place the pieces of fish under a broiler to lightly brown the crust.
Directions For Making the Fruits de Mer Sauce:
-Reduce to 1/4 the wine with seafood and shallot.  Add the bouquet garni.  Add the cream and reduce again until the sauce coats the back of a spoon.  Strain using a chinois (thin strainer).  Stir in butter and season to taste. Season to taste with salt and white pepper.
Fresh Tomato Concasse Sauce
Ingredients:
8 Tomatoes (Roma), washed, cored, peeled, seeded, cut in cubes
1/2 stalk celery
3 Teaspoons olive oil
1 sprig thyme
1 bay leaf
1 clove garlic, chopped
1 medium onion
Directions:
-Peel and dice onion. Sauté in saucepan with olive oil for about 5 minutes until soft (not brown).
-Add celery and herbs tied in a bunch; add garlic, then tomatoes.
-Bake in oven for about 20 min.
Salt and pepper to taste.
The sauce can be eaten as it is (chunky) or you can put the sauce through a processor
Plating and Presentation of This Complete Dish:
-In the middle of the plate place a spoonful of the Tomato Concasse Sauce.
-Surround it with the Fruits de Mer Sauce (Seafood Sauce).
-Place one of the cooked and encrusted pieces of fish over the tomato sauce.
-Can add droplets of olive oil or pesto, if desired.
"Here is my suggestion of how to best enjoy this dish. With your fork, cut down through the fish, grab some tomato sauce and then some of the seafood sauce. Bring to your mouth, close your eye and enjoy!  As I always say, "Enjoy life, one bite at a time!"                                                                 Chef Pascal Olhats
Boeuf Bourguignon Recipe
By: Chef Pascal Olhats
Serving Size: 4
Ingredients:
2 pounds beef stew meat, neck meat, or sirloin
1 large yellow onion — sliced
4 cloves garlic
4 stems parsley — Stems for marinade, leaves for garnish
10 ounces white mushrooms — quartered
1 yellow onion cut in in medium size pieces
12 ounces  carrot — peeled-cut into 1 inch slices
12 pearl onion — peeled – if available
4 ounces smoked pork belly (slab bacon)- cooked
1 quart red wine
3 stems thyme
2 bay leaves
1 shallot — chopped
Olive Oil
2 garlic cloves
2 ounces butter
10 ounces veal stock (or beef stock will do)
Directions:
-Marinade: Cut the beef into 2 inch cubes.  Mix with the red wine, cut onion, the carrot, shallot, whole bacon, and herbs and spices.  Marinate the meat from 4 to 12 hours in the refrigerator.
-Once marinated, remove the meat and pat dry. Strain the marinade. Save the liquid, carrots and bacon.
-In a large pot, add 2 tablespoons of olive oil.  Sear the meat until brown on all sides.  Work in batches if necessary. Don't crowd the pan.  Remove meat from the pot.
-Add the sliced onions and garlic clove to the pot and sweat for 3 minutes.
-Pour the marinade liquid and veal stock and bring to a boil.  Add the meat and lower the temperature to a simmer.  The meat should be totally covered with liquid.
-Cook for about 2 hours.
if you dont have veal stock available you can replace with beef broth
Vegetables and Garnishing:
Peel the pearl onions. cut the bacon into cubes and saute in a pan and hot butter add the carrots and pearl onions. drop in  the pot 10 minutes before the end of the cooking time or once the meat is tender.
Saute the mushrooms in the same pan and add to the preparation.
Finishing:
If the sauce is not reduced enough, you can add some "beurre manier" (soft butter mixed with flour in a 1/2 to 1/2 mix) to thicken the stew or corn starch
At Service:
Serve the stew on a platter or individual plates.  Add bacon and mushrooms over.  Sprinkle with chopped parsley or chives.
Serving Ideas : Classically we serve this dish with steamed potatoes or potato gratin, but it can also be served with pasta.