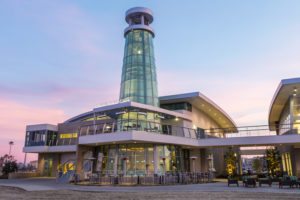 Can it be one year already? I can remember standing here one year ago when the entire City Council and Recreation Department so proudly presented this new venue to residents and distinguished guests. They could hardly contain their excitement. And now we are all so pleased that everyone did stick with it, to make this spot a reality on the Peninsula.
The Lighthouse Bayview Café is really a special spot. It is open for breakfast, lunch and dinner, with happy hours Monday through Friday and brunch on Saturday and Sunday. The restaurant features arched windows on the main floor—-reminiscent of the bow of a ship. There are views of water in every direction. By climbing a few stairs, guests reach a lovely pet friendly patio. It is also a welcomed, more casual venue for "dock and dine" here in the harbor. They will prepare and deliver platters of goodies to you dock-side too (with just a bit of an advance planning by phone). Yes, here in Newport Beach everything is full service! Come celebrate with them—right here on the bay!
As I eluded, Lighthouse Cafe just celebrated its one year anniversary and I had the supreme pleasure to be invited to a special "media tasting" of some of Chef Ryan Sumner's newest comfort food creations now on his winter menu. And he has some incredible offerings! Close your eyes and just try to picture this— short ribs with pillows of mashed potatoes, fresh sea scallops with a delicate cauliflower puree & micro-greens, two-fisted Bloody Mary's with the perfect house-made recipe (translation…not too spicy) and for dessert French Toast with fresh bananas and Bignets with a cream cheese icing drizzled atop!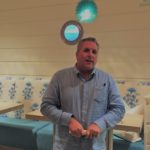 Tad Belshe, the Operating Partner welcomed us all, and the parade of tastings arrived on cue. We began with a welcome Bikinitini Cocktail which was so refreshing. It is made of Soju, Special blend of peach, orange juice and Champagne. It is on the menu, and they really had me at peach. A flavorful Pulled Pork Cuban Panini was a popular item. And next was the two-fisted Buddy's Bloody.
Wow! The Crispy White Fish Tacos were so flavorful no one wanted to put them down. I can just see me enjoying those for breakfast! Who needs eggs! The Pan Seared Scallops were fresh from the sea and the cauliflower puree was the perfect complement with a sweet corn relish. The show stopper, I'm not going to lie, was the Red Wine Braised Short Ribs. I really wanted to take a fork and go in the kitchen, but I knew that would be beyond rude. These were braised for many hours, and were packed with flavor thanks to Chef Ryan's seasoning. Seriously, they are worth a try.
And for dessert, because they can, we had two very hard to pass up treats that reminded me of my days in New Orleans. The first was a Banana Pecan Bread Pudding French Toast with slices of bananas, a creamy sauce and of course, whipped cream. The second was a delicate Bignets with a cream cheese icing drizzle. I had two of those— and I don't normally eat desserts.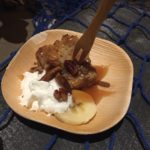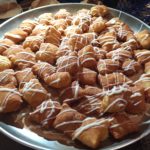 The menu incorporates fresh flavor profiles and unique interpretations on classic dishes. They have a robust menu, and also serve craft cocktails, 20 wines by the glass with many by the bottle, and hand selected beers on tap and five or so in the bottle too. The dinner menu for example, includes seven different appetizers, soups and salads (including a soup of the day), and 11 or so entrees. Entrees that caught my eye are of course the Short Ribs, but also the Cioppino with shrimp, clams, squid, mussels and white fish, all stewed in a spiced tomato lobster broth and grilled bread (for $24.95). The Artichoke and Mushroom Pasta with a lemon butter sauce sounds divine for $16.95. As if that is not enough, there are also nightly specials from 4:00pm to close. On Saturdays, for example, the special is a rosemary Roasted Prime Rib with steamed veggies and mashed potatoes for $17.95. Wednesday is all about Cheeseburgers & Beer with fries for $11.95.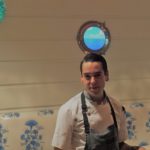 Chef Ryan explained to all of us…"Growing up in my parents' market in Costa Mesa, I experienced firsthand the seasonal change of fresh ingredients. My inspiration for the winter menus came from that early education and of course the beach & boating culture here in Newport. The nightly specials I create are really for the locals." The winter lunch menu features new items like the "all grown up" grilled cheese with melted Muenster, smoked Gouda and parmesan on sourdough paired with creamy basil tomato soup. Brunch goes big with decadent offerings like the banana pecan bread pudding French toast topped with a salted caramel drizzle and whipped cream. The menu's newest cocktail, the Buddy's Bloody, is an oversized mason jar Bloody Mary with all the fixings, inspired by a legendary Newport Beach Lifeguard whose decorated career spanned 47 years in these parts.
And for the History Buffs In The Room… This Space Dates Back To The Turn of the Century- How did this all come to fruition one might ask? After all this is some coveted real estate right along the Harbor. One only needs to imagine back in time to the early 1900's here on the Balboa Peninsula. The City of Newport Beach purchased this land in 1919 and set it up as a camping ground. Campers paid 75 cents a night to stay here. I know, seriously? In 1955 it was converted to a trailer park, and later a mobile home park. In 1985 it was voted to turn this land into a park, and guess what, it only took 30 years to come to make that happen. Now we know why everyone was so proud when it was unveiled in December of 2015! Spanning from 19th Street to the American Legion site, the 57 mobile homes were removed. Unlike other seaside locations, this one was a peaceful transition, and 47 of those were relocated to other places in the state. There was dredging, building permits, Coastal Commission approvals and so forth. It sounded like a long process to say the least. But finally construction began in December of 2013. Ecology was a big focus of the project, meeting the LEED-Silver Standards. And here we are today. So let's enjoy the space and support our local Chef!
Valentine's Day- For February 14th, 2017 Chef Ryan Sumner has curated an "over the top" exclusive three-course menu. The cost will be $65 per person (exclusive of tax and gratuity) and will be available from 4:00-9:00pm. Reservations are available via OpenTable.
The menu will have lots of options for diners. -Starters include: Ahi Tuna Tartare with wakame seaweed, avocado croutons, yuzu kosho vinaigrette and sesame wontons, or Lobster Bisque with tarragon pistou, cracker, crème fraiche, or a vanilla essence and Grilled Artichoke & House Ricotta Crostini with pickled mushroom, heirloom carrots.
-Entrées include: Mediterranean Sea Bass with Artichoke a la barigoule, thumbelina carrots, pearl onions and fennel fumet, or a Bone-in Apple Encrusted Pork Chop with beetroot, parsnip, creamed spinach and sherry reduction, or the Lobster Thermidor Ravioli with gruyere chips, carrot diamonds, spicy breadcrumbs, lobster sabayon and brandied cream sauce, or Beef Wellington with truffle potato puree, garlic spinach and sauce béarnaise, or the Florentine Ravioli with cherry tomato confit, sourdough garlic crisp, shaved fennel and basil cream sauce. How could anyone pick from that selection of five amazing dishes?
-Desserts include: Salted Chocolate Tart served with port poached pear, candied kumquats and port reduction or Warm Apple Crisp topped with maple bourbon ice cream, butterscotch sauce and almond brittle.
Next Door at the Marina Park- This new center is so much more than just a park. It is a nautical center for the community. It is a place for visitors and locals alike to enjoy water sports and to gather to have fun. The park is aptly described as the "window to the bay" with an expansive 10.5 acre park, a brand new Community Center and a bridge to the 24,000 square foot Sailing Center. There are meeting rooms, lounges, restrooms and spectacular terraces with bay front views. This space is being used for sailing classes and is often rented out for community events. There is a nautical themed playground for children with a lighthouse structure for climbing, an outdoor fitness circuit, half-court for basketball, walking path, grassy areas for picnics, a huge parking lot, and 23 boat slips for docking, side-ties for larger vessels and a sandy beach for kayaks and paddle boards to easily access the water. A Girl Scout's OC Leadership Center will be built very soon at the north end of the Marina Park.
Lighthouse Bayside Café 1600 W. Balboa Blvd, Newport Beach, CA 92663 For Catering Contact: 949-299-1121 http://lighthousenb.com/ Facebook: facebook.com/lighthousenb/ Instagram: @LighthousecafeNB