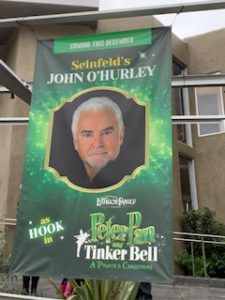 How can it be that I had NEVER been to the Laguna Playhouse?  It is a really wonderful surprise! It is a fabulous venue to watch an exceptional play, music or other performances right here locally. At this time, this intimate 400-seat-theatre is emphasizing the holiday spirit in their production of Peter Pan. It runs thru Sunday Dec. 29th and is really something that I would highly recommend doing.
Lythgoe Family Panto presents:  Peter Pan and Tinker Bell-A Pirates Christmas.  The play stars Seinfeld's John O'Hurley as Captain Hook, Ashley Argota as Tinker Bell, Lincoln Clauss as Peter Pan, Bryce Charles as Wendy, Dakota Lotus as John (both Bryce and Dakota had magical voices. And Ben Giroux, who is hilarious as Smee and keeps the scenes on-point and engages the audience too!
This was a great, interactive family show that was filled with chuckles, magic, dance, and current pop music. Yes, you will recognize songs from Bruno Mars, Aretha Franklin, Taylor Swift and yes, even PitBull! Using the British-style Panto, it encourages interaction between the audience and the actors on stage. Smee creatively and seamlessly facilitated this for everyone. They even encouraged the audience to boo Captain Hook! It was magical and fun! They referenced local haunts, restaurants and made it feel so personal for Laguna locals.
In the play, the children travel to a mythical island with Peter Pan. On Neverland Island they meet the Lost Boys, Native American dancers, and once the pirates show up it gets very exciting as they try to capture Peter Pan for Captain Cook. Let's never grow up!!!
This Peter Pan production only runs through Sunday, December 29th and I highly recommend this as a wonderful family outing. Something for everyone!  Details and tickets: https://lagunaplayhouse.com/2019-2020-special-performances/peter-pan/
Upcoming Events: Here are some of the other upcoming programs at the Laguna Playhouse:
-Hershey Feller New Year's Eve- Dec. 31 at 3:00pm and 7:00pm
-Girls Night Out- Musical- Jan. 2-5
-Eagles Tribute Band- Jan 9-12
-The Perfect Dog  Inspired by John O'Hurley's book- Jan. 17-19
-Beach Boys Tribute Band- Jan. 23-26
-Tribute to Johnny Cash- Jan. 29-Feb. 1
-Tribute to Tina Turner With Cookie Watkins- Feb. 6-9
-The Rat Pack Is Back- Feb. 13-16
Get your tickets now!  Visit www.lagunaplayhouse.com Or call 949-497-2787