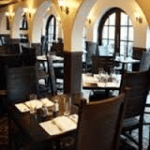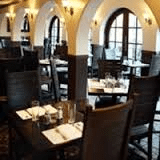 K'YA Bistro's Executive Chef Craig Connole recently unveiled his "winter menu" with an amazing array of dishes. Compliments go to the chef here, for creating such a broad range of delicious and creative choices. The menu draws from Mediterranean cuisine with influences from around the globe.
The Bistro has a lively atmosphere with dark colored wood, flickering candles, large windows and beautiful arched details throughout the dining room. While waiting to be seated, guests can relax in the charming lobby lounge featuring a roaring fireplace, elegant chandelier and piano.
Perusing the menu, what I love about it is the focus on small and sharable portions. No one has to commit to a huge plate of any one item. Each plate arrives with the fore-thought of sharing. And that is what really makes it a fun menu to explore with friends. Chef Craig Connole offers a tapas-style dinner menu with dishes ranging in price from $5-$16. Guests of the restaurant are fans of the ever-evolving menu that has more than 40small plates from which to make their selections.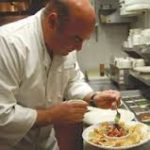 Chef Craig smartly has covered all the bases. Guests can dine with a vegetarian, someone who has Gluten free requirements, carnivores, fish fanatics, pasta heads, and sweet freaks. There is literally something for everyone on this menu.
With about twenty items at our Tasting, we were in heaven, and yes, at times, a temporary food comma. Not only was the cuisine delicious, but the artful plating had us anticipating each arrival.
Let's take a walk through the Tasting Menu we enjoyed, and I will offer a few comments. Since a picture is often worth a thousand words, the photos will also give you, the reader, a sneak-peek at what these dishes will look like when you order them. And order them you will. I hope.
Delicious Appetizers-
-Wild Hawaiian Ahi Poke ($10) Onion, seaweed avocado spicy soy sauce served with chips. This was light and refreshing and my go-to for a first appetizer with a cocktail.
-Foie Gras Torchon ($14) Drizzled with white truffle honey, toasted brioche, sea salt. Very rich with a hint of sweet from the honey, and the toasted brioche bread was the perfect touch.
-Farm House Salad ($9) Romaine, dates, grilled corn, tomatoes, bacon, goat cheese, cashews, red onion, avocado, creamy basil dressing. A hearty salad that I could find myself not sharing—-it is that good.
-Hearts of Romaine Salad ($8) Gorgonzola, dried cranberry, candied pecans, garlic-basil dressing Gluten Free. The Gorgonzola and dried cranberries added so much to this salad and with the house-made dressings you can really taste the difference.
Did Someone Say Pasta?
-Four cheese Macaroni ($8) Parmesan, Jack, Cheddar Gorgonzola with Pesto and Truffle crust. This is comfort food and all four cheeses work so well together.
-Lobster and Truffle Risotto ($15) Asparagus, caramelized onions, white wine, Parmesan cheese. This was a very rich dish, and ample lobster for everyone to enjoy a few bites of this creamy risotto.
Delicate Seafood….
-Spicy Garlic Shrimp ($13) Cannellini beans, spinach, Romesco Sauce. For those that may not know—-Romesco is a nut and red pepper-based sauce that originated from Tarragona, Catalonia, in Northeastern Spain. The fishermen in this area made this sauce to eat with fish. It is a winning combination to be sure. This was one of my favorite dishes.
-Miso Seared Kaido Scallops ($15) Chilled soba noodles and shiitake mushroom slaw, micro-greens, black garlic vinaigrette. This was my favorite dish of the evening and had a touch of an Asian influence. The Scallops were cooked perfectly and the soba noodles were a perfect complement to that and the sauce.
-Hibachi Salmon with Arugula on top ($12) Farro, grilled portabella and spicy coconut sauce. I am a big Salmon fan and this had a wonderful glaze on the fish that kept me coming back for more. Not a huge Farro fan, but this worked well. I would probably ask if I could enjoy this with mashed potatoes.
Hearty Dishes….
-Lamb Bolognese (#9) Gnocchi, vegetable ragout, feta cheese. This was a flavorful dish and the lamb worked perfectly with the Bolognese sauce. I would not have thought to put feta on top, but of course, it worked great, reminding me of many wonderful Greek dishes I enjoyed in Santorini.
-Seared Filet Mignon Tips ($9) Horseradish Sauce. This is a perfect way to share and enjoy a little nibble of premium steak, and horseradish sauce is a "must have" for me. This was excellent and I might order two.
-Carolina-Style Pork Ribs ($14) Boneless ribs, creamed corn, mashed potatoes. These were excellent and I am not sure if it was the sauce, the mashed or the pork. All married so well together.
-Grilled Lamb Chops ($16) Apple braised butternut squash, black barley, roasted garlic demi-glace. With all the chops standing at attention and a rich sauce, and butternut squash all playing peek-a-boo, we thoroughly enjoyed photographing this almost as much as we enjoyed eating it. Cooked to perfection and showed off the finesse of Chef Craig's talents.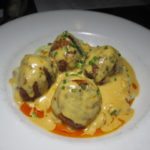 Lobster Meatballs ($15) Truffle and bacon mashed potato and lobster sauce. These were so rich and delicious. Another Chef standout and great for sharing.
Vegetable Sides Worth The Ordering….
-Roasted Brussels Sprout ($7) Garlic, shallots, gorgonzola cream, aged balsamic and herb crust. I travel far and wide for Brussels Sprouts and this one is among my favorite anywhere. Very much worth ordering.
-Roasted Mushrooms ($7) Garlic, porcini cream sauce. The mushrooms were nicely prepared and served in a very light cream sauce. It was delicious and the vegetables served of quite flavorful. Great sourcing of produce that is for sure.
Dessert Time…
-Banana Pecan Bread Pudding ($6) Served with Vanilla ice cream and a bourbon sauce. This was very rich and reminded me of what I love to order when visiting the South—and perfect for sharing.
-Vanilla Bean Crème Brulee ($6) Served with fresh fruit. This was a classic rendition of a perfect French inspired dessert—rich and creamy with that crackle of a shell from the caramelized sugar on top. Well played.
-Peanut Crunch Bars ($6) Bite-size, hold in your hand….creamy and delicious
Fun Valentine Cocktails….
For Valentine's Day, K'YA will be offering a variety of themed cocktails such as The Flirtini, made with Vanilla Stoli Vodka and Chambord Liqueur, garnished with pineapple fruit.
The Flirtini Recipe:
2oz Vanilla Stoli
.5oz Chambord
Shake and serve in Martini Glass.
Garnish with pineapple fruit.
FUN FACTS…
1)Specials Offered Here at K'YA Bistro- This bistro has something fun going on every night of the week. Pick a day, and come on in…
Daily Happy Hour- 4:30pm-5:30pm including $5 food items including: Coconut Breaded Shrimp, Hummus & Pita, Porcini Mushroom Penne, Hobo Fish & Rice Bowl, Thai Grilled Chicken and Greek Meatballs. Also purchase any cocktail, beer or wine and receive any food item on the Dinner Menu for half off. Monday Local's Night – Show proof guest is a Laguna Beach local and receive 25% off final bill. Tuesday Industry Night – Show proof of working in the service industry and receive happy hour specials all night long. Wednesday Wine Flight Dinner – Enjoy a $30 prix-fixe menu with wine pairings and bonus happy hour specials. Thursday Tapas & Sangria – Enjoy $4 Tapa plates and half-off Sangrias. Saturday Goose is Loose – Enjoy $10 flavored Grey Goose cocktails & $12 flavored Grey Goose martinis.
2)This Is A Historic Site- This restaurant is located on the first floor of a historic hotel where the former Hollywood elite used to come to escape the city. La Casa del Camino opened in 1929, when there was very little along this stretch of Pacific Coast Highway. This classic Laguna Beach Mediterranean-style boutique hotel featured the beach in its back yard and was located in the heart of the downtown. The original builder, William W. Riddell envisioned this to be a place for travelers to rest, but also a place for the local community to gather, for art to be appreciated and where business & social clubs would flourish. The property was, and continues to be a landmark in the city. From graceful arches and rustic wooden balconies reminiscent of the Spanish revival, it fosters memories of a bygone era. The hotel currently operates as a hotel, restaurant, lounge, and also offers space for weddings, meetings and other special events.
3)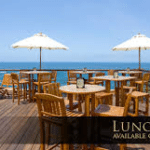 The Rooftop Lounge Offers Cocktails and Commanding Views- On the rooftop, perched high above the Pacific Ocean, is a special enclave. This is the perfect spot for afternoon cocktails and breathtaking sunset escapes. The view is magnificent and the bar is hopping most afternoons when the weather calls us all to the beach. This is the perfect way to start an evening and then head downstairs for dinner. If someone is looking to impress a date, share in a celebration, or make out-of-town guests extremely jealous, this is the place to come.
4)Creative Craft Cocktails & Wine Program- To pair with their robust dinner menu, it's no surprise that the Bistro also offers a vast selection of beers, hand-crafted cocktails and wines that are available in three, six and nine ounce pours. They also serve up festive seasonal cocktails.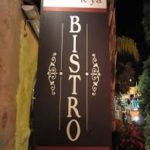 K'YA Bistro is open daily from 4:30pm to 10:30pm, and offers happy hour every day from 4:30pm to 5:30pm, as noted above. For more information, visit www.kyabistro.com or call (855) 990-0281. K'YA Bistro is located at 1289 S. Coast Highway, Laguna Beach, California 92651. Parking is metered on the street, so may the Parking Gods be with you.