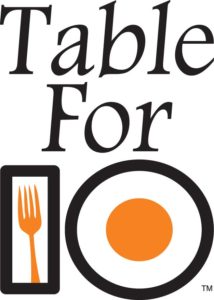 Welcome to Table For Ten!  Doesn't everyone dream about having a well-known local chef create a custom dinner just for them and their friends? Yes, of course we do!  Well, there will be 350 lucky guests who get to do just that to create their very own Table for Ten!  This very special philanthropic event will be held on Sunday, March 8, 2020 at the clifftop Laguna Cliffs Marriott Resort & Spa. Most importantly, this event will benefit Make-A-Wish® Orange County and the Inland Empire.
About The Event-
This is the 14th Annual Table for Ten and is an extraordinary culinary adventure, which showcases 35 of Southern California's beloved chefs. The black tie evening begins with a festive cocktail reception and a top-drawer silent & live auction, showcasing: chef dinners, rare wines, local dining experiences, luxury goods and awesome travel to coveted locales. It is always so exciting to bid on the various items—-and this is all for such a great local cause.
As the chimes gently ring, everyone is then escorted into the dining portion of the evening.  Guests literally gasp as the Ballroom doors open to reveal the breathtaking drama and elegance awaiting them inside. It is truly overwhelming to see the room.  Eyes dart from table to table. It is magical. Each table is decorated with a different theme. Between the candles, soft lighting, lavish floral displays and china, these tablescapes are quite impressive. As guests are seated, a glance at the menu before them creates a great deal of anticipation.  Each chef and their creative teams welcome the guests and are so proud to create an intimate six-course dining experience. They prepare a masterful dinner tableside for 10 very special guests. Exquisite wines are paired with the cuisine, and each table is abuzz with interesting conversation throughout the evening. Silent auction and live auction items are awarded and the evening is a wonderful experience. www.TableForTen.org
To Book Your Table For Ten And Select Your Chef-
To book YOUR Table For Ten and to select your desired Chef for the event, please call or email Angela Wise. She will be glad to assist you. The cost per table is $10,000. (Please note: $8,500 of the $10,000 is tax deductible.) There are also various Sponsorship opportunities available.
Angela Wise – Corporate & Community Engagement Manager
Make-A-Wish Orange County and the Inland Empire
714.573.9474 Ext. 605
Awise@ocie.wish.org

MAKE-A-WISH® Orange County and the Inland Empire – Together, they create life-changing wish experience for children battling critical illnesses. Since 1983, the organization has granted more than 7,200 wishes for children living in Orange, Riverside and San Bernardino counties. All funds raised locally go towards granting wishes for children living in the local community. To learn more, visit ocie.wish.org.
Hosts And Sponsors-
Cocktail Reception Hosts:  Baja Shellfish,  Café Jardin –Pascal Olhats & Jessica Roy, Crown Point, JCB Wines, OC Local Honey-Christine Ferrian & Amy Cripps, Nestle Waters, S. Pellegrino, Nirvana Grille, Notorious Pink Rose, Meritage Kitchen + Drink – Scott Raczek, Stillwater Spirits & Sounds-Stephen Kling, Sugared & Iced- Samantha Meyer, Trinitas Wine Cellar, Zaca Mesa Winery.
Event Sponsors: Melissa's Produce & Moongoat Coffee, Walkers of Scotland, Jagermeister, Bequet Caramel.
Media Sponsor: Dining Out Magazine and Media Partners: Modern Luxury and Sauté Magazine
Other Sponsors: Chef for Chefs, Chef's Insight, Petal To the Meadow Floral Studio, MVT Productions & Lost Car Chef Apparel
VIP Attending Chefs:
-Venue Host Celebrity Chef John Tesar- Outer Reef, Laguna Cliffs Marriott Resort & Spa
-Executive Chef Honorary Chef Chair, Ron Fougeray- Splashes, Surf & Sand Resort & Spa
-Celebrity Chefs: Pascal Olhats, and Chris Tzorin & Jessica Roy on Food Network
2020 Table for Ten Participating Restaurants & Chefs
-Venue Host Executive Chefs- Celebrity Chef John Tesar & Salvatore Giuliano
Outer Reef, Laguna Cliffs Marriott Resort & Spa
-Honorary Executive Chef Chair- Ron Fougeray
JC Resorts Corporate Executive Chef Splashes, Surf & Sand Resort
-Celebrity Food Network Chef- Chris Tzorin, Eddie Perez, Manny Velasco
Xclusive Restaurant & Catering, Ladera Ranch
Participating Restaurants/Chefs:
90 Pacifica Restaurant & Bar, Miguel Luna
AVEO Table + Bar, Monarch Beach Resort, Jason Adams & Donald Lockhart
Bluegold/LSXO Huntington Beach, Jorge Valines
Cannery Seafood of the Pacific, Markus Hagen
Coliseum Pool & Grill, The Resort at Pelican Hill, Erik Sandven & Diego Bernal
Craft House, Blake Mellgren
CulinaryLab, Ryan Wagner
Filomena's Italian Kitchen & Market, Linda Johnsen
Glasspar, Rob Wilson
Hauté Productions, Keith Prante
Montage Laguna Beach, David Serus & Ben Martinek
Newport Beach Marriott Resort & Spa, Andy Arndt
Nirvana Grille, Lindsay Smith-Rosales
Nobu Newport Beach, Frank Gorriceta
Oceans & Earth, Adam Navidi
Orange Hill Restaurant, Eric Mickle
Prego Mediterranean, Ugo Allesina & Victor Sanchez
Renaissance Palm Springs Resort & Spa, Charly Houegban, Scott Renny, Dominique Shelton
Seahorse at Pearl Street Laguna Beach, Antonio Roa
Syla, Zach Geerson
The Mayor's Table at Lido House, Riley Huddleston
The Pacific Club, David Martin
The Ranch at Laguna Beach, Kyle St. John
Thyme Well Spent Catering, Brandon Hall
Trevor's at The Tracks, Joseph Tripi
True Food Kitchen, Noe Moreno
Watertable, Hyatt Regency Resort & Spa, Manfred Lassahn