Island Hotel Newport Beach Unveils An Elegant Club Lounge
For Busy Travelers Who Enjoy The Finer Things In Life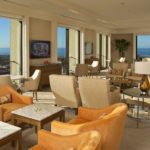 Island Hotel Newport Beach is showcasing a new luxury hotel "club lounge" experience.  The 2,000-square-foot Island Club lounge is on the hotel's 20th floor offering expansive views of the Newport Bay and Fashion Island below.  This venue is designed to reflect the needs of today's traveler in a sophisticated and professional environment. The concept provides a careful balance of elite services, technology and comfort. This is high-tech and high-touch personified.
Exceptional Design and Club Space-
The interiors are filled with hues of rich burnt orange, soothe cream and warm gold tones, natural granite and superb lighting. It is a modern, clean look, with a great deal of thought toward appropriate seating arrangements. There are both small and larger tables and comfortable chairs for dining or working. This creates flexible work spaces with plugs to charge ones gear everywhere. Better than a traditional desk configuration, guests can work smart, and still feel the freedom of the open space—and even sneak a peek of the view now and again. Two large modern conversation areas flank both sides of the space, offering comfortable couches and chairs facing big screens for viewing and interaction. The one to the right is quite large, and is referred to as the "media room" with an 80-inch LED smart TV to watch news, entertainment or sports programming.  (I immediately gravitated to that area of the lounge. It is just a perfect nesting spot for our group of girlfriends who were working, visiting and of course viewing the Food Channel. And yes, somehow we manage to do all that at the same time!)
A 50-title DVD library featuring both classics and current releases, along with an expanded periodicals selection of news, business and lifestyle titles, are also available in the media room for guests to borrow and enjoy while at the hotel.
Gone are the days of returning to one's guestroom and typing out work atop the bed with papers cast about. Also gone are the days when leisure travelers did not need the same connectivity to perform some work— just like their business traveler counterparts. And some just want to "stay in touch".  This Club Lounge allows discriminating travelers a place to escape—work—stay connected—or just unplug altogether.  And best of all is the promise of a somewhat social environment.  Guests can be there, but not feel completely alone. Brilliant!  From work stations to big screens, and DVD's…. it is all here. And the individual wireless ear phones allow each guest to hear their selection, yet the room remains fairly quiet. And that is refreshing. If we wanted loud, we would be in the bar, right?
Elite Services-
Island Club Lounge guests are greeted by Club Ambassadors who are highly trained to arrange a plethora of services. From curbside check-ins, shoe shines, dry cleaning and travel,  to assisting guests with their technology needs or making reservations at a local restaurant. In addition, Club Ambassadors assist guests in making selections from the hotel's Pillow Menu (green tea infused, buckwheat, feather, foam, or memory foam), assuring a good night's rest.  Ambassadors also can make arrangements for one-on-one styling advice, or shopping from the hotel's personal shopper at Fashion Island, or booking transportation by the hotel's car service to any Newport Center Drive location.  Club Lounge guests also receive turndown service every night, and access to all wet areas within The Spa (including: personal lockers with vanities, complimentary lush toiletries, a eucalyptus steam room, and dual-head showers).
Staying Connected & Secure In This Wireless World-
Now this section is specifically for the nerds in the crowd, and you know who you are. Raise your hands…. Although some of this is Greek to me, but all kidding aside, I do know that it is very important. Here we go… The Island Club lounge is outfitted with 40 USB ports and charging stations so guests never run out of power.  WiFi access capacity in the lounge will accommodate up to 125 concurrent devices (mobile phones, computers, projectors, iPods & tablets) through Beamflex technology with adaptive signal steering at an adapted range. This means signals remain strong and guests stay connected without compromising speed.  Streamed connections within the lounge will also remain secure thanks to the three-levels of isolation each signal receives to prevent hacking or unauthorized scans while devices are in use. Bandwidth allocation of 20mbs megabits per second for uploading and downloading within the lounge gives guests the bandwidth to stream and download seamlessly and continuously. Multifunctional Cloud printing, copies, faxes, and scanning from an HP account empower guests to instantly send files to any printer in the world, as well as to the one in the Club.  Printing boarding passes from a computer station in the lounge is a breeze. The lounge is also equipped with four 50-inch LED Smart TVs and wireless headsets.
Cuisine and Refreshments-
Executive Chef David Man and his team have created fresh and delicious food choices throughout the day.  Whether it is early morning, or at the end of the day for a wind-down respite, there are options available in the Club Lounge.  Complementary wine, champagne, beer, juices, waters, coffee, tea, and sodas are served throughout the day and evening. The morning begins with a light continental breakfast including: pastries, muffins, fruit, and juices. (Served from 5:00 to 9:00am M-F, and from 7:00 to 10:30am on the weekends.)  During the afternoons there are health bars, chips and candy for quick "grab and go" options. From 5:00 to 7:00pm the "end-of-day" sigh signals guests arrival to settle in and  enjoy the assorted cheese and crackers, hummus and cut vegetables with ranch dressing. Most are then off to dinner commitments, however reservations can be easily made, or room service can be ordered for delivery in the Club Lounge.
The Cost-
The cost is $20 per room, per day, for up to two guests (and $15 for each additional person) with a threshold of up to 50 guests each day. (It is recommended that guests inquire about the Island Club at the time of booking their reservation.)
The Hours-
The Club Lounge is open 24 hours a day, and the Ambassadors are there to assist guests from 6:00am to 10:00pm.     
Details About Island Hotel Newport Beach
Situated in Newport Center, the heart of Newport Beach and coastal Orange County, the Island Hotel Newport Beach is a luxury coastal hotel offering breathtaking city and harbor views. Island Hotel features 295 guestrooms and suites, more than 21,000 square feet of event space, the largest ballroom in the city, a spa, fitness center, resort-style pool with cabanas and the award-winning Palm Terrace Restaurant & Lounge. Located just steps away from Fashion Island, the area's premier outdoor regional shopping and restaurant center, the Island Hotel is the social center of Newport Beach, one of California's most desirable beach cities located about 45 minutes south of Los Angeles.