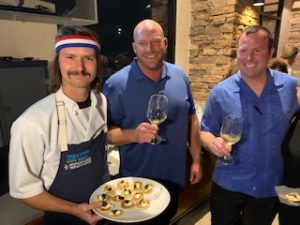 Ironwood Cellar*Craft*Cook is located in Laguna Hills (on La Paz near the 5 Freeway). This is one of three restaurants owned and operated by a wonderful restaurant group founded by Russ Bendel. His Operating Partners are all well-established in their own right, including: Gabe Whorley (think draft cocktails), Jared Cook (think Executive Chef), Kevin Franke, Kyle Simpson, Patrick Fanning and Paul Villa (think Management with a big 'ole smile).  In fact, we are so proud that in October Russ Bendel just won "restauranteur of the year" at the Golden Foodie Awards!  A huge honor!  (In this photo from left to right is: Jared Cook, Gabe Whorley, Russ Bendel and Jamie Gwen in above image.)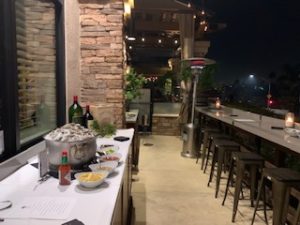 So about the other night…. A group of media folks and foodie fans gathered Thursday night for a wonderful evening under the stars!  We celebrated the team, as they showcased for us their delicious new offerings for fall and holiday and to preview their new "private party patio event space". This venue seats up to 20 guests with a long counter, bar stools and a presentation table which is perfect for setting up buffets and movable feasts. There are heater lamps and a big screen for viewing your own DVD's or sporting event. It is lovely and very, very private.
The evening began with Oysters on the half shell with Champagne green apple mignonette and fresh lemon. Royal Ossetra Cavier was served atop petite Yukon golden potato blini and were passed on a silver tray.
My two favorite bites were just sublime. This one was so colorful it danced off the plate! It was Prosciutto and fromage blanc crostini. This was incredible. Another favorite bite, and not to be missed on the Starter menu,  is the house made sugar pumpkin agnolotti pasta, fresh goat cheese crispy sage and yes is drizzled with a pecan brown butter. So delicious!  And Gabe did a wonderful presentation for us making his "DOC HOLIDAY" bourbon cocktail just in time for the holiday season!
The slow roasted kurobuta pork belly, garnet yam puree, thyme roasted apple, spiced honey cider glaze was a comfort food item for sure.   And next up was a Double R Ranch filet mignon with crispy langoustine béarnaise that melted in my mouth.  The Snake River Farm American wagyu porterhouse was sliced and served with the Alaskan king crab legs and accompanied with a champagne herb butter.
Each dish was so perfectly complemented with a sauce, or an enhanced butter preparation. Such attention to detail by Executive Chef/Partner Jared Cook. For dessert there was a decedent Dark Belgian chocolate cheesecake with a raspberry reduction & pistachio crumble.  And their very popular blackberry and cabernet sorbet with oatmeal raisin butter cookie crumble.  A perfect end to the evening.
For those looking for a dinner out, craft cocktails and appetizers, a group dinner on their patio, or a totally private affair—- give them a call. The holidays are fast approaching so book your special party right now! (949) 446-8772
Author's Notes:
– Ironwood is open daily, but only for dinner service!
-The other two restaurants include: Vine Restaurant and Wine Bar located in San Clemente, and Olea in Costa Mesa. All three are stellar and you will enjoy anything and everything you may order. I'm a big fan, as you can tell!
Ironwood Cellar*Craft*Cook Restaurant
25250 La Paz Rd Suite 100
Laguna Hills, CA 92653
(949) 446-8772
www.ironwoodlagunahills.com