Thanksgiving Recipes…We enjoyed a cooking class with Chris Tzorin and Manny X Velasco at Luna Kutsi in Santa Ana. Somehow they made it look so easy
how to make some extra special holiday favorites. These are general ingredients from which these recipes can be executed for those who cook….
In January….
Look for the ChrisTzorin's Partida Reposado Tequila Dinner at Luna Kutsi in Santa Ana.
Manny Velasco and Jesse will be opening their new restaurant Sol Agave in San Juan Capistrano (Mexican Cuisine).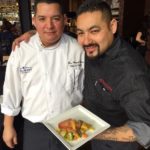 Cocktails-
We began the cooking class with two wonderful cocktails made by Jesse.
-Grilled Pineapple- Jalapeno, Agave, Fresh Lime, Grilled Pineapple Juice (and for garnish) and Tequila.
-Fruit Tequila Splash- Blackberry Tequila, Strawberry Jalapeno and Raspberry Chipotle.
Recipes:
HAM WITH PINEAPPLE
-Take a sliced Ham
-Pour 1- 2 cups of Pineapple Juice over the Ham
-Sprinkle with Pepper Mixture (Kosher Salt, Pepper, Herbs and Garlic Salt).
-Rub with Honey
-Insert cloves around the Ham—here and there
-Place Sliced Pineapples and cherries on top
-Wrap roasting pan in Plastic Wrap and Aluminum Foil
-Place in oven at 350 degrees for 1 hour.
GRAVY FOR HAM
-Empty the drippings from the Roasting Pan into a Saucepan.
-Heat to a boil
-Add a Roux (flour and water mixture)
-Whisk and this becomes the sauce to drizzle on the Ham before serving.
ROASTED VEGETABLES
-Coat the bottom of a roasting pan with Extra Virgin Olive Oil
-Place Vegetables in the pan starting with those that will take the longest to
cook. Start them, such as Potatoes and then add the other vegetables.
-Cook in oven for 20-30 minutes, stirring while cooking.
ROASTED TURKEY
-Rinse the Turkey and remove the innards.
-Puncture with a knife or inject with a syringe around the Turkey.
-Prepare Sauce In A Bowl:
-1/4 cup of Agave Nectar (can get it at Smart and Final)
-1/2 cup of Tequila
-Chopped Cilantro 1 bunch (roll it and chop finely)
-Kosher Salt and Pepper
-1/4 cup of Lime Juice
-1/2 cup of Grapeseed Oil
-Directions:
-Skewer the Turkey, Pour the sauce all over the Turkey and rub it around.
-Take out every 45 min. to baste.
-Cover with Plastic and Aluminum Foil and cook at 375 degrees for 2.5 hours or until meets the temperature requirement for doneness.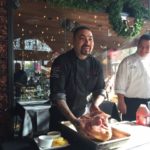 MANNY'S STUFFING
-Take 3 day old Baguettes and dice up the bread. Manny uses a combination of white, wheat and another seasonal baguette.
-Sautee in a large saucepan in Olive Oil.
-Numerous things to possibly add into the stuffing:
-Vegetables- yams, potatoes, celery, onions, etc.
-Protein- Sausage, Chirizzo, etc.
-Add On's- Raisins, cranberries
-Add Salt, Pepper, Rosemary and Thyme
-Sprinkle with Chicken Stock to moisten the bread and create a mixture.
-Cover with Foil and cook in the oven at 375 degrees for 15 minutes, and then uncover for 10 minutes.
WHITE GRAVY
-1 cup of water in a saucepan
-2 oz. of Chicken Base
-2 cups of Heavy Cream
-1 tsp.Thyme
-To taste add: Salt and Pepper
-Can also add: Sausage, Mushrooms
-Combine and let boil
-Add Roux by missing in with a Whisk.
CHEFS NOTE: Can make your own Chicken Stock at home with chicken, onions, tomatoes and celery or purchase at store.