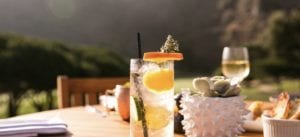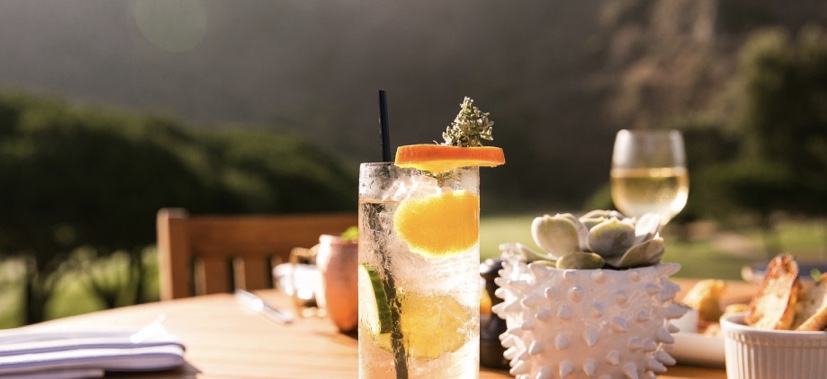 So… about the other night. We joined two other wonderful couples to dine at Harvest Restaurant in south Laguna Beach. (This is located at The Ranch LB Hotel & Spa, formerly Ben Brown's Golf Course, and is owned by Aliso Creek Properties.)
One of our table-mates had been raving about this restaurant, and boy were they right!  There is a wrap-around patio that overlooks the first tee of the 9-hole golf course.  I used to play here years ago. I look forward to returning during the day time to enjoy that view!
The restaurant is "ranch-inspired" with rustic wood, leather, a horseshoe shaped bar and a huge stone fireplace. The space is comfortable and cozy. Expansive windows let the outdoors inside.
Executive Chef Kyle St. John hails from other local iconic spots including Selanne's Steakhouse and The Center Club where he championed popular wine & beer dining events. He and his team have an on-site organic garden and orchard with over 30 trees bearing local and exotic fruits. This is comfort food personified. And as Chef says, "What we don't grow here is thoughtfully sourced."
The bar offers an ever-changing selection of artisan crafted cocktails and local brews with 18 pulls—from pale ales to hefty stouts. The location of the bar assures great views of Aliso Canyon and the emerald green golf course below.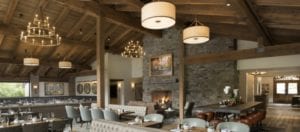 During our dinner, our tribe enjoyed a delicious Soup de Jour-Broccoli & Cheddar (yay, they also have French Onion Soup), a yummy Caesar Salad with delicate romaine lettuce, a delicious Pork Tenderloin (the special that evening) on a bed of polenta and veggies, a Branzino Fish (served whole) with spiced lentils and salsa verde.  I enjoyed the Wedge Salad with an add-on of grilled chicken—with salmon and shrimp as other protein options.  Everything was delicious. I had my eye on the Rosemary Olive Oil Cake but was just too full.
I look forward to returning in the daylight to have the brunch and enjoy the great views.  I am not much of a breakfast person, but here are a smathering of the diverse plated brunch items… a full array to satisfy the break-fast folks, and those like me,  that would just rather skip right to lunch, thank you very much! For example…. biscuits and gravy, smoked salmon bagel with capers, soup, eggs Benedict, build your own omelet, cinnamon roll, fried chicken sandwich, burger, fish and chips—now we're talking!!!
The Harvest Restaurant is worth the drive to south Laguna and I can't remember the last time my husband was raving about his dinner the next morning! Score!
Breakfast M-F 7:00am-10:30am
Lunch M-F 11:00am-2:30pm
Dinner 5:30-10:00pm
Bar 11:00am-11:00pm
Plated Brunch Sat/Sun 7:00am-2:30pm
The Harvest Restaurant (Located at The Ranch LB)
(949) 715-1376
(Just South of Montage Resort on the East side of So. Coast Highway)
31106 So. Coast Highway in Laguna Beach
https://www.theranchlb.com/eat/harvest
A Bit Of Interesting History About The Ranch LB From Their Web Site:
https://www.theranchlb.com/
This history dates back to 1871! Nestled in the majestic Aliso and Wood Canyons, right in the heart of Orange County, resides The Ranch at Laguna Beach resort. This Orange County hotel and spa is situated on an iconic piece of land where canyon and sea meet. The Ranch LB has been re-envisioned as the home of Southern California's newest hotel and spa. Our premier boutique coastal ranch hotel and spa is the perfect blend of the rich history of this storied canyon and the artistry that is Laguna Beach. Welcome to our distinctly local resort and California's only National Geographic Unique Lodge of the World.
For example, The Treehouse accommodations: Our coveted Laguna Beach Treehouse is nested high above the grounds and surrounded by windows—perfect for family vacations, romantic getaways and honeymoons in California. Our two-bedroom (with king and queen beds), three-bathroom, 1,600-square-foot suite offers an expansive wraparound deck, full gourmet kitchen, living and dining space, and floor-to-ceiling windows. Also included is the specialty Treehouse Gazebo for entertaining or personal enjoyment. Views from this perch are nothing short of dreamy. Romantic getaways and honeymoons have never been more inspiring.
Rich in history, the legacy of this land is distinctive, appreciated and showcased throughout the resort. As you stroll the grounds, the history comes alive through historic site plaques, old photo displays and an organic garden where we grow our interpretation of the famous Thurston melons. Our partnerships with Laguna Beach conservation groups provide a wide array of programs to expose, unlock and reveal all that is Laguna.
THE LEGACY:
1871 – George and Sarah Thurston lay claim to a 152-acre homestead and a one-room wood shack.
1940s – William "Bill" Bryant purchases an 87-acre site within Aliso Canyon and begins the construction of the golf course.
1950 – The 9-hole golf course is established as "Laguna Beach Country Club."
1956 – Ben and Violet Brown purchase the golf course and make plans for a destination resort.
1963 – The "Laguna Beach Country Club and Village" is introduced.
1967 – Ben Brown's Restaurant and a new Golf Shop open.
1970 – The property is renamed "Ben Brown's Motel & Golf Course."
1978 – The name changes to Aliso Creek Inn & Golf Course.
2003 – The inn is purchased by Aliso Creek Properties, retaining its former name.
2013-14 – The Ranch at Laguna Beach arrives.