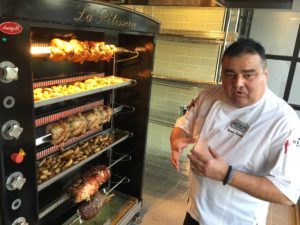 Hendrix Restaurant is the newest darling here in Laguna Niguel ~ Ocean Ranch and it is a much welcomed addition. It is a complex restaurant with lots of fanciful moving parts, so stay with me as I share the highlights with you. They are beginning with dinner service first. They will add brunch and a happy hour shortly. Lunch will be added last and probably closer to summer. The key thing to note here is that this is a "neighborhood spot". Instead of sitting home on the couch, come on down here and be with friends—enjoy great food, wines of incredible value and sheer fun!
The Team- First off, the Team is stellar and you just know they are going to do incredibly well. They really get it. They are personable, inquisitive, and set the bar pretty darn high. Partner and Executive Chef Rainer Schwarz you know from Driftwood Kitchen & The Deck in Laguna Beach. John Nye is the Managing Partner (along with Colby Durnin) and the General Manager of this new baby is Peter Lacava and the Assistant GM is Taylor Adams. All are very impressive and attentive. The wait staff is incredible. Right out of the gate they are warm, friendly and most importantly to me—-they know how items are prepared in the kitchen and can describe it eloquently. I really appreciate that. We wanted to adopt one of the waitresses if that gives you any idea of how pleased we were.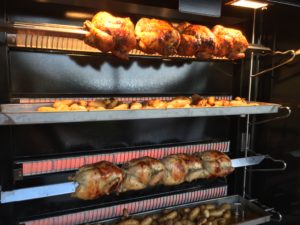 The Heartbeat- The Rotisserie Oven (Roti as it is affectionately called) is iconic to Hendrix and it sits proudly right up front (to the left as you enter the restaurant). Don't miss the chance to take a glance at what is browning on that bad boy. The meats are slowly turning golden brown before your very eyes. On the Roti we find: Rosemary and Lemon Chicken, Porchetta Pork Roll, Leg of Colorado Lamb and cradled in the iron baskets just below the meats, we find the drippings landing ever so gently on the petite potatoes infusing them with incredible flavor.
The Décor- Laguna Niguel sticks a toe in the water here, with ocean-inspired hues, blown glass and pops of blue, orange and dark wood accents. It is a dreamy, comfortable display of blues and light with a calming vibe. The bar is front and center with a large u-shaped design perfect for people watching! The dining area surrounds the bar on three sides with booths, high tops, dining tables and even a private dining room with accordion doors for an intimate social affair.
Retail Wine Shoppe- There is a wine shop that will be providing reasonably priced wine for patrons to select from and bring to the table or even take away. Both reds and chilled whites will be on-hand for diners to consider.
Take Away- There will be convenient "quickie" parking spots for guests to pop in and efficiently pick up their orders to take home or perhaps grab and go to the next door movie theatre. Brilliant!
The Menu- The menu includes a plethora of options in these main categories: Small Plates, Soups/Salads and Larger Plates (yes including Fried Catfish, Double R Ranch Bone-In Ribeye, salmon and pasta dishes). Lots of sharing options to select from.
The Bar- Don't miss the chance to try their custom designed Hendrix Gin and Tonic. It is delicious! Guests can also build many of their own cocktails by selecting their favorite brands. There is a hefty selection of Craft Cocktails, numerous wines by the glass or bottle, and beers galore (both draft and bottles)!
A Pre-Opening Sampling From The Menu- Yes, we were completely spoiled by having an opportunity to try many of the delicious offerings. So let's take a saunter through the plethora of items we tried. Yes, you are welcome.
-Cornbread with Zucchini and honey compounded butter This was so moist and served in an adorable iron mini-skillet. We all fought over the last piece!
-Chicken and Proscuitto Fritters served with a honey aioli These were presented so festively and were delicious. Fried to perfection!
-Big Eye Hawaiian Tuna with Guacamole, soy-yuzu-cilantro sauce and miso sesame crisp. This was fresh and perfect for sharing!
-Grilled Calamari with beans, Salsa Verde and sweet roasted garlic. Not my favorite but
-Creamy Potato-Garlic Soup with Roti Chicken and Lemon Agrumato. (For those who care….Lemon Agrumato is a unique condiment, the first of its kind introduced by Manicaretti in the early 1990's. Whole lemons are crushed together with the olives in the traditional cold-extraction method to capture or mechanically seal the essential oils of the lemon zest in the resulting extra virgin olive oil.) This was so rich and creamy. Absolutely delicious.
-Chicken Flatbread with Roasted Garlic, Pesto and Fontina Cheese. We saw the Pizza oven in the kitchen when we toured the restaurant. That makes all the difference in producing these perfectly cooked flatbreads with bursts of brown here and there. You would think you are in Italy!
-Chicken Salad- This was served cold and I can imagine this being a perfect choice at lunch time.
-Burrata Cheese with warm Spatzle Nuesky (Applewood smoked) bacon muffin and Blistered tomatoes
-Roti Platter- Well this stole the show. The huge wooden board included: Chicken, Porchetta and Leg of Colorado Lamb. An Arugula salad added color and Weiser Farms "drip" potatoes accompanied the platter. Guests can choose any one of the three meats, or all three, as they are individually priced as well as the trio.
-Grilled Cedar Planked Icelandic Salmon with a warm Quinoa Salad and lemon basil dressing. Amazing and a must order!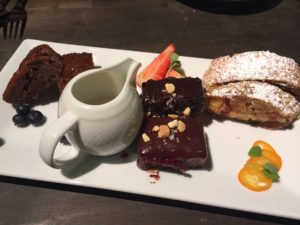 For Dessert most guests enjoyed the Coffee Cake, Apple Strudel and PB&J. (As readers know, I am not a big dessert fan so I just wanted it all being devoured.)
A Little More About Partner & Executive Chef Rainer Schwarz
Rainer was born in a small Austrian town. He began his culinary training at the early age of 15. He won a four-year apprenticeship at a restaurant set inside a castle. He later traveled around Europe working in five-star hotels and restaurants. In Switzerland, he met famed Los Angeles chef Joachim Splichal (who later became his mentor). Joachim hailed from Spaichingen, Germany. Rainer later left Europe to work with Splichal at Highland Inn in Carmel, and at Los Angeles' famed Patina and Pinot restaurants. Schwarz has been in the U.S. ever since, working for luxury hotels and hospitality companies in California and Colorado. In 2009, Schwarz became the executive chef at the Roosevelt Hotel in Hollywood, where he helped Southern California restaurateur Tim Goodell launch Public Kitchen & Bar and 25 Degrees. In 2013, he partnered with Colby Durnin and John Nye to form Sentinel Restaurant and Hospitality Group. The owners of the Pacific Edge Hotel became their first client and asked them to create and manage Driftwood Kitchen, adjacent to the hotel and rework The Deck, which is also part of the hotel. Now this Team is turning their attention to #3 on the list and that is Hendrix!
Photos Below by Anne Watson…. a professional photographer!
Hours: 4:30pm to 11:00pm and until midnight on Friday & Saturday evenings.
Note: They are beginning with dinner service first. They will add brunch and a happy hour shortly. Lunch will be added last and probably closer to summer.
32431 Golden Lantern, Laguna Niguel
(949) 248-1912 https://hendrixoc.com/