Georgia's Restaurant Is A Delicious Haven of Comfort Food Now At The Anaheim Packing House!
The Anaheim Packing District has a new darling. Welcome to Georgia's Restaurant in this hip, new "food hall meets community mall" concept.  The restaurant is located on the upper level, and has been seriously busy since opening in late summer. Comfort food is the mantra, and is such a perfect alternative to the other venues that can be found in this arena.
Owner and husband and wife team Nika Shoemaker Machado and Marlon Machado bring a special touch to this restaurant. They are hands on, offer big welcoming smiles and have a keen sense for delicious cuisine. What I also appreciate is there attention to detail—from the spices, to the processes they use for cooking, to the finesse of their mixture in spices—-it is a finely tuned machine.
The restaurant's name "Georgia's" pays homage to Nika's father, George, who was very supportive of her mother Gretchen Shoemaker's catering business in years past.  When they decided to jump into the restaurant business, they decided to go all in, knowing they had three things in the bag. First, was Gretchen's fantastic family recipes that have been lovingly protected and are truly delicious. The second benefit they offered the restaurant, was the family's commitment to the business. And last, but certainly not least, is the South America, Brazilian influence of Marlon's homeland. It makes an appearance, and I encourage more of that to come front and center.
Sitting down to enjoy a recent "media tasting"— this was my chance to take the menu for a test drive. We were so fortunate to have Nika as our tour guide. She was right there with us, sharing her wonderful stories and how some of the menu items are actually made. It was an honor and a pleasure indeed. I especially enjoyed hearing the story of how she and Marlon first met. It is a cute story,  but so better told by Nika or Marlon!
So let's take a drive through the menu and you can hear more about the amazing dishes that are awaiting you at Georgia's…
Entrees & Main Dishes
BBQ Ribs- This is my personal favorite and I suggest this be on the order list. These are fall-off-the-bone ribs with tender meat, and BBQ that has the ideal balance of flavors. These ribs are slow cooked for 4 hours in the oven and are amazing!
Fried Chicken– This is sensational and I think it has been 20 years since I have had fried chicken. The Georgia's secret is their three-step process. They first brine the chicken which keeps in moist inside and out, and then low cook it for about an hour baking in the spices. Then it is refrigerated and pulled out to be "cooked to order".  The exterior is coated with a cornmeal & herb/spice mixture, giving it that extra crunch. It was so delicious, and not greasy, which can often be the case.
Chicken Wings- The Chicken Wings are available in four flavors: mild, hot, BBQ and lemon & pepper. I am not typically a chicken wings lover, but these were excellent. The sauce had such flavor but was not over hot.  The BBQ was my favorite.
The BBQ Chicken– This is full of flavor and delicious main course that is cooked to perfection.
BBQ Pulled Pork- Here we enjoyed the perfect balance of flavors. The BBQ sauce is not too, too sweet and does not overpower the pulled pork, which has a delicate flavor.
Catfish- The same cornmeal crust that is used on the Fried Chicken, can also be found on the Fried Catfish.  The fish is very moist and flaky and it is served with   a choice of two side dishes.
Pork Chops- We did not taste this item, however it is prepared in two ways…. baked with special herbs and spices and served with their savory gravy on mashed potatoes, and also pan fried pork chops.
Sandwiches-  
There are four sandwiches available on the menu, including: Hot Link Sandwich, Chicken Sandwich, a Fish Sandwich, and Po'Boy Pulled Pork Sandwich. We enjoyed tastes of a: Grilled Chicken Sandwich, BBQ Chicken with Onion Straws Sandwich, and BBQ Pulled Pork Sandwich. In addition to a delicious Kaiser Roll, there was tomato, lettuce and a light aioli dressing which was the perfect complement.
Brazilian Fusion-
We did not taste these items, however with a nod to Brazil, there are two traditional items on the menu. Pastel is a handcrafted gourmet thin pastry, envelopes wrapped around assorted fillings with signature choice of ground beef or chicken protein, then deep fried in canola oil. The second item is Garlic Rice which is Jasmine rice sautéed with garlic and seasoned herbs spices.
Side Dishes-
There are nine different "dance off the plate" side dishes. We tried most of them, so let's begin with those… The Corn Bread is baked fresh daily and was moist and cooked to perfection. I kept eating it so I can attest to the delicious flavor. Black Eyed Peas (Hoppin" John) were delicious as were the Baked Red Beans which are simmered for six hours. There were Collard Greens with a secret surprise of smoked turkey, and Mac & Cheese with a creamy multi-cheese sauce and elbow macaroni. Other sides include: Cole Slaw, French Fries, Potato Salad, and Candied Yams.
Salads-
A Collard Green Salad features hand-shredded fresh collard greens served with a Brazilian signature citrus sauce. The other salad is an aptly named Georgia's House Salad. This salad includes: cabbage, lettuce, carrots and cherry tomatoes. It is topped with a choice of either the charbroiled chicken breast basted or golden brown fried chicken. Yum!!!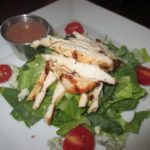 Desserts-
We tried the "show stopper" rustic-style Peach Cobbler. This has a pie crust sandwiching the delicious peaches and spices in-between. It is served warm, with a scoop of vanilla bean ice cream. As I cut into it, the peaches and natural juices ooze out and it was just delicious!  Other desserts include Pound Cake, Lemon Cake and Sweet Potato Pie. Desserts are seasonally rotated on the menu.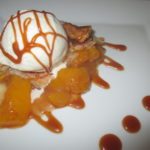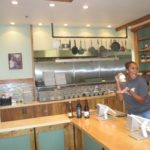 In Closing… In the near future they will be adding Chicken and Waffles which is a natural here.  I encourage you to stop by and enjoy the wonderful cuisine offered here at Georgia's. It is comfort food and will warm your heart and tummy at the same time. They have recently added an outdoor patio, so guests can enjoy eating indoors, outside, or order food to go.
Georgia's
440 S Anaheim Blvd., Anaheim, CA 92805
714-906-1900
Hours: 11am to 9pm Sun-Thursday
Open until 10pm on Friday & Saturday