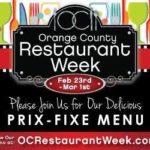 There are an astounding list of 28 different cities represented for this latest OC Restaurant Week. With 100 different participating restaurants, the choices are endless. My hat is off to Pam Waitt and her team at the Orange County Restaurant Association. This event is a year in the making to be sure. The web site is better than ever—-very robust with menus, chef profiles, and guests can select based on: lunch vs. dinner, all different price points, city location and so forth.
From San Clemente to the south, to Yorba Linda in the east, north to Buena Park, and everything in between. From beach haunts to classic hideaways, the spectrum of options is right before you on this hefty list of spots to dine. And most importantly, a program like this is YOUR opportunity to step outside your comfort zone and try something new. Yes, some where new. And if the restaurants are paying attention, which many seem to be, they are putting their best foot forward and offering you some of their signature specialties that will draw you back again and again. Chefs are you listening?  I think they are— judging from the menus I am reading through. Can't wait to get started——Ready, set, now let's go out and enjoy this town!
http://ocrestaurantweek.com/home.html
Menus That Have Piqued My Interest- Flexible Menu and Great Value
–Chapter One: The Modern Local- Santa Ana– For $20 Lunch or $30 Dinner the Prix Fixe menus have so many options for the starter and entree. There are seven choices so that means something for everyone if you are going with a crowd. Also they include one of the follow as a complimentary offering… nice touch Mr. Hall…. Chapter One FAMOUS Moscow Mule, House wine or select Craft Draft.
–Seasons 52-South Coast Plaza- I like both their Lunch and their Dinner menus. Lunch includes three courses for $20 and Dinner includes four courses for $30. I have my eye on their delicious flatbreads and their King Salmon prepared on a cedar plank. I have had this before and just loved it.
–Bluewater Grill- Lido Village in Newport & Tustin– Chef Brian Hirsty deserves a round of applause for his menu. Seafood and steaks are always expensive, and he has managed to create so many delicious options for a $30 price tag and three courses no less. From Sanddabs to Cioppino, or New York Steak, and other seafood choices—- the list goes on and on. Always one of my favorites.
–Cha Cha's Latin Kitchen- Brea– This is a gem along the Birch Promenade Street in Brea. It is a bustling area, with movie theatre, and some fine restaurants. Everything is homemade and I swear I could drink the Tomatillo Salsa— it is that good. They have a lovely selection of items, with two courses for $15 at lunch time, and three courses for $20 at dinner time. On the menu in the evening, for example, is a choice of entrees, which I would have a hard time picking from— Crab & Shrimp Enchiladas, Grilled Salmon, Wood Oven Carnitas or Roasted Chicken. But here is the BEST part… for a nominal $5 at lunch (or $6 at dinner) you can add one of their signature Margaritas! Ole!
–Prego- Irvine- Ugo just has my heart, and I cannot resist his delicious pasta. Prego is offering a two course lunch for $20, or a three course dinner for $30. On the dinner menu, I like having the option of steak, pasta or pasta with seafood. And who can resist his Tiramisu!
Our First Stop…. The Classic Five Crowns in Corona Del Mar….
We enjoyed a lovely three-course dinner at Five Crowns. The menu selection is just the perfect blend of options. Do not let the $40 price point deter you. It is well worth it, and a lovely evening in a stylish and charming dining room. The English Tudor setting and fireplaces aglow set the tone for a special evening, yet quite approachable. The service is incredible. We had Shelly serving us and she has been there for over twenty years, so we were in good hands. Jim Columbo the GM has done some marvelous things here, and Steve Kling is the Chef de Cuisine. (Ryan Wilson has moved on to the Executive Chef for the chain, and I for one am glad to see that change come to fruition.) The Restaurant Manager is a charming statesman for Five Crowns. Rob Vermeeren has been in the business for many years, and understands the restaurant business, cuisine, service, and pays close attention to the needs of his guests. You just know he keeps a pulse on everything that is going on in-house. And I rather like that!
Our Menu- We started with a robust Wedge Salad. The crumbled blue cheese, chives, egg, crisp smoked bacon and plump and dainty tomatoes were set atop iceberg lettuce and topped with the most delicious homemade Ranch dressing.  A winning, and refreshing start to our evening. (Other options on the menu included a Tomato Bisque Soup, or Steak Tartare (for a supplemental cost). The main event for us was the Prime Rib. Although I always try to talk myself into trying something else, somehow I always succumb to the temptation of their Prime Rib. This is served with a choice of two: creamed spinach, creamed corn or mashed potatoes and gravy. A Yorkshire Pudding and Au Jus (French for "in its own juice") are offered, and I cannot resist their creamed horseradish, prepared with a secret dollop of whipping cream. (However, non-beef lovers need not fear. There were other splendid options for a main entrée. There is: Pan Roasted Salmon, Grilled Shrimp with Polenta, Hand-Cut Pasta with vegetables, and a Grilled Skirt Steak served with Spiced Potatoes.) For Dessert we enjoyed both of the options offered… a Raspberry Mascarpone Cheesecake with a pistachio crust, blood orange compote, and a Profiterole served with coffee ice cream and drizzle of chocolate sauce.
Meet the Person behind the Kitchen Door and Under the Toque-
Learn about the Chefs who are often hidden from view. As you peruse the web site's On-Line Menus, scroll down toward the bottom of the page, and for most, they have included a very nice profile on the Chef!  Bonus reading for all my foodie friends.
Some Creative Options-
Brea and Irvine Improv are offering dinner and a show for $40 on specific evenings during the Restaurant Week. Pirate Dinner Adventure offers a three-course dinner and a show for $30, and Medieval Times offers a four-course dinner and a show for $30.  Sea Legs Wine Bar in Huntington Beach is offering an three course dinner for $40 and that includes a glass of white wine with the appetizer, and a glass of cabernet with the entrée. (The food there is delicious, so don't let the "wine bar" moniker steal you away.) Prime Cut Café and Wine Bar in Orange gives guests two price point options for both lunch and dinner, based on the entrée selected. Check out their very flexible menus. There are also a number of restaurants offering a $10 lunch menu. That is a wonderful way to try a new establishment. And the choices cover the geography of this large county quite well. So regardless of where you are, one of these 18 spots is sure to be worth a try.
Nice Partnership-
There is no better pairing than a great meal and an evening of live entertainment!  We're so lucky in Orange County to have the finest options for both!   Segerstrom Center for the Arts is happy to partner with the many fine restaurants and bars participating in OC Restaurant and Cocktail Week by offering an exclusive discount to the American premiere of a new interpretation of Swan Lake.  From March 7th – 9th, guests can save $25 on ANY Orchestra Terrace ticket.  Orange County audiences will be the first to see the renowned Les Ballets de Monte-Carlo perform LAC. There will be extraordinary dancing, sumptuous costumes, and the bold drama of this popular ballet.  Use the promo code DINEOC!  For more information and to purchase tickets, go to this web site address: http://www.scfta.org/home/Events/EventDetail.aspx?EventID=1473&NavID=86 .