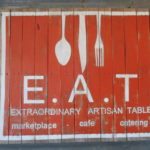 On a recent media event in Temecula, CA we had the pleasure of learning all about how this company is bringing fresh grown produce and culinary delights directly to consumers.  Sadly, since I live in Orange County,  I do not get to take advantage of these incredible programs, but if you are reading this article,  and reside in Temecula, or North County San Diego, boy are YOU in for a treat! The parent company is Cultivating Good. That is the main company, and under that are three divisions. The basic premise at the heart of everything they make, bake stir, stew and brew is FRESH, ORGANIC, HEALTHY, and bringing the Farm to You! It is all sources locally.  Stay with me and here we go…
1)      One is E.A.T. (which stands for Extraordinary Artisan Table) which is a bricks and mortar restaurant and marketplace. They have some very hard to find market items. I picked up their aged in oak apple vinegar for pickling some cucumbers.  This venue is huge with high ceilings, community tables, an open-kitchen concept, juice bar, coffee beans and bar, and even a to go section. This is one stop shopping any time of day or evening with a Java City meets home-spun Seattle Café. They are open for breakfast, lunch and dinner. Chef Matt Cassell, who trained with Mario Batali and Gordon Ramsay, is now the talented and innovative chef at E.A.T. Very impressive! They want to be known as the "third place"… after home and work, this is where you come to be with the community.  Check out their website at www.eatmarketplace.com .
2)      The second division is EAT@Home. This would be so perfect for my Father, who hates to cook and just not as mobile as he used to be. They deliver cooked meals to your door. Members sign up for a very flexible bevy of choices, and they are complete meals in lovely containers. Just like Mom used to make for you! Imagine roasted chicken, or vegetable lasagna, with all the fixings. The menus change every two weeks, and they have The "Healthy Lifestyle" option includes 10 meals and 10 power snacks, "On the Go" offers 5 meals and 5 power snacks, and "Keeping it Light" consists of 3 meals and 6 power snacks. Menus and various options can be found at http://eatmarketplace.com/eathome/ .
3)      The third is HARVEST 2U. This is a delivery service of farm-fresh boxes of fruits, vegetables, and even recipes that arrive at your door weekly (or at a few pick up spots). They even offer the Green Juicer which offers enough greens and fruits and veges for about 20 beverages. They work in a fifty mile radius of their location. The produce is guaranteed to have been hand-picked within 36 hours of deliver, but usually it is a shorter time frame than that. The great thing about this business model is that members do not have to make a weighty commitment. And the response has been just incredible. Their website is:  http://www.harvest2u.com .
The Business Partners of Cultivating Good are quite a team. Don Webber and Leah Di Bernardo, have merged the various businesses under one halo. And they have a clear mantra….to support the local food economy by providing fresh, healthy food to the community.  They are the advocates for the area's farmers, ranchers, and food artisans. They have a clear focus on sustainability and preserving their local environment. They visit every farm they partner with,  and know them by name. They inspect each week the products that they are using. They know who produces what well, and when.  They even have ALL of their staff in all three business units work on the farms so they indeed "get it".
Members of the International Food Wine & Travel Writers Association (IFWTWA) were treated to a delicious lunch in Temecula just steps away from the restaurant. The Culinary Team spoiled us with kale salad, flatbreads, potato salad, sandwiches, and everything was just bursting with flavors. The desserts looked quite tempting, however I did not partake in those morsels of yumminess. The President of our IFWTWA organization, Linda Kissam, was touched when she received a check from Cultivating Good, for our organization's scholarship fund. It was very kind of Owners, Don Webber and Leah Di Bernardo.
(Photo Credit: Todd Montgomery)
E.A.T. Marketplace (and Restaurant)
28410 Old Town Front Street
Temecula, CA