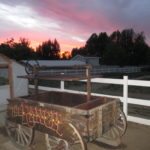 What an honor it was to be invited to this "Sunday Supper on the Farm" at the Edwards Ranch Estates Farm in Orange. Invited guests had the pleasure of strolling through the farm, escorted by Executive Chef Michael Rossi, and proud Owner Mr. Andrew Edwards and his lovely wife Morgan. Donning parasols to shade us from the afternoon sun, we were introduced to the "Greenhouse" where all plantings being their journey here on the farm. We made our way from herbs, to orange trees, heirloom tomatoes and artichokes, chili peppers and eggplant too. It was a candy store of produce. Cocktails and appetizers were followed by an impressive and elegant dinner, and wonderful conversation. This is just a prelude to what can be enjoyed on-site at The Ranch Restaurant & Saloon over yonder in Anaheim.
But let's start at the beginning, shall we, so you don't miss a detail of this wonderful summer evening's exploration on the farm…..
The Farm-
Four years ago, when The Ranch Restaurant in Anaheim was just a twinkle in their eye, The Farm was being nurtured as the foundation for what was to come. In collaboration were: the Owner Andrew Edwards, Executive Chef Michael Rossi, Leo the Foreman of Farming Operations, and a host of hands-on, herb-loving, grit tossing gardeners to tend the land day-to-day. Chef Rossi sits down with Leo each week and together they decide what will be picked that week, and from that Chef plans his menus. How brilliant is that! They also "fast forward"looking months ahead, as to what will be planted next. Everything indeed has a season here on the Farm.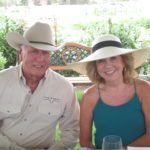 The herb garden spans a huge area with so many different varieties, my head was spinning with a tinge of jealousy, I must admit. Lemon grass, Thai basil, lime basil, sage, English thyme, lemon thyme (my personal favorite), and on the list goes. There are a staggering number of tomato plants—over 600 heirloom vines, all with unique names and flavors, and 90+ different varieties. Imagine. One area is graced with a huge Black Mission Fig Tree, under which we huddles for shade and a taste of a delicious Tomato Water.  This was super refreshing and packed with flavor. There are 32 orange trees, several varieties of heirloom cucumbers, beets, beans, Swiss chard, eggplant, turnips, zucchini, pumpkins, squash, radishes, corn, baby carrots in a parade of colors, artichokes, kale and many different varieties of chili peppers. There is even a newly planted selection of blueberry bushes.
Cocktails Are Served…
Once we returned to the shade of the tent and lovely wooden tablescape, we are greeted with a choice of two beverages. One was an Orange County Mint Julep served in a copper mug with ice and mint garnish. This was created with farm Valencia orange (yes, from the farm) and infused and aged with Bourbon. I love Bourbon, and this was so delicious.  The other beverage was a Southern Belle Negroni, served on the rocks. This was a creative blend of rosemary and peaches, infused with Don Julio Reposado Tequila, Aperol and Antica Carpano Sweet Vermouth. Both were quite refreshing.
As we clasped our refreshingly ice cold cocktails, passed appetizers were presented by the friendly wait staff. First on the tray, was a Cucumber & Skuna Bay Salmon Tartare, served in an adorable, delicate shot-glass. This was tossed in a Yuzu Kosho Vinaigrette with a Wasabi Aioli. I could have eaten ten of these, but I refrained. The second morsel was a delicate Tempura Squash Blossom with a basil pesto from the farm. I thought of Italy and preparing these there. Sigh….
Delicious Dining Is Well Underway….
Our family-style dinner began with Strawberries & Di Stefano Stracciatella. The soft, creamy cheese (similar to a burrata) was so perfectly balanced against the lime basil, California pistachios, and three different types of strawberries—fresh, pickled and dried.  Miniature flowers adorned the plate adding a special dash of color.
Wine Selection: The dining experience began with Aaron's selection of a lovely Chablis by Louis Michael in France. This Grand Cru was a crisp 2009, and was the perfect complement to the starters we enjoyed.
An incredible Dungeness Crab Gazpacho was next, with a lovely presentation. The molded sweet crab was drizzled with an incredibly sweet and delicious sauce gently cascading from a delicate, white miniature pitcher. The orange gazpacho was made with Valencia oranges, radish and Fresno chile was the garnish, all from the garden, of course.
Wine Selection: Whispering Angels is a Rose which hails from Provence, France. The wine, with hints of strawberries is made with the juice from one white wine grape and six red wine grapes. Refreshing and light this was both pleasing to the palate and the eyes.
Beautiful wooden trays arrived in a parade of color, with a Charcuterie board that was overwhelming. There was rabbit pate, chicken liver mousse with boysenberry preserves, wagyu beef tongue (which I did not have) and a foie gras terrine (which was amazing). The house-pickled vegetables, grain mustard and country toasts all accented this incredible presentation. Everyone enjoyed sampling the bevy of choices and this just speaks to the creativity of The Ranch.
The show-stopper of the evening, well one of them, was the Heirloom Tomato Salad. This included vibrant red, golden and striped Heirloom tomatoes from the farm, and had that "just picked" full of flavor taste. This was sprinkled with sea salt and drizzled with a touch of Napa Valley Olive Oil. Simple, yet so refined.
Homemade Scarlett Beet Gnocchi served in a sauce of golden beets, smoked goat cheese, and kissed with English peas and dill. This was a magical combination of taste and color—from the hearty beets blended with potatoes, turning the Gnocchi a lovely color of aubergine. The rich sauce and pop of the peas were flavor-filled indeed.
Did someone say beef? Well, at the restaurant there are a host of choices, as one might imagine. From Cowboy Bone-In Ribeye, to New York Steaks and Petite Filets. For tonight's selection Chef Rossi and his team went over-the-top. I knew we were all in for a treat when I watched five burners roll out on a presentation cart. The humungous 72-ounce Porterhouse Steaks were the stars. These puppies were started in a Sous Vide bath to being the cooking process, and then paraded out to the pan-seared stations for cooking. The finishing sauce selection included  tableside choices of:  Bearnaise, Bordelaise or Chimicchuri. The beef was cooked to perfection at medium rare and sliced for ease of sharing.  As if that was not enough, we are also served a platter of 2-pound Maine Lobsters with rich drawn butter along-side.
Wine Selection: The final wine selection was a treasure. It is not available anywhere, except in Mr. Edwards wine cellar. The owners of Screaming Eagle started this Napa Valley Country Club Reserve, and those who participate own a row or two. So this is the Edwards 2010 from his two rows of vines. We were beyond honored to share in this lovely selection he so kindly shared with us!
The Ranch Vegetables included a flavorful combination of: roasted corn,  green beans, and roasted carrots from the farm. A crispy Tuscan Kale was served tossed with Calabrian chile, preserved lemons, and a dash of Parmigiano-Reggiano.
As if on CUE….a rainbow appeared in the sky and orchestrated the end to our perfect evening. Hand-Crafted Macaron Ice-Cream Sandwiches appeared by Executive Pastry Chef David Rossi. An assortment of flavors from Blueberry to strawberry, peach and vanilla-caramel-popcorn graced the stage. They were cool, rich and refreshing all at the same time.
In Closing….
It was an honor and I am taking my family there for a birthday celebration next week! It is just that kind of a special place and we were so pleased to be invited to such a fine affair! A tip of the hat to Mr. & Mrs. Edwards for their kind hospitality, Chef Michael Rossi and his entire culinary Team, David Grant the General Manager for such an incredibly fine wait staff, Aaron for his wine stewardship, Nancy Zwart for her friendship & business development, and Melissa Cunningham for pulling it all together so graciously, with her entire PR and marketing team, which is not an easy feat. Bravo to you all!
About The Ranch Restaurant-
This is a very special restaurant with wood and a warm, comfortable cowboy vibe.  It is a long-time dream and vision of Andrew Edwards, president and owner of Extron Electronics, a leading manufacturer of professional AV system integration products for over 30 years. The restaurant features true American regional cuisine, made from scratch with the finest ingredients possible to capture the rustic style of wine country and the freshest flavors of the farm. They honor California's great ranches, farms and dairies, the artisan bread bakers and cheese and wine makers. They even showcase produce from their own farm here in Orange County with a focus on seasonal cuisine and truly farm-to-table. The dining experience is an atmosphere of comfort and old-fashioned genuine hospitality. The restaurant's bar features a large selection of wines by the glass along with selected hand-crafted draft beers and the latest in mixology with fresh ingredients and great flavors. There are also two private dining rooms, and you know how hard those are to find! The Carolina Room reminds me of a favorite wine room, and seats 16 guests, with complete AV and audio capabilities. The Porch & Patio accommodates up to 50 guests inside, has AV and audio capabilities, a lovely patio, and its own bar.
The Restaurant Hours:
Open Nightly- 5:00pm – 10:00pm
Private Dining and Events Center-
Up on the sixth floor of the Restaurant and Saloon building is a hidden treasure. This is just shy of 8,000 square feet of social, meeting and wedding space. It includes a bridal suite, a lounge and pre-function area, a Teaching Kitchen and four different rooms to meet ones needs.                         To see the space is to be nothing short of impressed. (Please view the photos on the web site to catch a glimpse of this luxurious space.)
The Study- 645 sq. ft. / 40 person capacity
The Dining Room- 1,885 sq. ft. / 72 person capacity
The Hospitality Suite- 1,932 sq. ft. / 100 person capacity
The Great Room- 3,522 sq. ft. / 264 person capacity
And Pre-function space of 1,215 sq. ft. (includes The Lounge)
The Ranch Saloon-
Literally right next door is the Saloon featuring the best in live country music. They have a 40-foot concert stage with a state of the art Meyer sound system and a custom made 47′ x 26′ sunken dance floor. It is a small club venue with an intimate atmosphere. Prime country music entertainers entertain on select dates and they feature the best in local country music bands on select nights of the week. Their DJ, Leo Sierra, provides the best in classic and current country music for dancing nightly. Guests can learn the classic two-step, west coast swing and of course line dancing from some of the top country dance instructors!
(Cover Charges do apply so please check the web site for more information.)
-Wednesday nights-Two-step Lessons at 6:30pm for couples & Cha-Cha at 7:30pm
-Thursday nights- Line Dance Lessons on Thursdays at 6:30 and 7:30pm
-Friday & Saturday Evenings-DJ at 5:30pm, typically a Band at 8:00pm & lessons.
-Sunday is Family Night- For guests 10 and up- Lessons at 4:30 & 5:30pm
The Ranch Saloon Hours:
Closed Monday and Tuesdays
Wed 5:30pm-close
Thursday, Friday & Saturday 5:30pm-2:00am
Sunday 5:30pm-close- (18 & Over Sundays-Doors Open 5:30pm, and
Family Sunday is 4:00pm-10:00pm)
The Ranch Restaurant & Saloon
1025 E Ball Road
Anaheim, CA 92805
(714) 817-4200
www.TheRanch.com